Beautiful DIY Canadian Mugs! Celebrate Canada Day by decorating your own Canadian mugs using removable vinyl and your Cricut machine!
How do you share your patriotism?? My husband and I want to put a huge flag pole up on our new property, but we haven't quite gotten around to tackling pretty outside projects yet, lol. I'm proud to be a Canadian and I love celebrating Canada Day with my family. I put up a wreath, put Canadian shirts on all of my kids, and go watch the fireworks. This year I'll be celebrating with family, so I decided to make some Canadian Mugs too. Except I have no room in my cupboard for a million mugs… so I came up with a creative solution!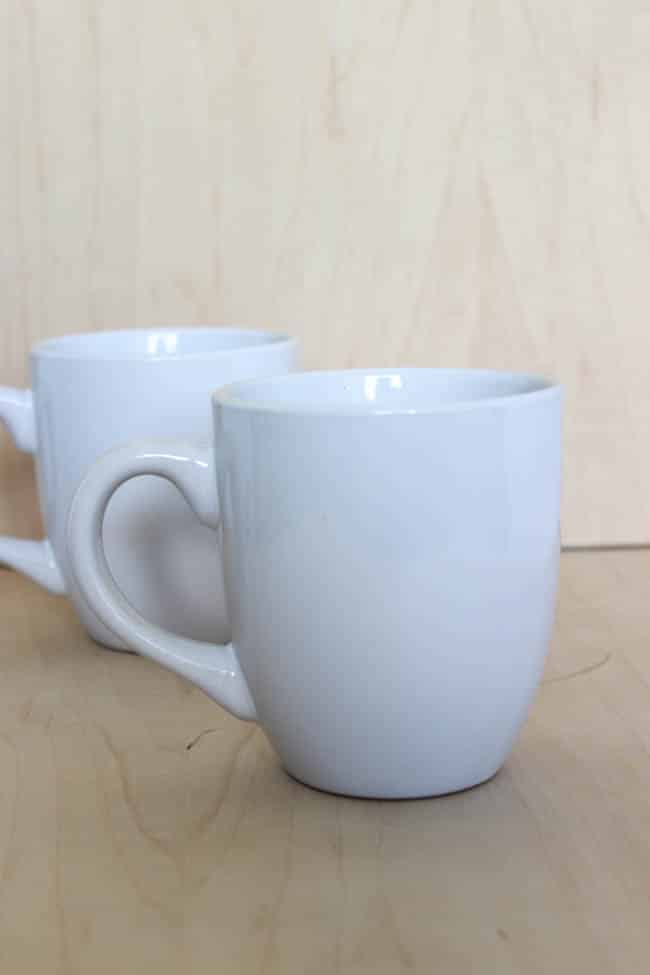 *This post was sponsored by Cricut and may contain affiliate links. As always, opinions are 100% my own. For more information, please see my disclosure page.*
I bought these simple white mugs at the dollar store – the perfect blank slate for only $1. The thing is… I love having seasonal mugs. Special mugs for Canada Day, or Christmas, or Thanksgiving, but ain't nobody got room for a zillion mugs in their cupboard. I could barely fit these four! So I found the perfect solution… removable vinyl!! It's actually genius! Now I can decorate mugs and use them around Canada Day and then rip off the vinyl and decorate them with a new design on the next holiday! And it's cheaper than buying seasonal mugs too! Win, win, win.
Here's what you need to make these Canada Day Mugs:
How to Make Your Own Canadian Mugs:
Have I mentioned lately how pretty the Cricut machine is?! It's exclusive to Michaels and it still cuts over 100 different materials, and utilizes all of the Design Space features… but it's prettier! LOVE it! Start this project by pulling out your Cricut Machine, and then opening THIS DESIGN in the Cricut Design Space.
You can customize your design my changing the colours to red or deleting the designs you don't want to use. I made my designs to fit on a 4.5″ x 4.5″ surface, which is approximately how much room I had on one side of my mug. If you mug is smaller or bigger, you may need to resize the images before cutting.
When your design is ready, load your removable vinyl and cut it out with your Cricut.
The removable vinyl is one of Cricut's new Premium Vinyls. It sits flatter, cuts easier, and has "smooth release technology" which is a fancy way of saying it's easier to weed and transfer between surfaces. Plus, you can remove it up to TWO years later!! I'm only keeping it on my mug for a couple weeks, but still! lol. You could put it on a dresser and remove it in two years while your child grows out of the design – amazing!
Once the design was cut, I used the weeding tool (that came is my Martha Stewart bundle!) to weed out the parts of the design that I didn't want, and used the spatula to carefully lift the images off of the mat.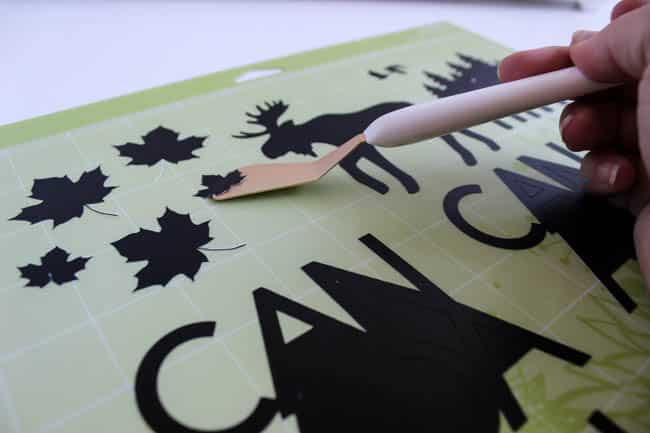 As I was laying the vinyl onto my mugs I realized something… it can be difficult to lay a flat design on a curved surface! lol.
Here are a couple of tips to make sure your images go on beautifully. First, I always started at the center of the image, them moved left and right. This prevented my image from tilting upwards or downwards across the mug. Second, I found that the parts of the mug that were more curved required a bit more tweaking. In order to get the designs to lay flat, I cut a couple of spots – like between the letters in the image below – then laid the image down with a tiny bit of overlap where the mug got narrow.
These two tricks should allow you to lay the vinyl perfectly on your curved surface!
I'm in love with these mugs. Patriotic, but also pretty! I did them all double sided, so you can see "Canada" on one side, and an image on the other side. If you're using your mugs, make sure wash them carefully (without the dishwasher) until I take the vinyl off again :)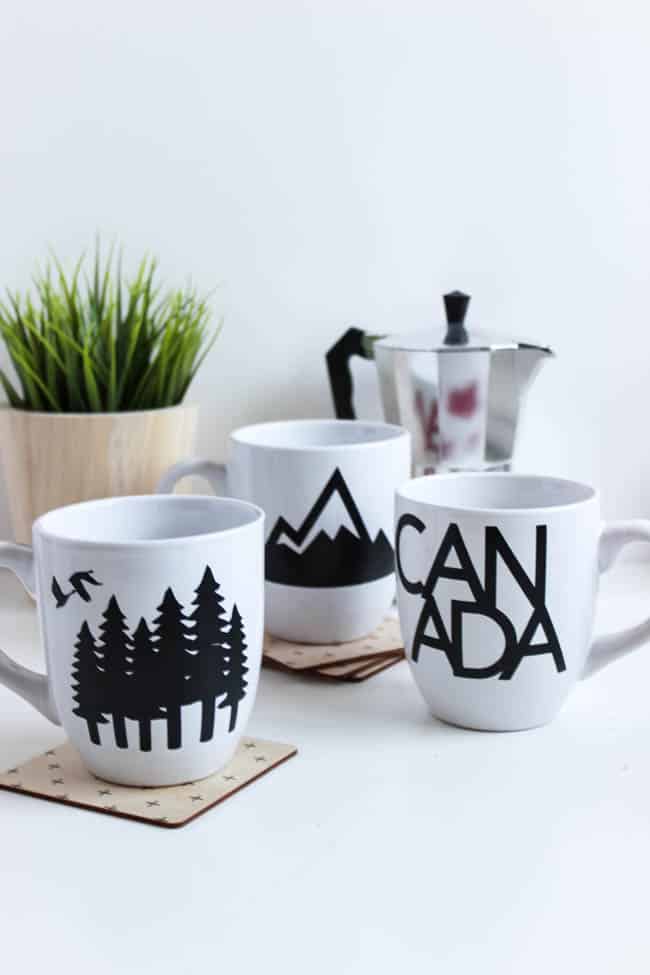 Anyone want a cup of coffee?? lol.
More Canada Day Projects
Don't forget to subscribe to our YouTube channel for more great Canada Day DIYs!
For more great easy Canada Day DIY ideas, check out these beautiful Canada Day Pillows!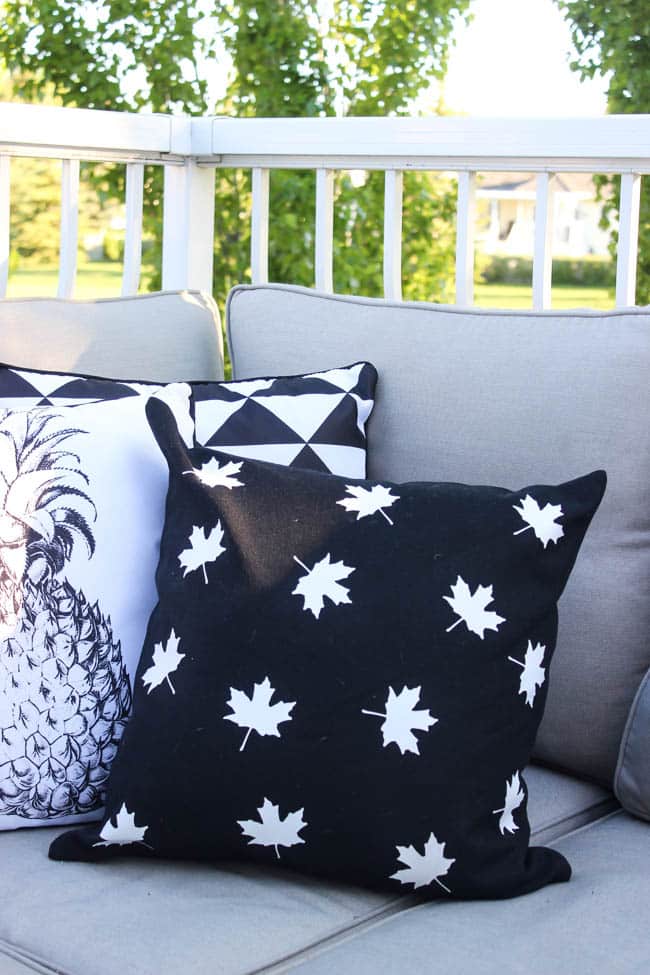 Or these gorgeous modern Canada Day wreaths!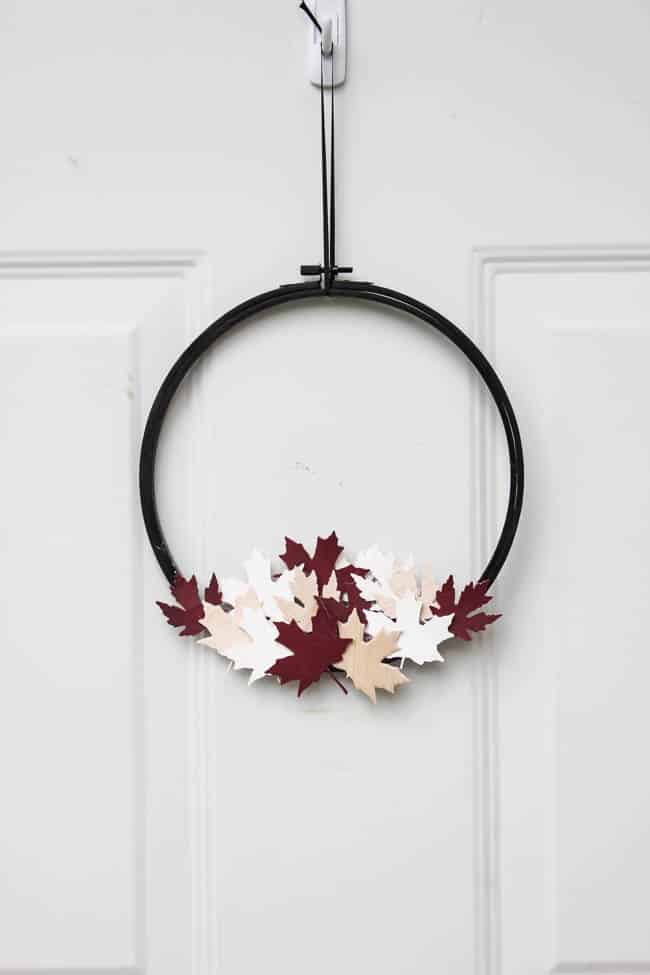 DIY Canadian Mugs
Beautiful DIY Canadian Mugs! Celebrate Canada Day by decorating your own Canadian mugs using removable vinyl and your Cricut machine!
Materials
Cricut® Explore Air™ 2 Special Edition, Martha Stewart Machine Bundle
Removable vinyl (black and red)
Cricut cutting mat
Weeding tool and spatula
Cricut Design Space link: https://design.cricut.com/#/design/97857435
Instructions
Open the provided design in the Cricut Design Space
Customize the design if desired
Load removable vinyl into the Cricut machine and have it cut the design
Use the Cricut weeding tool to weed out the parts of the design you don't want
Use the spatula to carefully lift the images off of the mat
Lay the vinyl on your mug