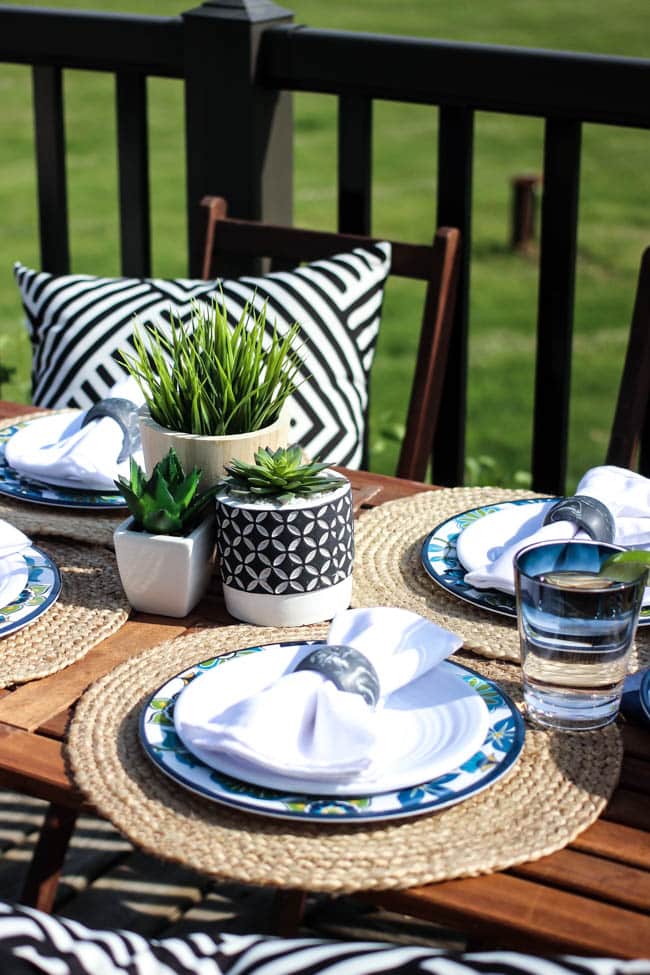 Do you eat outdoors a lot during the summer? I'm not going to lie to you… the first day that we had our outdoor sofa set up I made my family eat dinner outside (here's how it looked at the old house). And then the next day we had breakfast, and then lunch and then dinner, lol. We probably ate outside every day for the first two weeks of summer. Which is exactly why is pains me to not have a great outdoor space yet! With a beautiful table and a pergola and some custom planters…. the dream that outdoor summer dining is made of!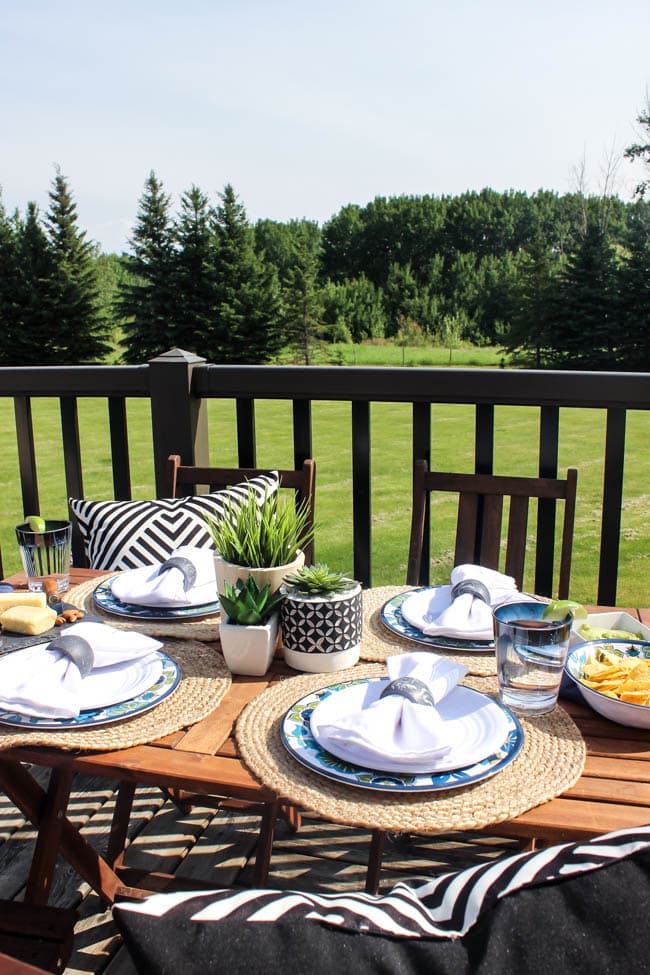 *This post was sponsored by Kitchen Stuff Plus. As always, opinions are 100% my own. For more information, please see my disclosure page.*
I've joined with my favourite bloggers again this month for our Modern Handmade Home series to show you how we put our own beautiful spin on outdoor dining (see all the links at the bottom of the post!). Since I don't have my own gorgeous outdoor space yet, I called up my brother and sister-in-law and offered to bring the food and the table settings over to their place! They have a beautiful raised deck with a black railing that was the perfect backdrop for some outdoor summer dining!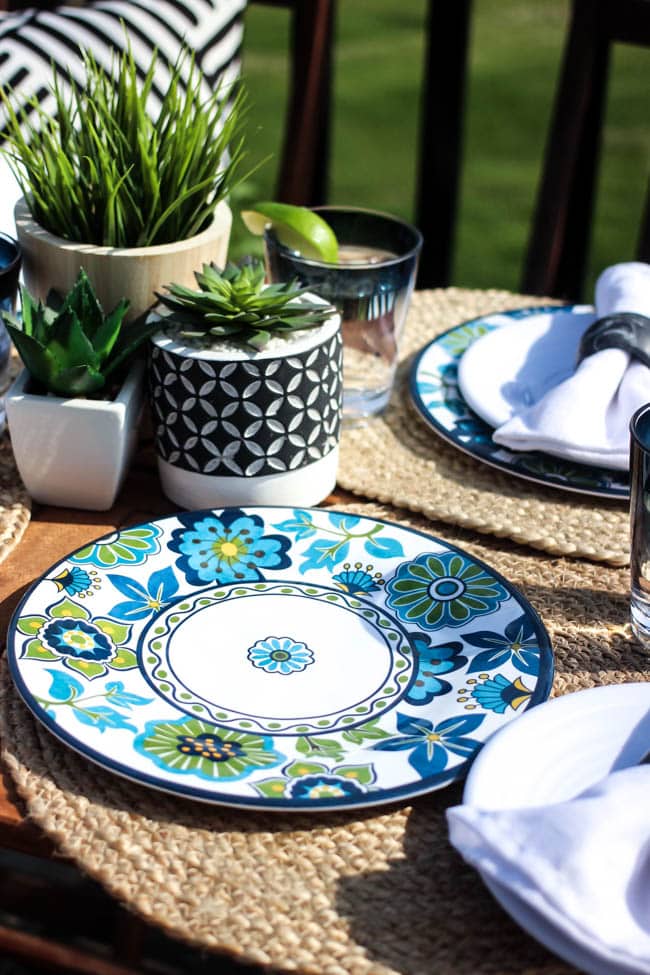 Do you remember when outdoor dinnerware wasn't all that pretty? These days there are beautiful patterns printed onto those melamine dishes that make for beautiful layered table settings.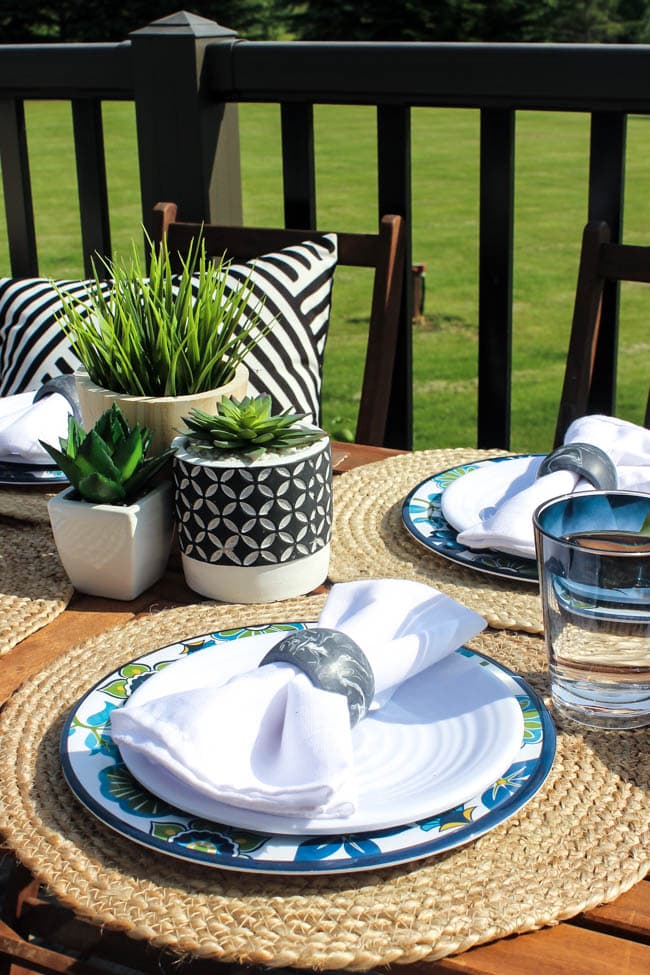 I layered these floral blue plates (because I'm always drawn to blue!) with some simple white rippled plates. Combined with the jute placemats and napkins, I'm loving all of the textures and patterns.
Since there's a whole beautiful series of serving dishes, I used them for basically everything I served.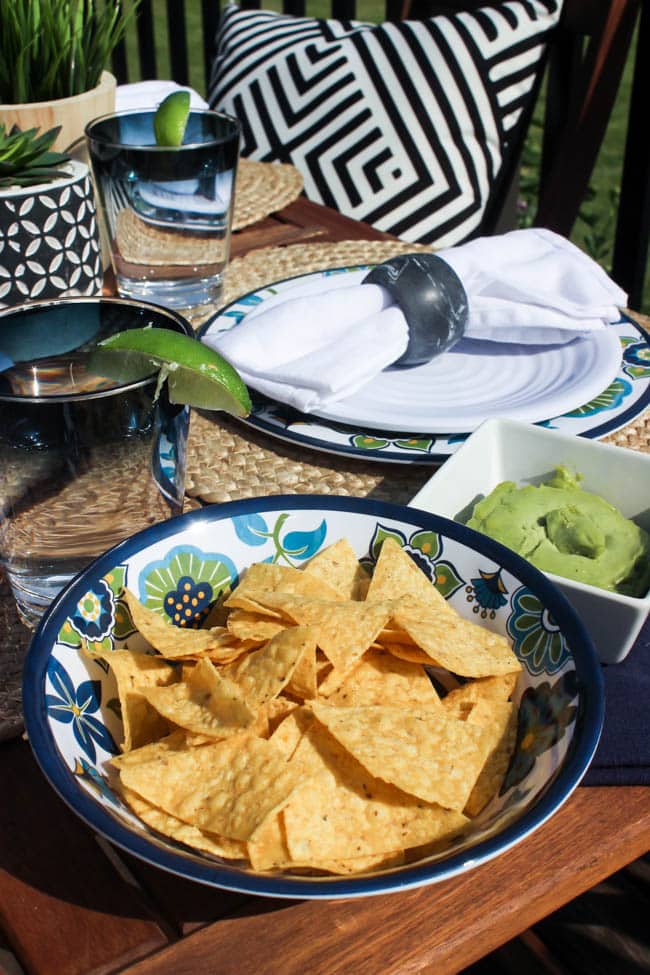 Then to mix up the patterns and textures even more, I added some marbled napkin rings.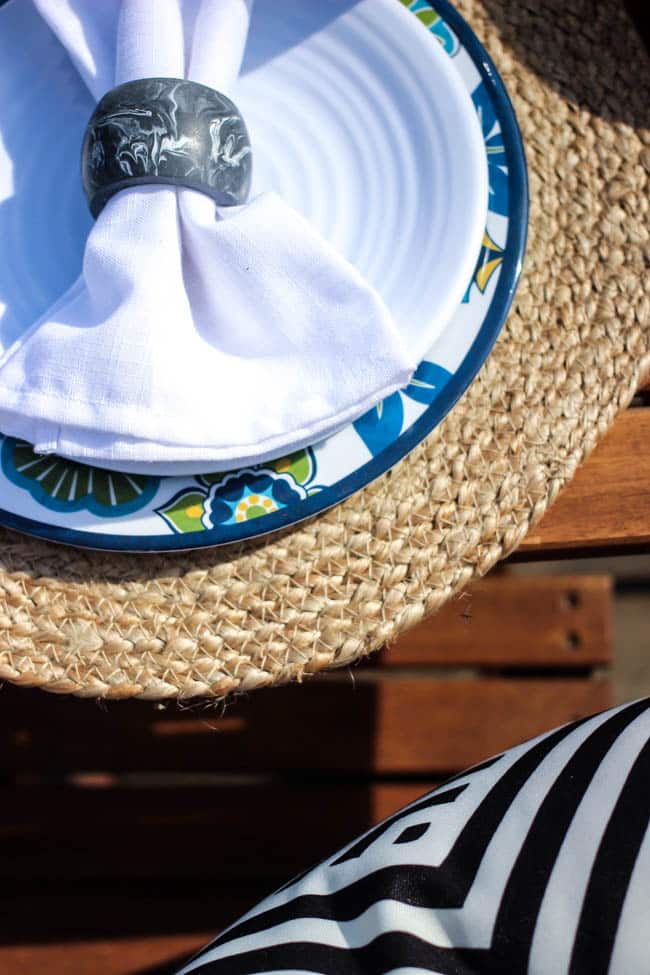 My favourite part though?? The bluey-grey ombre glasses! How pretty are they?!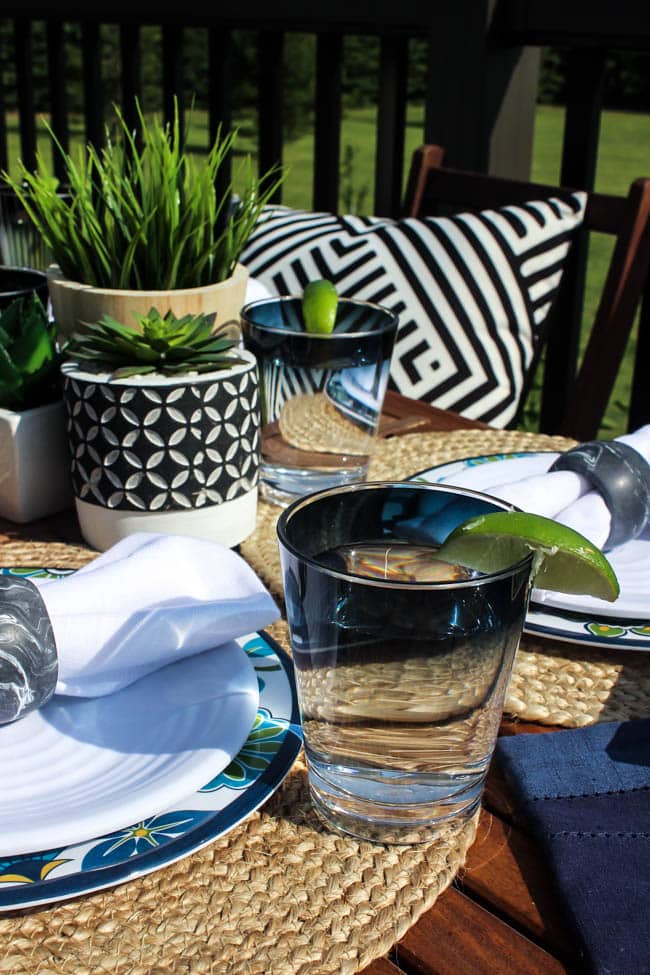 I also rarely have a dinner party without a cheese tray. It's the perfect way to get people sitting and chatting before the food comes out. Plus… cheese! (Tell me I'm not the only one with this achilles heel! lol).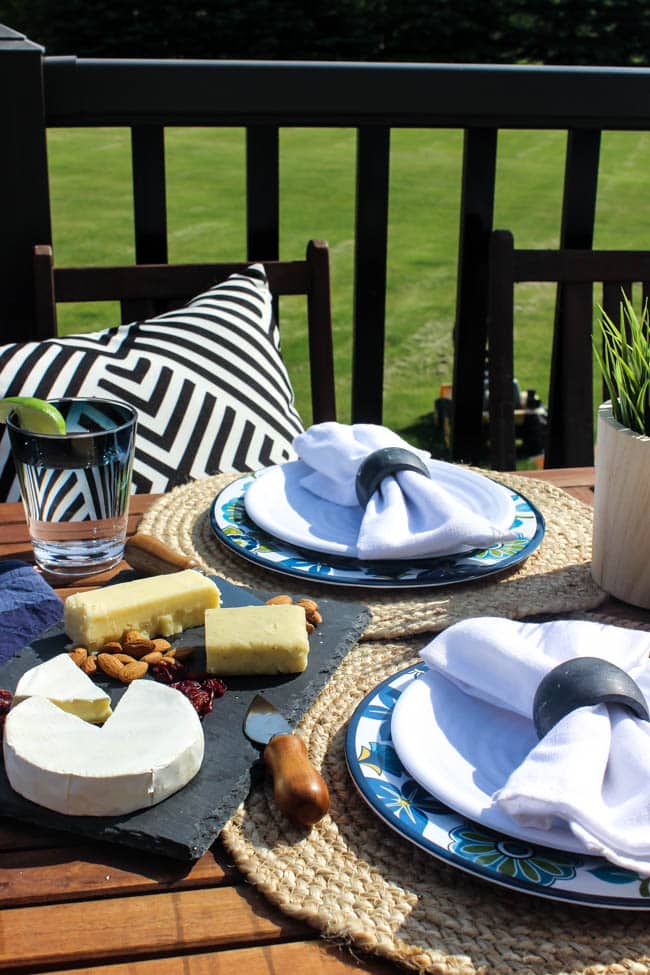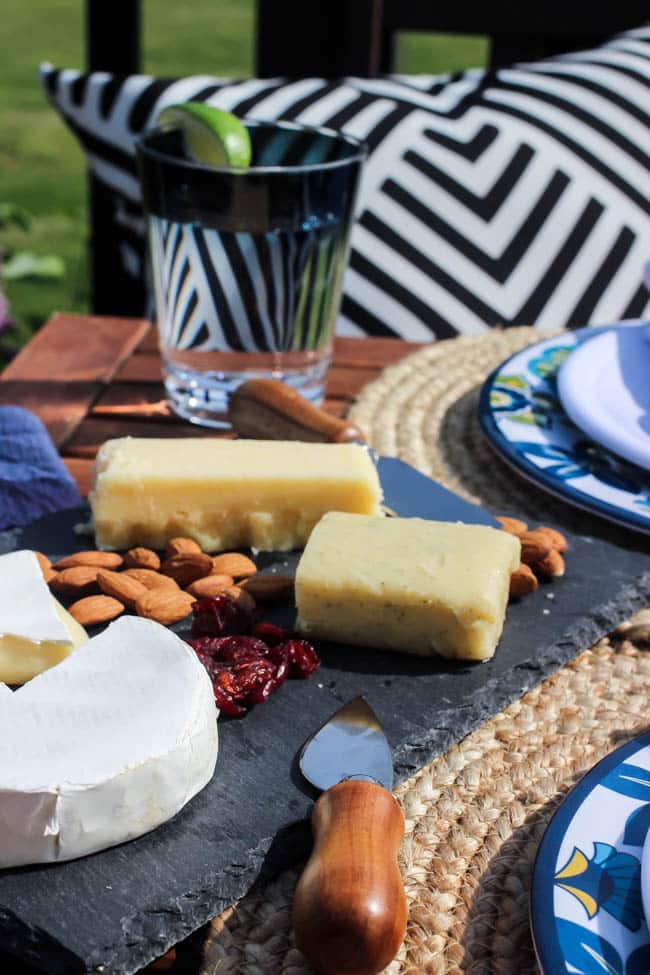 Since most dinner parties tend to run past sunset, another great idea is to set out some candles, lanterns, or blankets like I did on this side bench. This way your guests won't have to retreat inside when the sun goes down – unless the mosquitoes get too awful!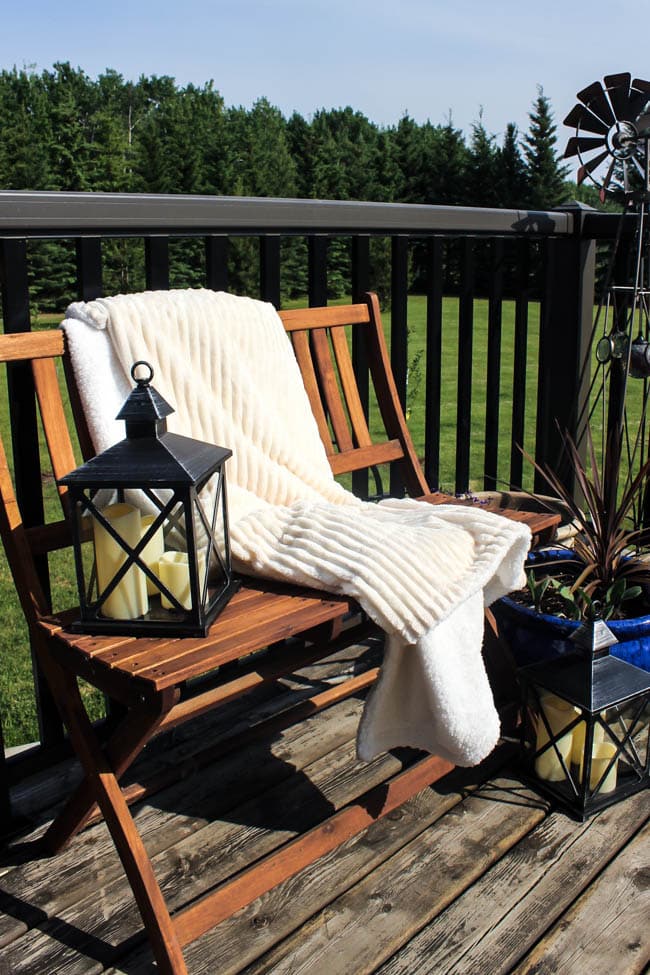 Eating al fresco is one of my favourite things about summer! Now if I could just get that beautiful deck and pergola built… lol.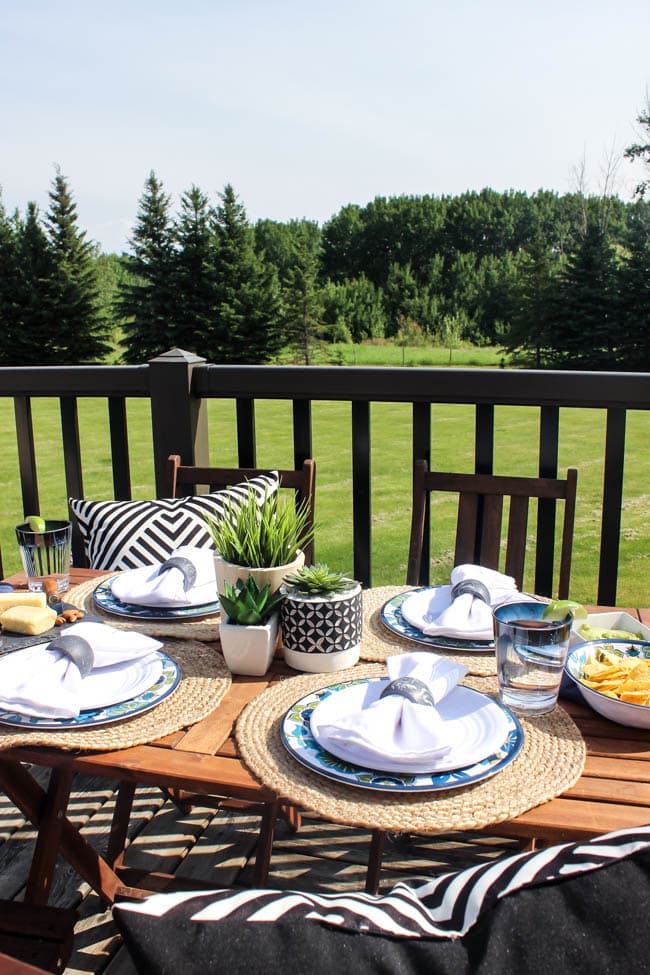 Make sure you check out the other beautiful outdoor dining tables below!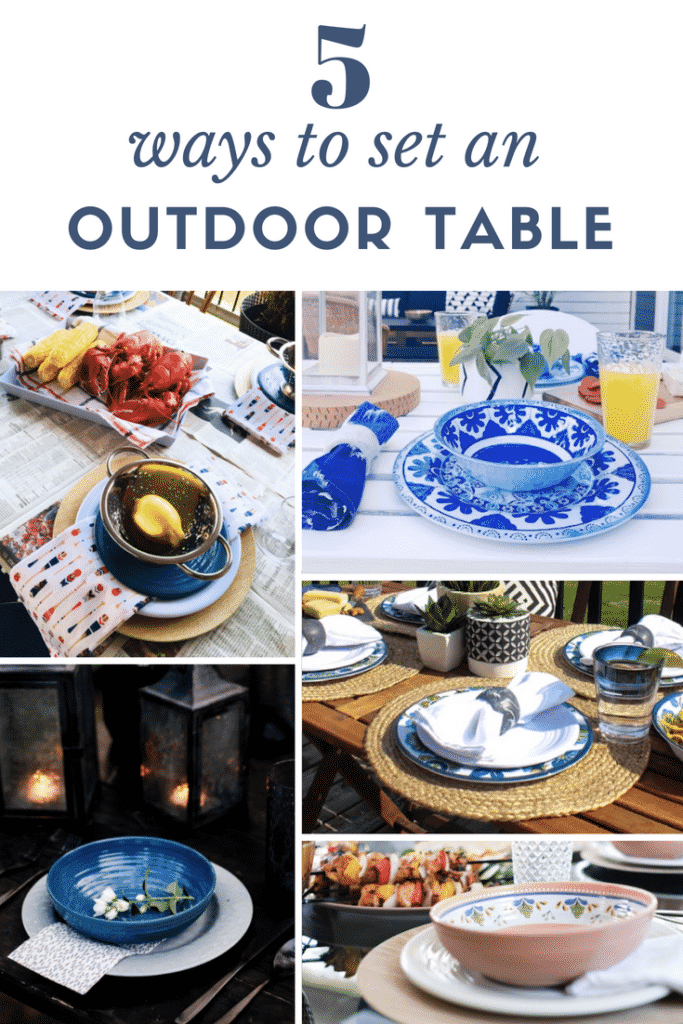 Lobster Dinner by Harlow & Thistle
Coastal Dining by The Sweetest Digs
Boho Summer Dining by Lemon Thistle
Summer Dining by The Learner Observer
Outdoor Summer Dining by Love Create Celebrate