We moved into our new home less than a year ago. A beautiful five acre property! Gorgeous views and greenery everywhere, but we couldn't take it all in the way we wanted to. After spending two hours mowing the lawn (seriously!) I wanted to sit and relax and stare at our hard work. Maybe enjoy a meal outside? Or read a book? So we set out to create the oasis we wanted – complete with hanging plants and a beautiful outdoor table!
*This post was sponsored by Article. As always, opinions are 100% my own. For more information, please see my disclosure page.*
This was our outdoor space at the beginning of the summer. Just an empty patch of grass on the end of the house, and a small concrete pad (just out of the photo).
We spend a couple of weeks building this deck in every minute that it wasn't raining. In the Spring we'll share all of the plans with you so that you can spend your next summer building your own deck! But for now, we just wanted to show off all of the hard work, and the beautiful outdoor furniture that we used!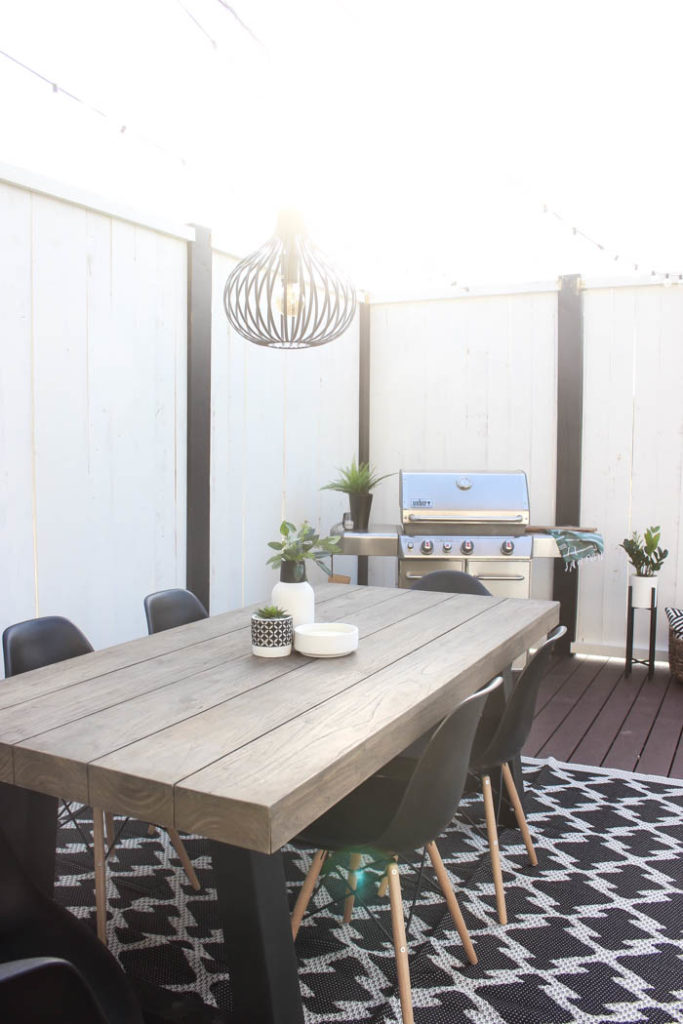 An outdoor table is such an important piece in your outdoor space! It sets the tone for the rest of the room. But a beautiful outdoor table is hard to come by.
I've got a few go-to stores for beautiful modern furniture that I always check first, but many of those stores don'e carry outdoor furniture. Luckily for us, Article does! They actually have a huge outdoor collection full of everything from tables and chairs, to rugs, to outdoor sofas!
As soon as I laid my eyes on some of their gorgeous outdoor pieces, I knew that our table had to come from them! I mean, have you seen their beautiful outdoor collection??
The table was definitely the most important piece in the space. I knew once I decided on a table, that everything else could fall into place after. I settled on the stunning Travola outdoor table after about two minutes of looking, lol. I loved it right away! I love the teak top against the black legs and the contemporary, yet rustic vibes it was giving off. It was the perfect size for our family and our deck.
I had to put off buying new chairs this year, so I just styled it with the ones I already had, and I think it looks perfect! We added some plants, a rug, and beautiful outdoor lighting to finish off the space.
We didn't have it all set-up until the end of the summer, but we were still able to enjoy a few meals and evening drinks out here. It's the perfect setting to wind down at the end of the night.
Here's a few photos of the space in the night light! So you can see exactly why we love it so much!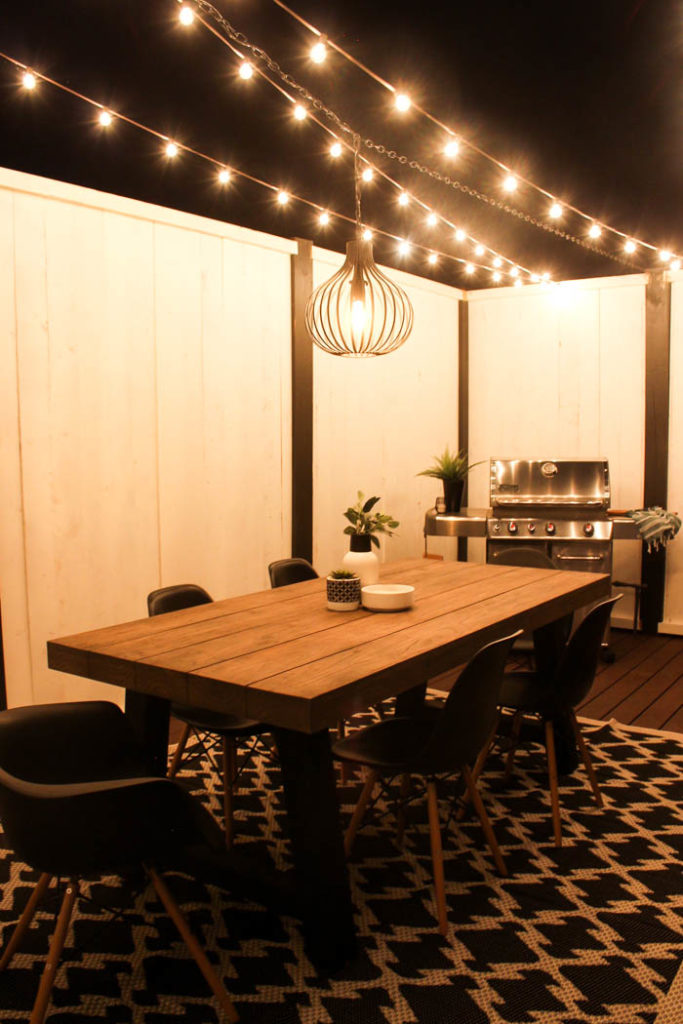 Let us know what you think of our new outdoor space!