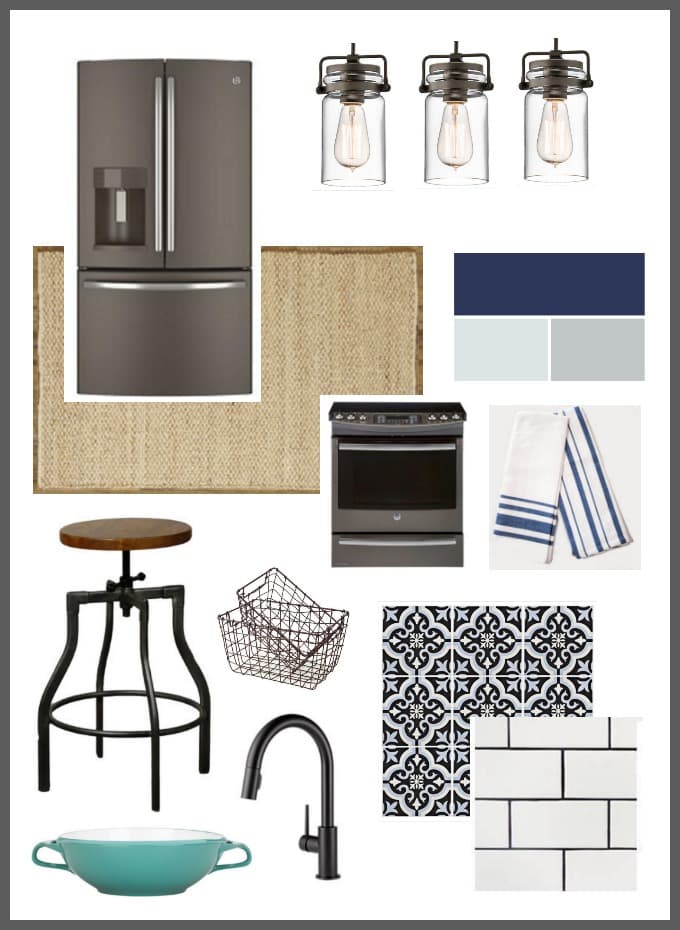 I'm day dreaming today. Of modern industrial kitchens. When I was buying my first home with my husband, I had no idea what I wanted. I hadn't started a Dream Home Ideas Board on Pinterest yet [BTW – how did people plan before Pinterest?!]. I had hardly looked at any homes! There were a few things I LOVED about the home we eventually (I say that as if we searched for a looong time, but it was only about a month) bought together: 1) The neighbourhood, 2) The HIGH vaulted ceilings in the living room and kitchen (you can see them well in this post), and 3) the floor to ceiling stone fireplace. Just like every other first-time homeowner, now I'm day dreaming about a dream home. Today specifically, I'm dreaming of beautiful modern industrial kitchens!
*This post may contain affiliate links. Thank you for supporting Love Create Celebrate! For more information, please read my disclosure policy*
Isn't this kitchen gorgeous? I'm sold – navy lowers and white uppers it is! I love blue tones always. Always blue accents. My husband will have to be convinced about the white cabinets (he's very pro natural wood), but I think he'll agree. There's no denying the way white cabinets brighten up a space.
The rest of my dream kitchen is shown below in all of it's modern industrial glory. Imagine beautiful GE slate appliances #GEMakeItSlate. Blue cabinets and accents. Industrial furnishings. White subway tile. I love it!
Here is my piecemeal dream kitchen:
Right now my kitchen has beige walls, oak cabinets, and white appliances. A far stretch from this dream kitchen. But hey, a paint sprayer, a tile sale, and some new appliances can change all that in no time right? lol.
Thank you for indulging my day dreams today. What is your dream kitchen style? I want to hear!