Love these adirondack chairs for kids! These DIY painted adirondack chairs make a perfect fun outdoor space for your children to sit in and enjoy the summer!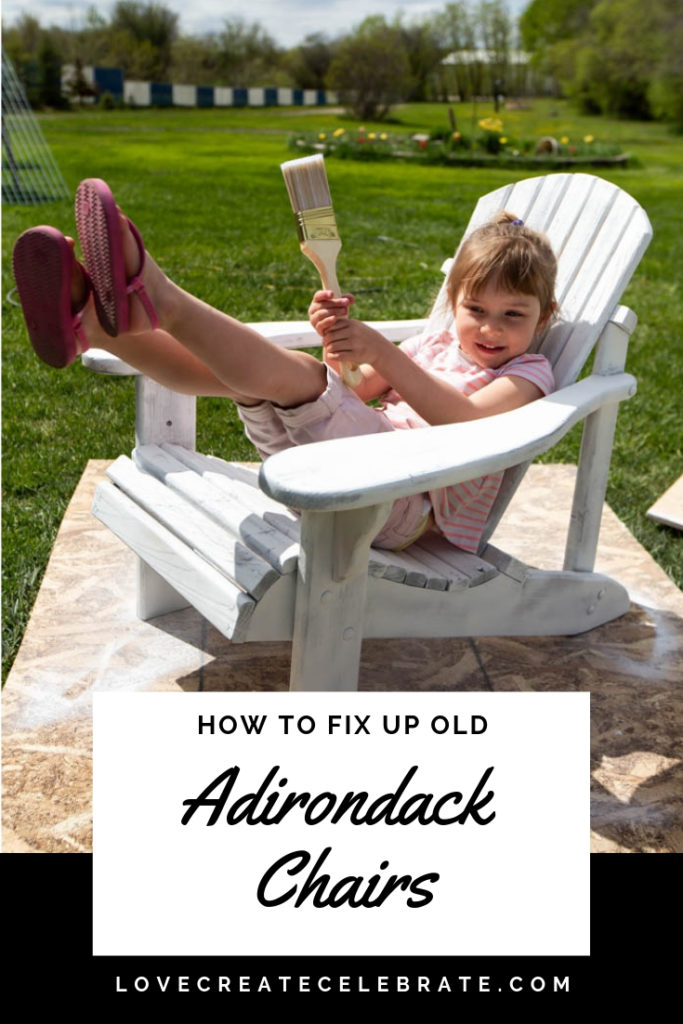 Some projects make me smile more than others. Room reveals, really exciting brand partnerships, and projects for my kids! I found these adirondack chairs for kids and was so excited to give them a makeover because I knew my girls would love them (Spoiler – I was right!). It was a whole family affair. My girls helped me choose paint colours, sand, paint, and buy pillows for them. DIY is fun, but there's nothing like involving your kids in the fun with you!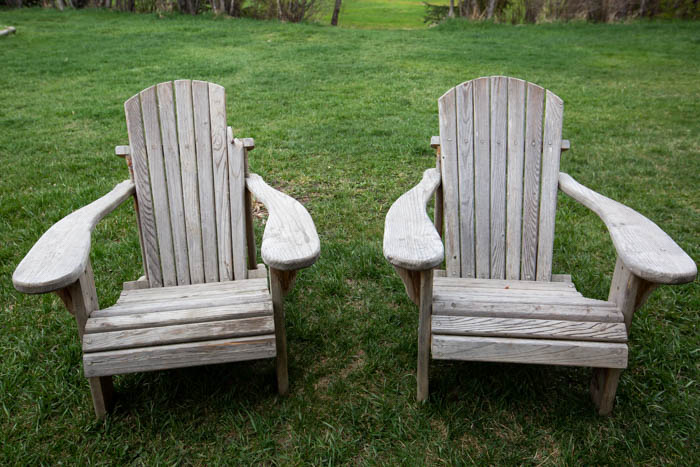 *This post was sponsored by Valspar Canada. As always, opinions are 100% my own. For more information, please see my disclosure page.*
These are the old adirondack chairs for kids that I found on our local buy and sell website. I got them for a whooping $20. Seriously, a steal. They are children sized and had a few nics and scratches, but nothing that a bit of elbow grease and sandpaper couldn't fix!
The biggest issue was this broken slat on one of the chairs. We didn't want to just paint the chair without fixing that broken piece.
Secondly, there were lots of worn out sections on the chair. Lots of wood pieces splintering off & lots of potential for splinters (not a good combo with kids, lol). In some spots where the wood was protected from the sun (like the little bit of orange above), there was still varathane visible on the surface of the chair too. For both of these reasons, we knew the chairs would need a good sand too.
Materials We Used to Fix Up Our Children's Adirondack Chairs:
Purple Paint (we used Canton Purple Duramax Exterior paint from Valspar)
Green Paint (we used Cactus Shadow Duramax Exterior paint from Valspar)
Sandpaper
Orbital sander (optional)
Paint Brushes
Tools Needed to Fix the Adirondack Chair Slats
Adirondack Chair Makeover Video:
I'll explain all of the steps to revamping your own adirondack chairs for kids below, but I also have a video of the whole makeover process. Watch this video below to see how we put together this whole outdoor space for kids and fixed up their adorable new chairs.
How to Give Your Adirondack Chairs a Makeover:
Revamping old furniture is soooo easy! If you don't have an old chair to work with, you might consider making your own. These DIY plans from Ana White are a perfect for that! But if you are lucky enough to have an old chair to fix up, the steps are so simple.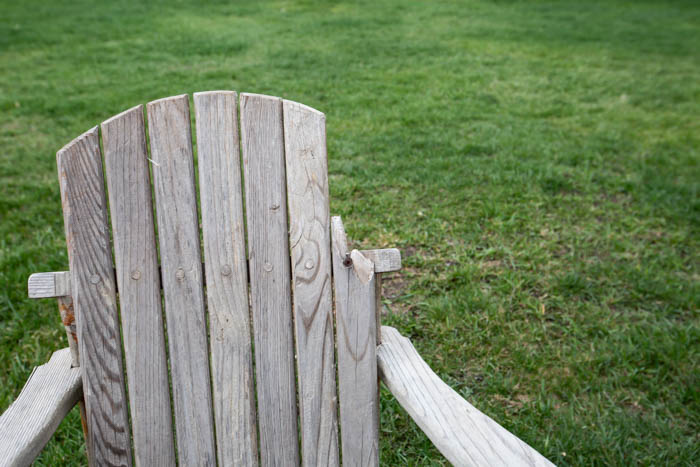 Building a New Adirondack Chair Slat
Hopefully your chair doesn't have this issue, but if you happen to have a chair with a broken slat at the back (or anywhere really!), here's an easy way to fix up those pieces.
First we unscrewed the slat from the chair so that we could use it as a template for the new slat. We measured the width of the first slat, and used a table saw to cut a 2×4 piece down to the same width. Then we lined up one edge of the slat with the edge of the board, and traced the other edge of the slat all the way up. When the slat ended, we just used a straight edge to follow the line all the way up the board.
Next we cut the 2×4 board along that line. Then we got ready to cut the proper curve and height. We brought that piece back to the chair, screwed it in place and tried to approximate the angle of the slat based on the other pieces. Then we cut the top of the new slat along the curve we just drew.
The final step was to router the edges of the slat. We wanted them to look like the other slats, so we used the broken one to approximate the radius and depth of the curved edge on our router table, and then added the curved edge to both sides of our new piece.
Prepping the Adirondack Chairs for a Makeover
Sanding down the chairs is the first step, and the most important step in getting a smooth finish. I used an orbital sander for the larger parts of the chairs, and then used sandpaper to sand between all of the slats, etc.
Since these were going to be chairs for the kids, we decided to paint them a fun colour, and to let the girls help us choose. Before we could paint, we used an aeresol primer to prime all sides of the chair and get it ready for paint.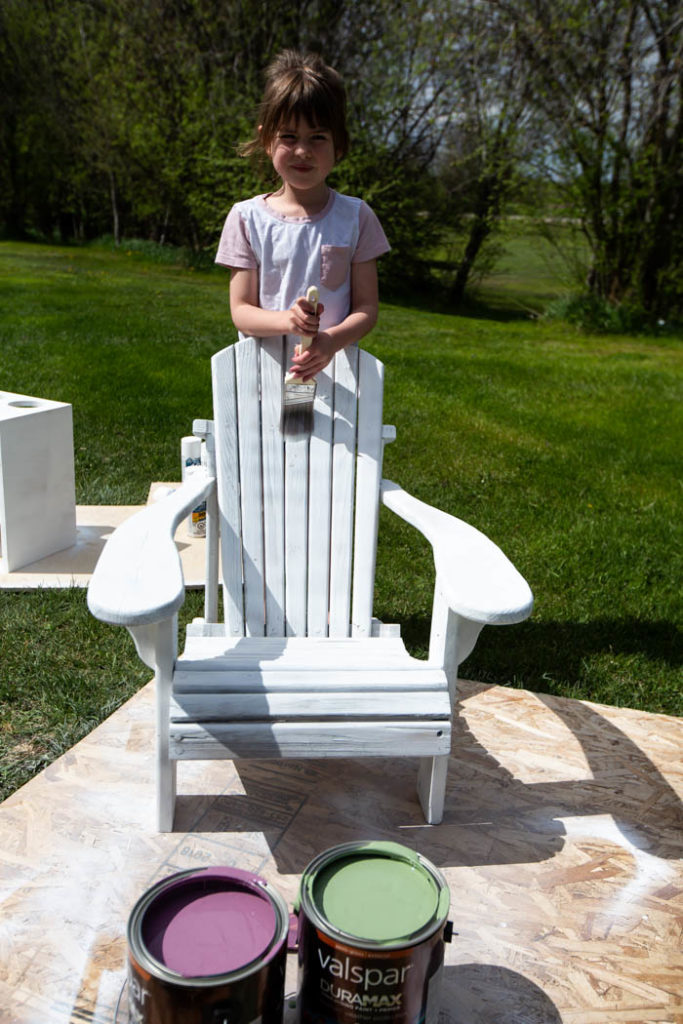 Painting Adirondack Chairs
Our girls were so excited about choosing paint colours. If you ever have the chance to do a painting project with your kids, take it! It's so fun. We searched through the Valspar paint deck until the kids picked out colours that they loved.
We did "help" them by steering them away from browns (which I knew they would hate afterwards, lol), to more towards fun girly colours. Purple and green are usually out of this monochrome-loving girl's comfort zone, but let me tell you, they make adorable kids chair colours!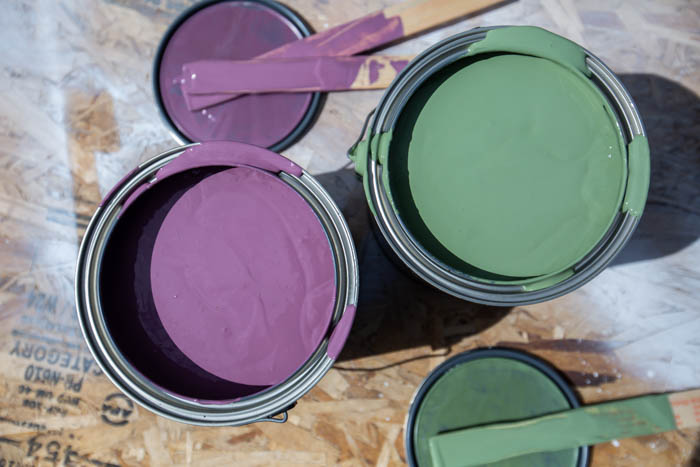 If you watch the video, you'll see that the girls "helped" me paint the chairs. Actually, they were not bad! But I did spend a significant amount of time re-painting and fixing drips before the chairs were done, lol.
We did about 1.5 coats of paint, lol. We did one, and then needed a few touch-ups before they were ready.
Our Finished Adirondack Chairs for Kids:
How cuuuuuute are these chairs?! The girls went shopping with me to help me pick out a pillow for the chairs and luckily we found the PERFECT one with both green and purple florals to tie the two chairs together.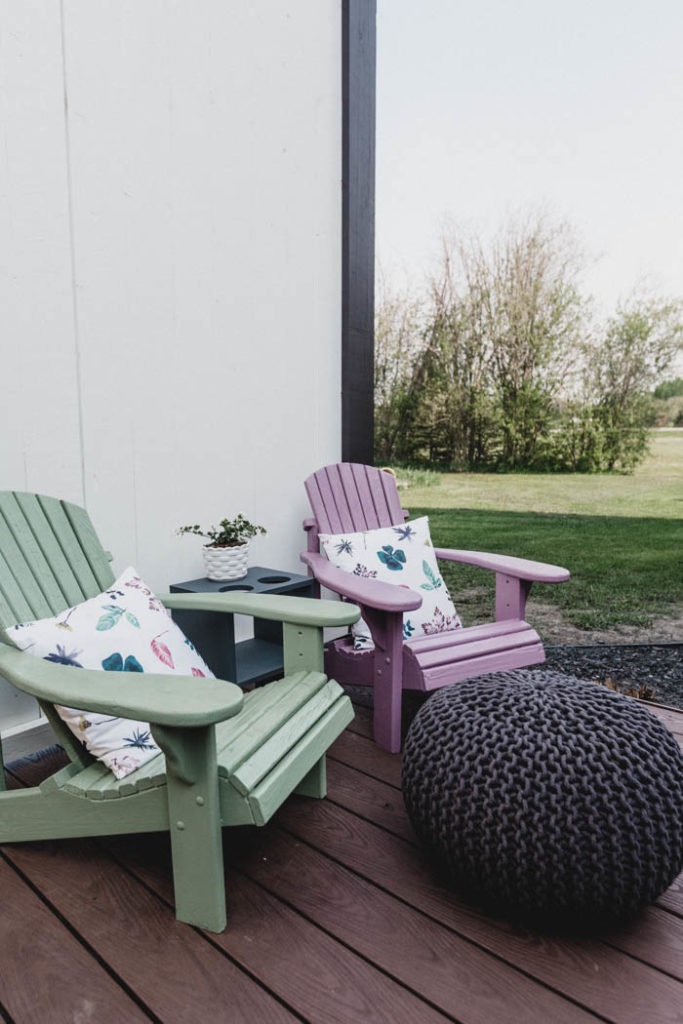 Purple has always been one of my daughter's favourite colours, so it shouldn't be any surprise that she chose to paint her chair the girliest of purples, Canton Purple.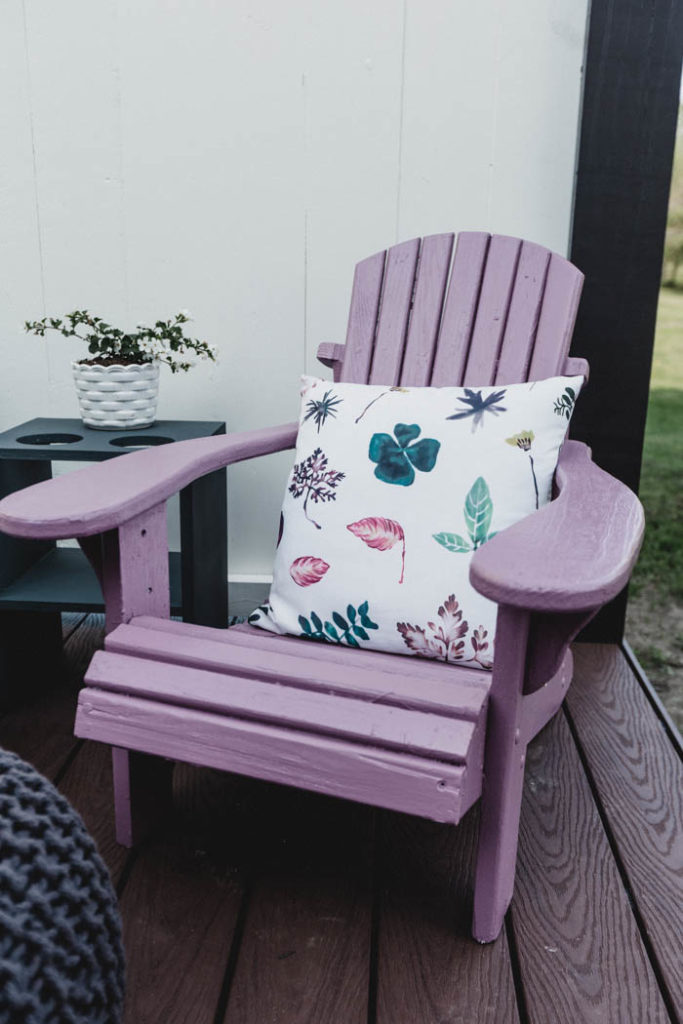 And our younger daughter also has to choose a colour that she picks "by her own self". After I suggested pink, yellow, blue, and another shade of purple, she went for green, lol. But the Cactus Shadow green looks sooooo good, so kudos to her!
Every time we go outside the girls end up sitting in their chairs. If you check out the video, you'll also see that we made that custom little table in no time at all! After all, they needed somewhere to put their cups!
Here's how the chairs look on the edge of the deck. The girls were thrilled to have their own private outdoor kids space.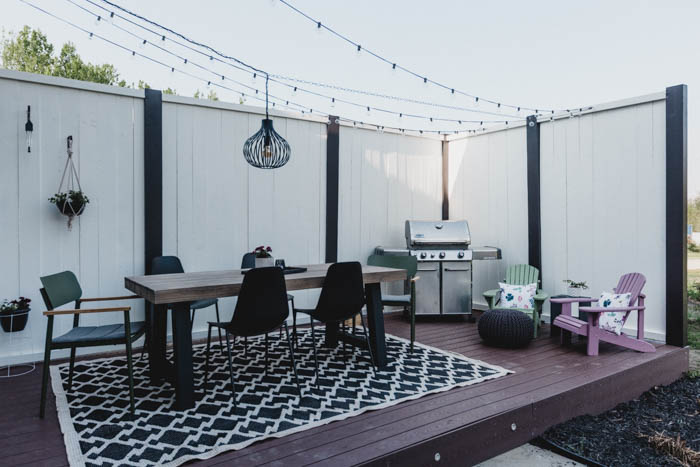 If you're looking for another great kids DIY, this DIY Crate Bookshelf has been a long-time favourite!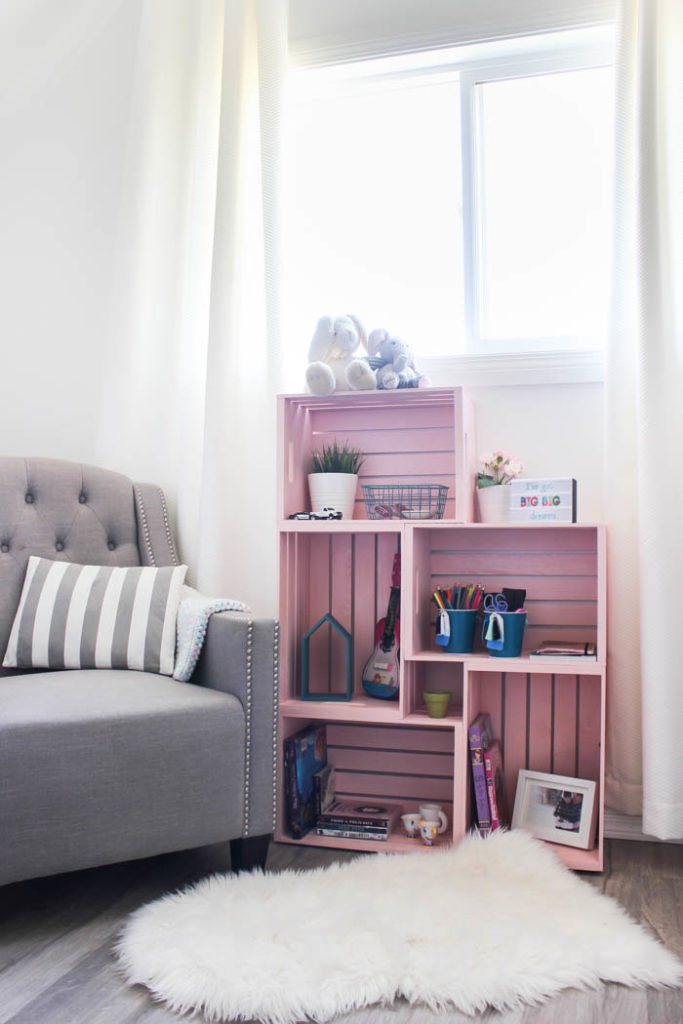 Or, check out how we made that DIY Deck and Privacy Wall.