Easy Modern Lantern summer decor idea! Try this inexpensive DIY for your outdoor space, deck, front porch or patio!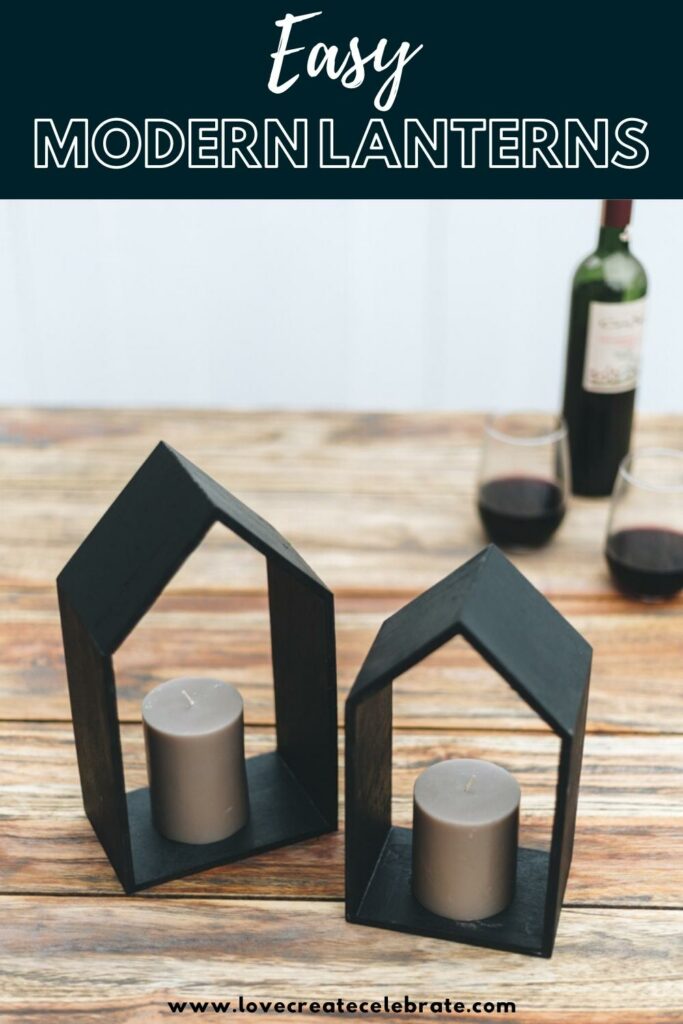 If you're looking for some simple front patio or back porch decorating ideas, you have come to the right place! I'm sharing the easiest and cheapest way to add some style to your outdoor spaces with these easy dollar store modern lanterns!
*This post may contain affiliate links. When you buy a product through one of our links, we get a commission at no cost to you! Thank you for supporting our blog so that we can continue to bring you posts like these. For more information, please see our disclosure page.*
Easy Modern Lanterns
This project is one of a series of modern summer outdoor DIYs that I did using dollar store supplies. I've used these little houses for a few other projects, like these simple dollar store house bookends, but I love the look and shape of them and I knew I would find another way to repurpose them!
Materials Needed
Dollar store wooden houses
Candles
Sander
Varnish brush
Step-by-step Tutorial for your Easy Modern Lanterns
This outdoor summer decor idea involves these little wooden houses from the dollar store. It's barely a DIY, since we'll just be decorating them a little bit, but it looks great on our patio, so I think you'll enjoy seeing how it was done!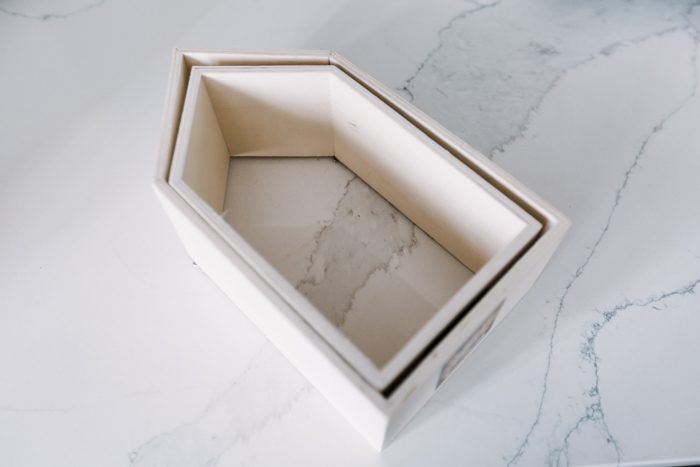 Start by sanding down the edges and remove the hardware from the back of the wooden houses. Then stain all sides and edges of the wood with this ebony black gel stain.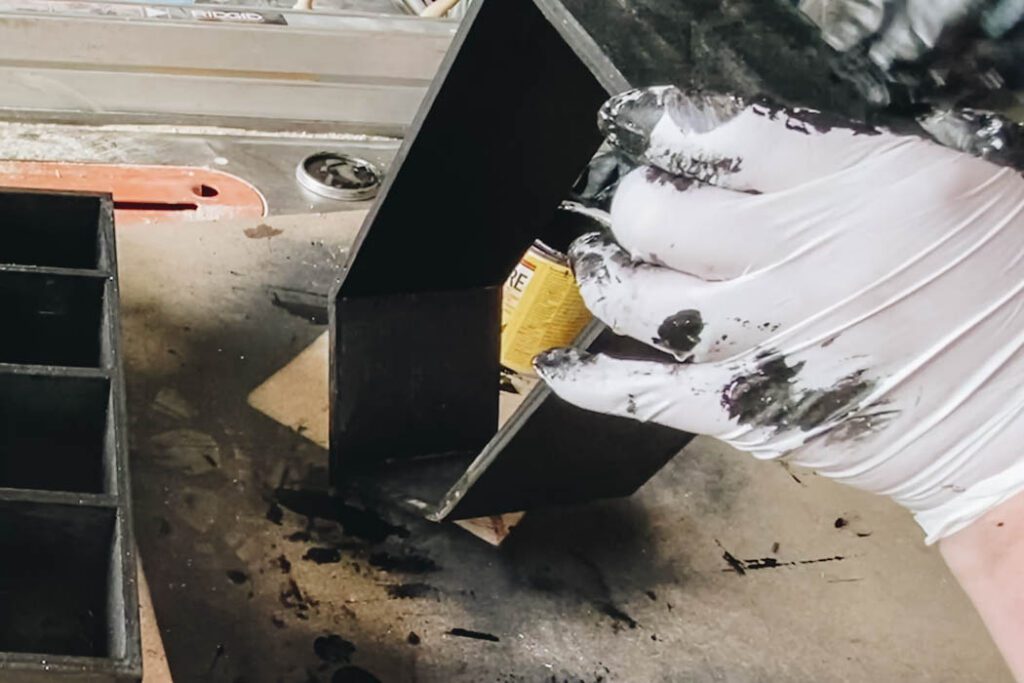 Once the stain is dry, take some time to varnish the piece since it will be sitting outside and we want to protect it from the elements. We used a clear matte finish Polycrylic. Usually a polycrylic needs a couple of coats to get really good protection, especially if you want to leave it out in the elements on your patio or deck.
You can let the first coat sit for about an hour or so before you put a second or third coat on. Allow 24 hours to dry after your last coat of polycrylic before you start using the piece.
All that's left is to put a candle inside the wooden houses to create cute little modern lanterns for the patio. I would recommend the battery powered candles, but we didn't have any on hand, so we put these candles in temporarily for the photos.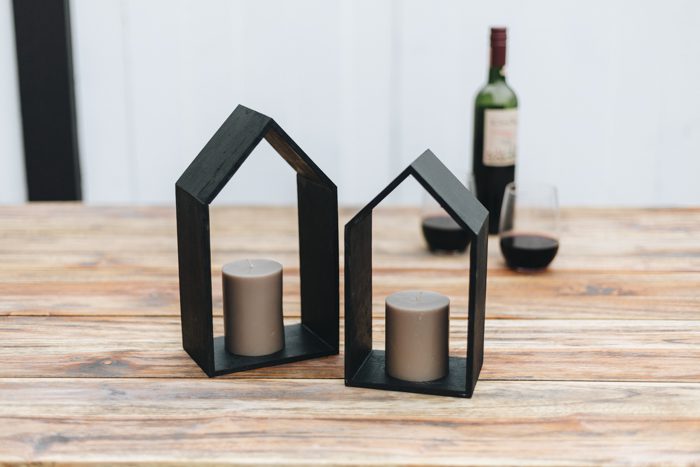 I love how these DIY lanterns look on the patio table. It's a very simple and modern summer decor idea that can add some style and light to your outdoor space when you're enjoying the weather or entertaining!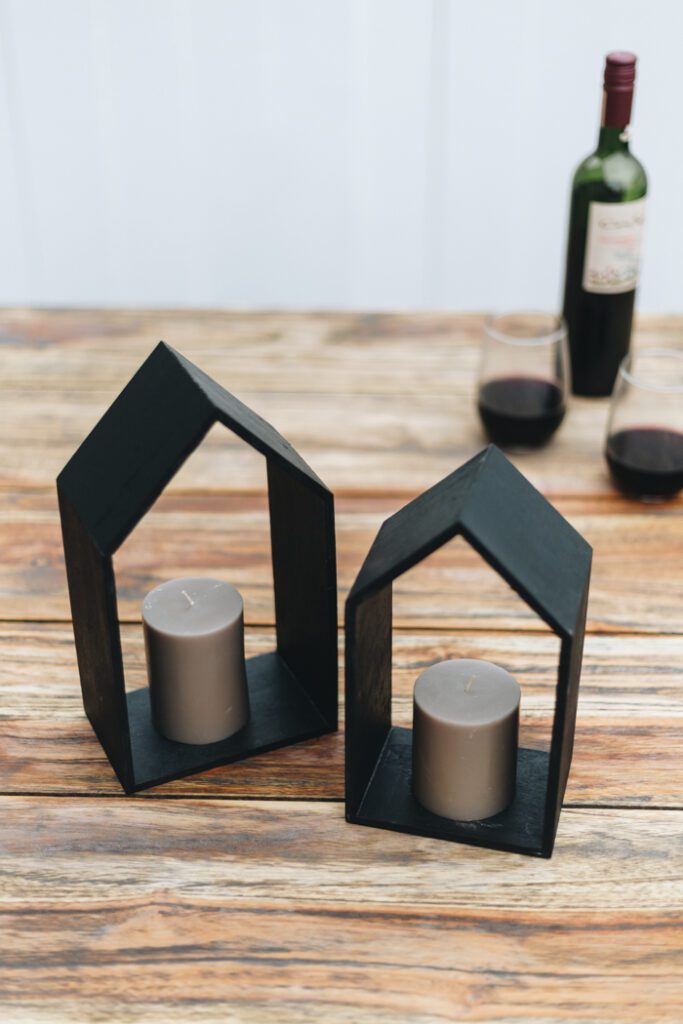 More Outdoor Summer Decor DIYs
This easy modern lanterns project was one of a series of modern summer decor DIYs for your outdoor space that you can do without spending a ton of money. Click on the video below to see how the other summer projects turned out!
Don't forget to subscribe to our YouTube channel for more great summer decor DIYs!
If you're looking for more inspiration for summer decor, check out this post on Outdoor Summer Dining!