Stunning holiday tablescape! A few painted pieces come together to create a beautiful modern Christmas tablescape.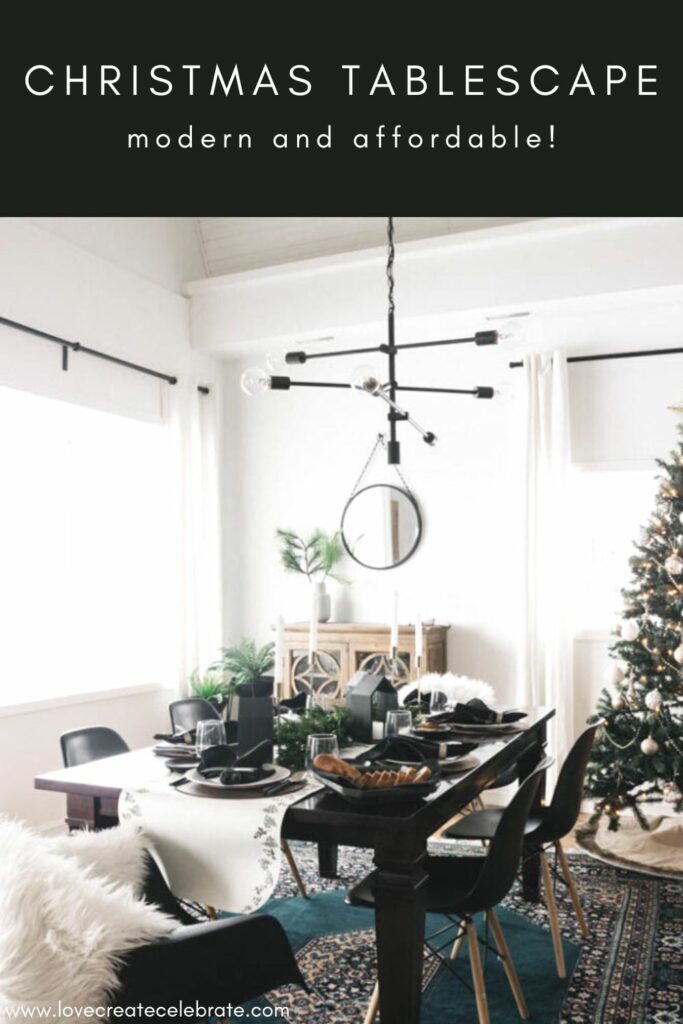 I always love setting up a beautiful tablescape for the holidays. There are a few things I've learned over the years of experimenting…. they can't be too high (or your husband removes everything mid-dinner to see his family on the other side of the table, lol), they need greenery (always!), and it's really easy to make a beautiful table with some paint and creativity! My Modern Homemade Home series friends and I have created a few stunning projects using Beauti-Tone paint for the holidays and I can't wait to share these simple DIYs in our beautiful Christmas tablescape!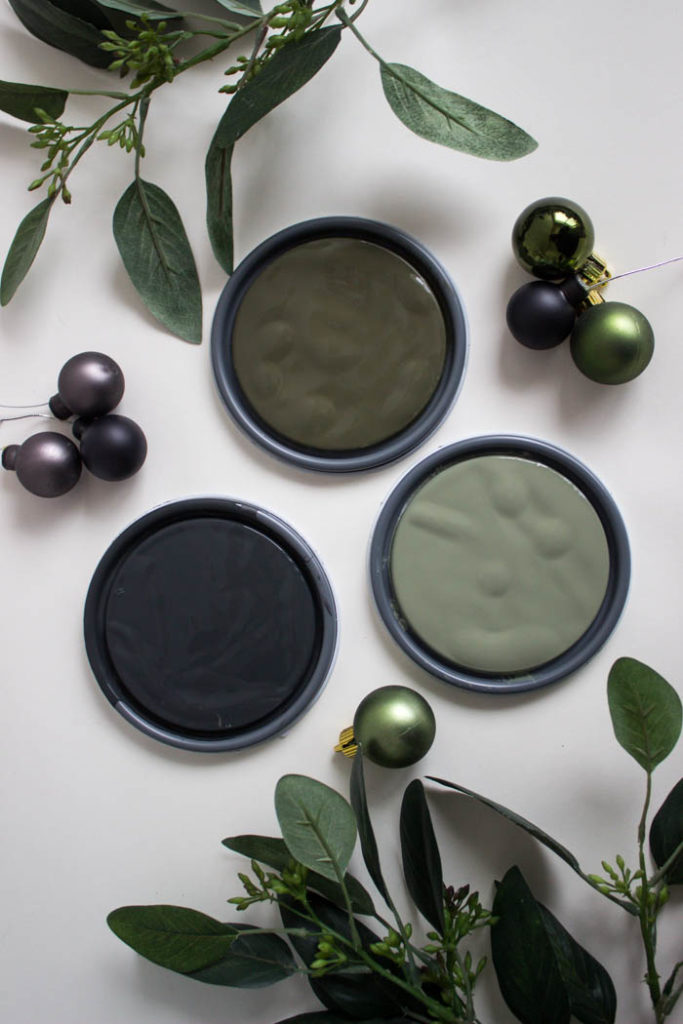 *This post was sponsored by Home Hardware. As always, opinions are 100% my own. For more information, please see my disclosure page.*
I'm a fan of moody colours. My whole home will be decked out with rich and moody tones this year, and I couldn't be more excited about it! When I decided to paint a few pieces for our Christmas table, I went to Home Hardware and stayed within that theme by choosing a few of lovely Beauti-Tone colours called, In the Black (UP77-3), Monogram (D31-1-042403), and Straight Up, Two Olives (UP73-4).
Christmas DIY Projects: Table Runner, Bread Basket, and Candle Holders
DIY Table Runner
Guys! I always get soooo excited to see what a little bit of paint can do! You will not believe how simple these projects are. To start, check out this post on how I made this gorgeous DIY table runner!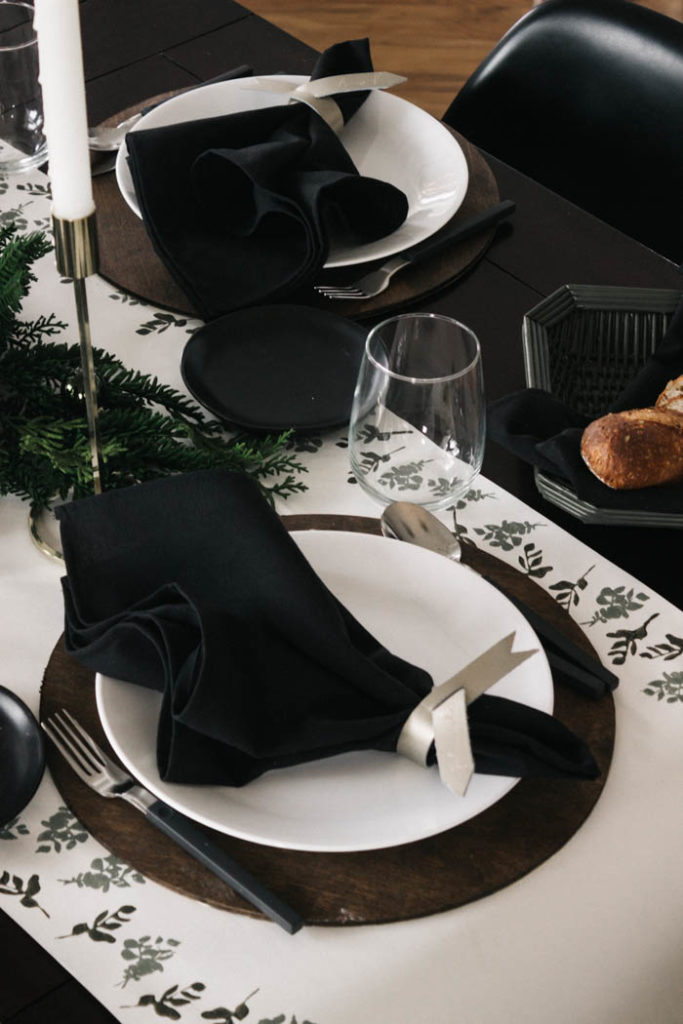 Painted Stacking Houses
The next project involved this little stacking houses I bought at the dollar store.
For this project, I took off the screws and then used the beautiful Beauti-Tone paint, "In the Black" to paint them a deep colour. Then I set some battery powered tealights inside. They make for beautiful focal points on the table and add a nice glow in the evening!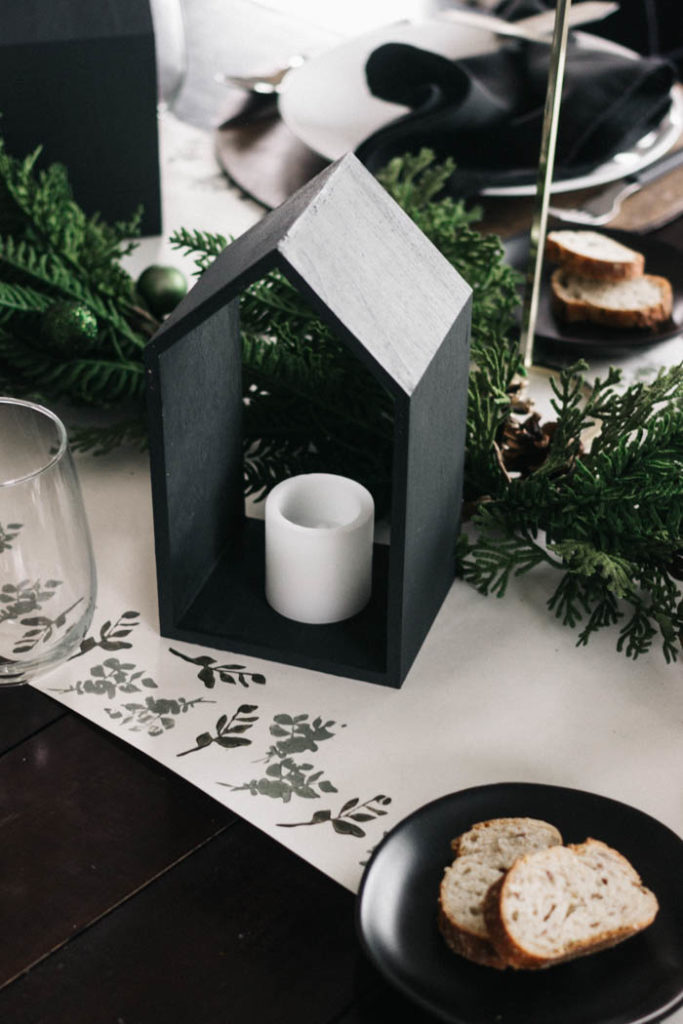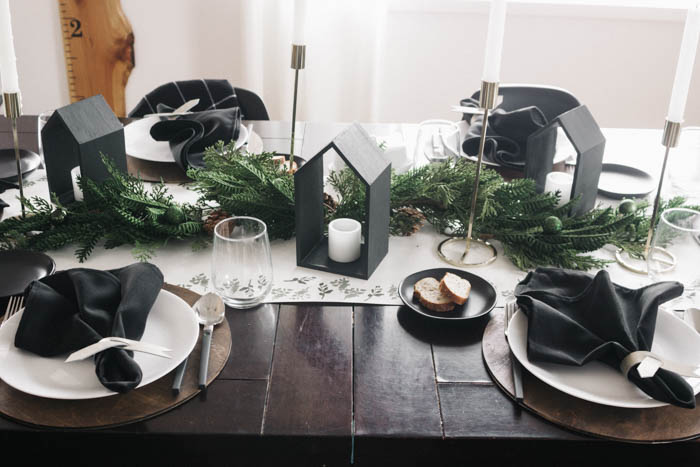 Bread Basket
Finally, I've always wanted a deep coloured bread basket, and its surprisingly hard to find in stores!
I bought this tiny woven basket at a thrift store, added a couple coats of the Monogram green Beauti-Tone paint and voilà! A beautiful new bread basket! Just make sure that you put a napkin down under your food.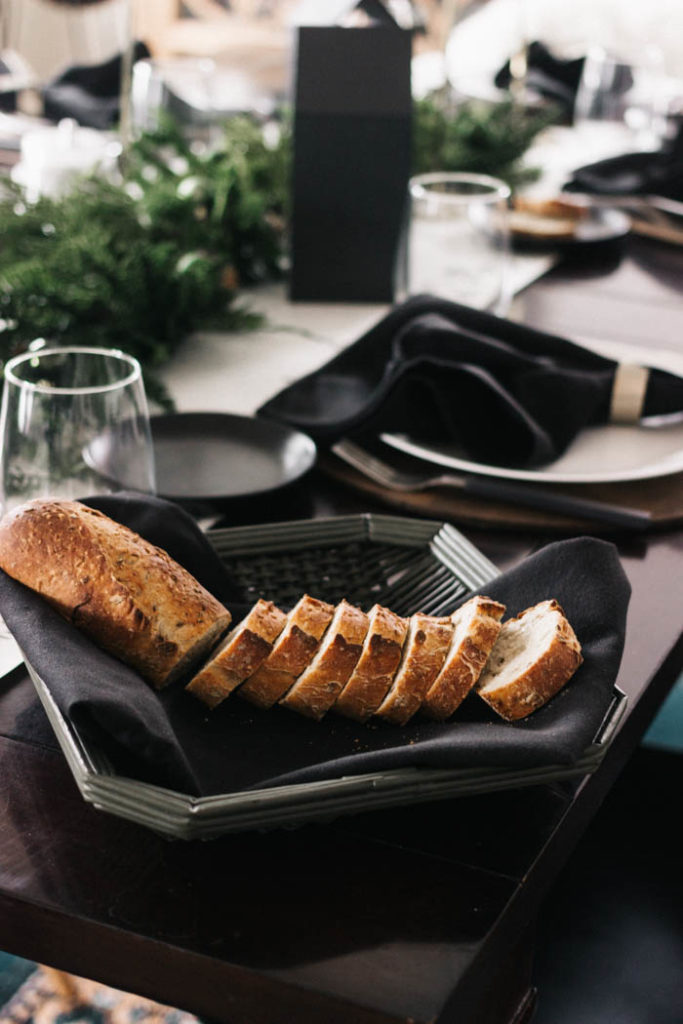 Table Centrepiece and Candlesticks
A few small touches finish off the look, including a centrepiece of simple greenery, with cutest tiny green ornaments sprinkled in.
And a few tall, white candlesticks!
Finished Christmas Tablescape
Here's a few more pictures of our beautiful Christmas table this year! I have to take very good care of that table runner, because I'm hoping it will last until Christmas Day. Or I'll just have to watch another sappy Christmas movie and make another one, lol.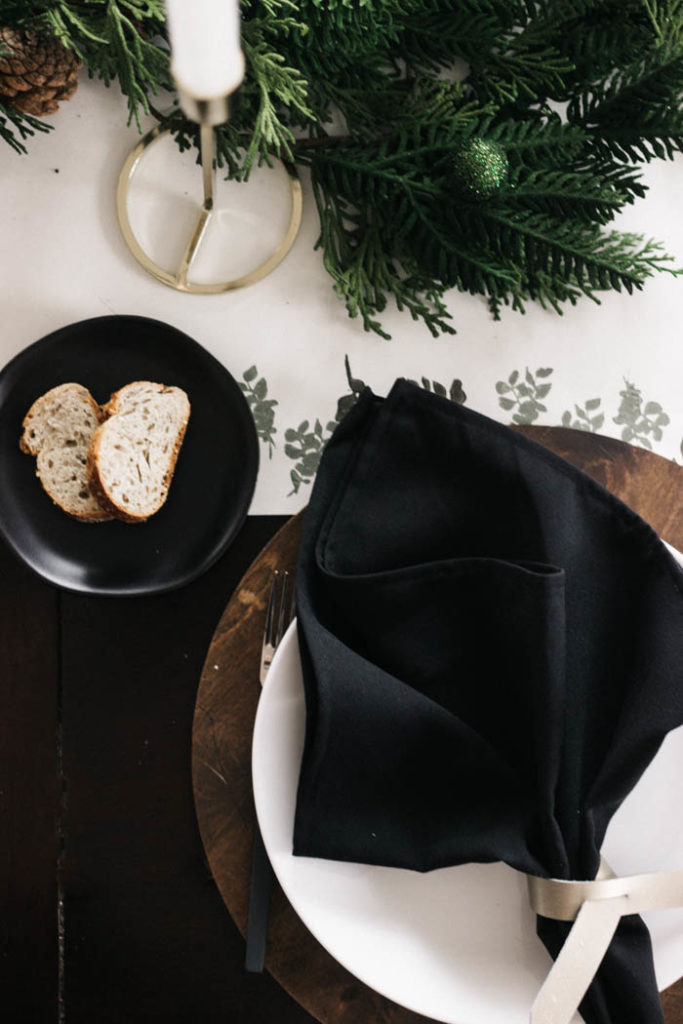 What do you think? Did you love the Christmas tablescape?
More Modern Christmas Decoration Projects
Don't forget to subscribe to our YouTube channel for more great holiday season DIYs!
For more beautiful holiday projects, check out this Pa Rum Pum Pum Pum Holiday Sign!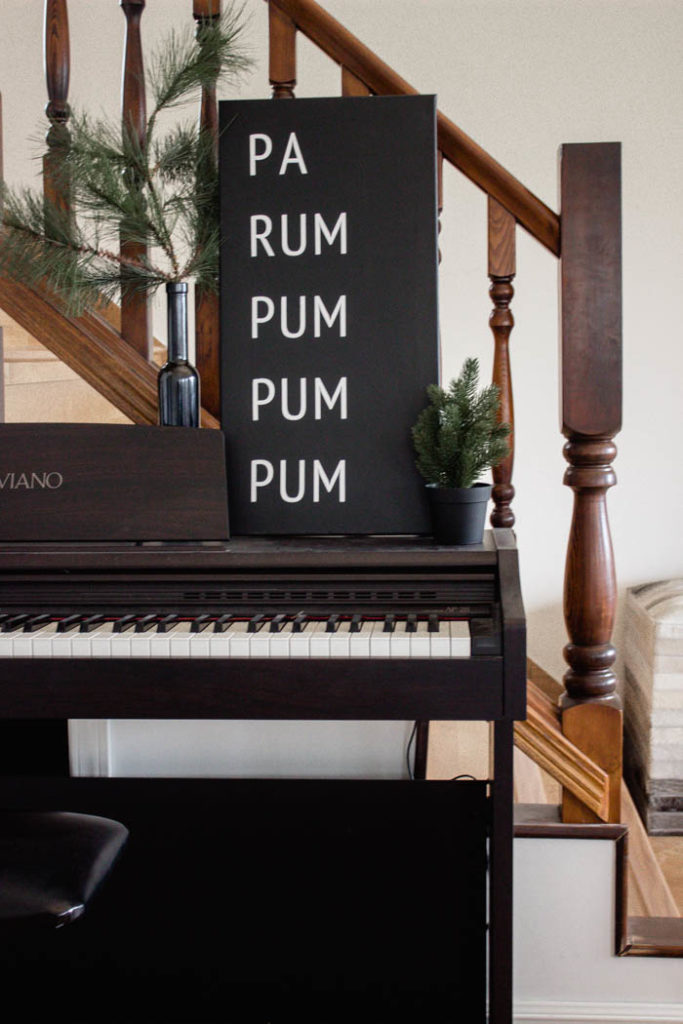 Or check out these simple and elegant DIY Mini Ornaments!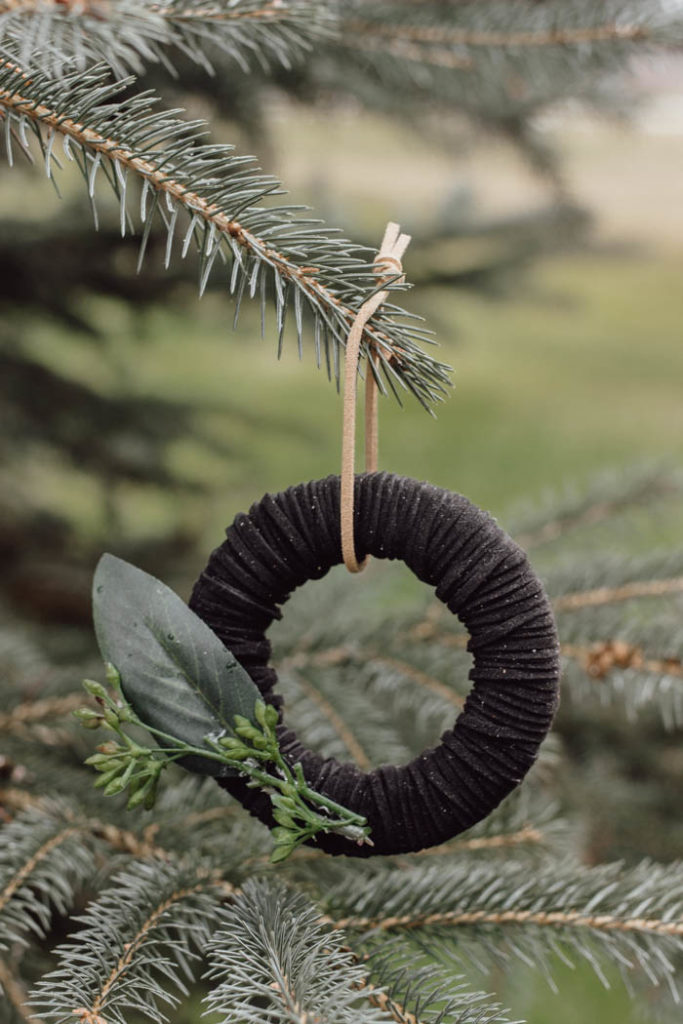 Bonus Christmas Decor Ideas from our Friends!
For even more Christmas decor content, check out these posts from My Modern Homemade Home series friends!
Front Door Makeover by Harlow and Thistle
Ornament Tree by Lemon Thistle
Buffalo Check Front Mat by The Learner Observer
Front Porch Ideas by The Sweetest Digs
DIY Table Runner and Christmas Tablescape
Stunning holiday tablescape! A few painted pieces come together to create a beautiful modern Christmas tablescape.
Materials
Black and olive paint
Leaf stamps
Dollar store stacking houses
Bread Basket
Centerpiece greenery
Ornaments
Candlesticks
Instructions
Use the leaf stamp in the black and olive paints to stamp the white paper to be used as the table runner
Remove hardware and paint the dollar store stacking houses
Paint the bread basket
Add greenery and ornaments to center of table display
Add candlesticks to the other items to complete the tablescape