Easy DIY Mini Christmas Wreath Ornaments! Use Leather to create your own adorable mini wreath ornaments for your Christmas tree!
Have I told you all lately how much I love making ornaments? I make some every year. I make a bunch for my tree and blog, and then I also make a bunch with my daughters that get to go on the kid tree in their room (sorry, usually they don't make the blog, lol) . I've already made one set of wooden ornaments, and now I'm sharing my second idea, which includes another one of my favourites: wreaths! I'm joining the Remodelaholic Creative Christmas Challenge with some amazing bloggers to bring you tons of holiday inspiration! You will love this DIY mini wreath ornaments!
*This post may contain affiliate links. When you buy a product through one of my links, I get a commission at no cost to you! Thanks for supporting my blog so I can continue to bring you posts like these. For more info, please see my disclosure page.*
When I saw these value packs of leather, I snatched one up. I didn't know what I was going to use it for, but I love using leather, and the cording is great for gift-wrapping, garlands, and apparently wreaths! lol.
How to Make Your Own DIY Mini Wreath Ornament:
Materials Needed:
Ste-By-Step Tutorial for Your Mini Wreath Ornaments
I started by unraveling all of the leather and then gathering it into a clump together. The trickiest part of these wreaths is wrapping the leather cording around and still having the wreath look even. So I'm going to show you how I did that in this video.
Continue wrapping until you get to the very end of the wreath and then cut your cording so you just have a little tiny piece of leather left. You could glue that piece of leather to the back but I found it just as easy to tuck it into a previous loop. And when you're done you have a beautiful leather wreath.
Now to add some greenery to the wreath. I use one of my favorite craft glues. There are so many great options for decorating your wreaths, but for these, I just wanted to add a little bit of greenery and keep them simple and minimalist. When you're done decorating your wreath, you can loop another piece of that leather around the top so that you can hang them on the tree.
I ended up using three different colors of leather to make a cute little trio of these wreaths and I loved how they turned out. I think they would look beautiful with almost any decor style and I can't wait to get them up on our tree.
How much do you love these mini wreath ornaments? I think they are the cutest! I thought about making two more with my grey and white cording (and I still might!), but I'm more than happy to have these three mini wreaths for the Christmas tree!
More Great Christmas DIY Projects
If you haven't done so yet, don't forget to subscribe to my channel and get videos before anyone else does!
If you want to see some other great Christmas projects from the Remodelaholic Creative Christmas Challenge, check out this video playlist too:
See all of the other great ornament ideas below:
Nutcracker Christmas Tree Decorating | Remodelaholic
Copper Christmas Ornaments | From House to Home
DIY Rustic Carved Wood Ornaments | Ugly Duckling House
Snowman Globe Ornaments | Kailyn Williamson
Dollar Store Snow Globe Ornaments | Our Crafty Mom
Wood Disc Ornaments | Everyday Party Magazine
Button Christmas Ornaments | Girl Just DIY
Handlettered Ornaments 3 Ways | Lemon Thistle
Wood Slice Snowman Ornament | Creative Ramblings
Mini Wreath Ornaments | Love Create Celebrate
Buffalo Plaid Ornaments | Leap of Faith Crafting
Easy DIY Geometric Ornaments | Practical and Pretty
7 Cheap and Easy Christmas Ornaments | Toolbox Divas
Macrame Ornaments | Frazzled JOY
Grapevine Christmas Wreaths | Grace in My Space
DIY Apple Candle Village | Life on Summerhill
Festive DIY Christmas Card Holder | Red Cottage Chronicles
Lettered Tree Sign | Smiling Colors
Modern Christmas Wreath | Sister's What!
Reversible Holiday Easel | Queen Bee of Honey Dos
Pretty Decorative Clothespins | Sustain My Craft Habit
DIY Wooden Triangle Christmas Tree | Adventures of a DIY Mom
If you love Christmas DIYs as much as I do, you may love a couple of these projects too:
DIY Leopard Print Christmas Ornaments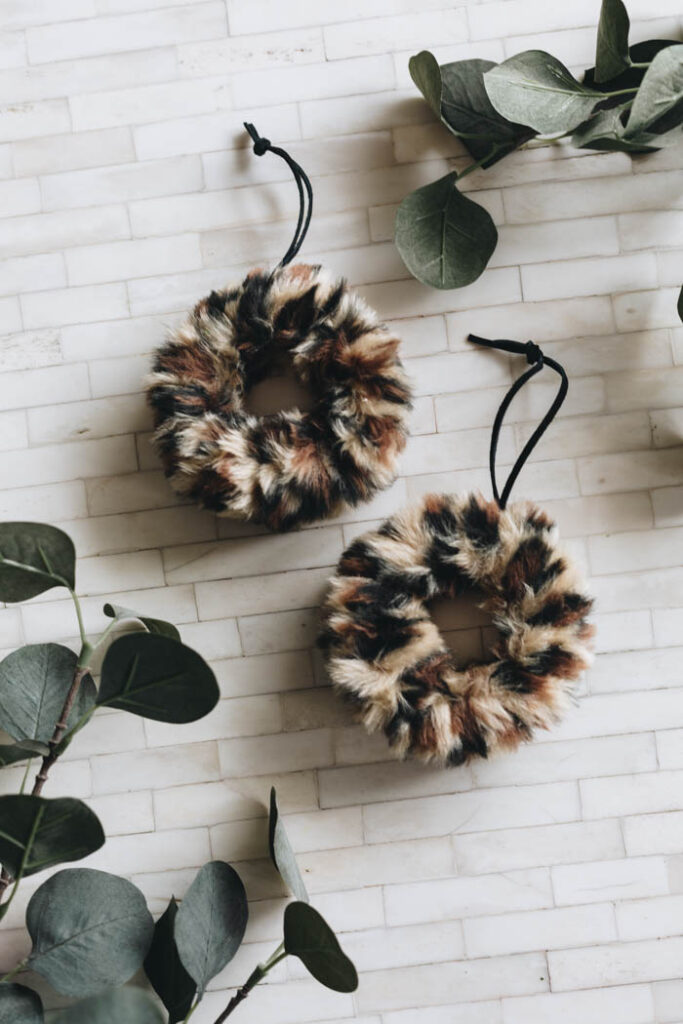 Mini Wreath Ornaments (Using Leather!)
Easy DIY Mini Christmas Wreath Ornaments! Use Leather to create your own adorable mini wreath ornaments for your Christmas tree!
Materials
Styrofoam Wreaths
Leather Cording
Craft Glue
Faux Greenery
Instructions
Unravel all the leather cording
Wrap the leather cording around the styrofoam wreath
Cut your cording so you just have a little tiny piece of leather left
Glue that piece of leather to the back or to tuck it into a previous loop
Decorate your wreaths as you choose. This tutorial shows adding some greenery to the wreath using a craft glue.
When you're done decorating your wreath, loop another piece of leather around the top so that you can hang it on the tree