Get your little one excited for the first day of preschool or kindergarten with this custom shirt. This simple 10 minute shirt design made with the Cricut Explore is a fun way to celebrate the first day back to school.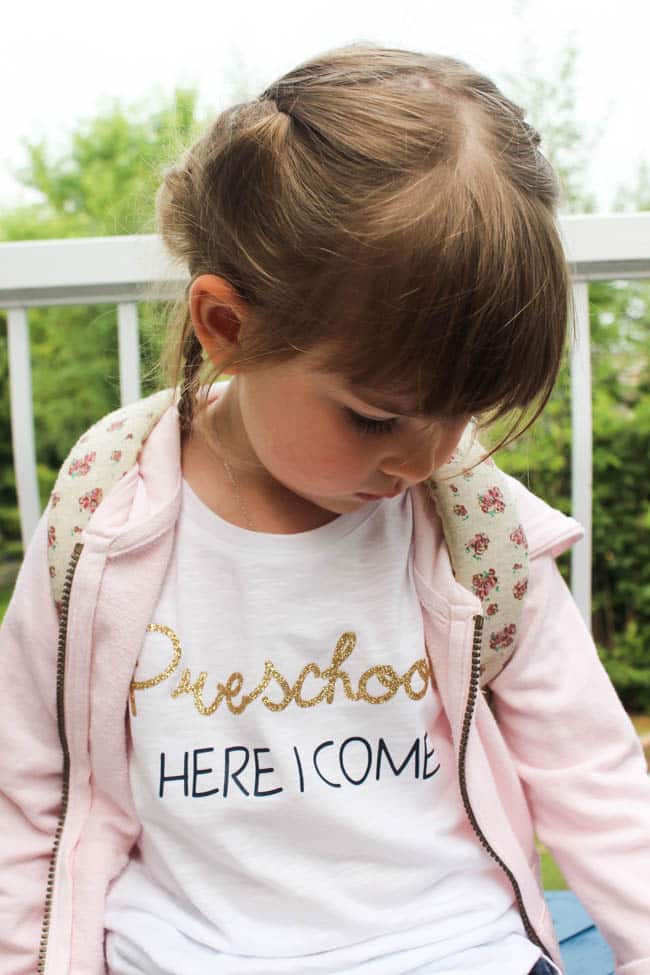 I know what makes a little girl more excited than anything else: starting school. Well… ok. Maybe Disney Land would be more exciting, but my girl could not be more excited to start school. So in celebration of the first day of school a couple friends and I are sharing a some quick 10 minute DIY projects for kids and I decided to make this "first day of preschool" shirt.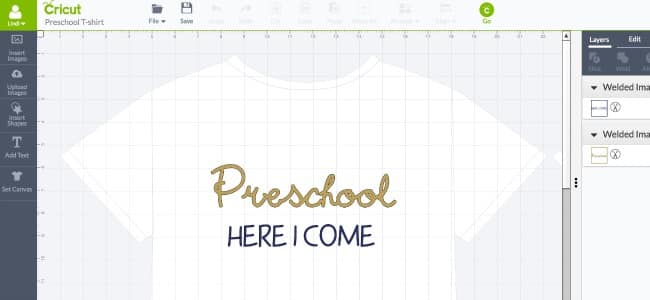 *This post may contain affiliate links for your convenience. For more information, please read the disclosure policy.*
The first day of school is such a special and exciting step for kids and the most likely time to make a fun custom t-shirt. Once you see how simple and cute this design is, you'll want to make one every year! Using the Cricut Explore machine made this project achievable in under 10 minutes, so for all the busy parents out there you'll still have time for back to school shopping.
I'd love to see your design so make sure to share your first day of preschool designs and leave a comment below to let me know if there are other t-shirt designs you may want to see.
What is the Cricut Machine?
The Cricut machine has been a staple crafting tool for me to use over the years and if you haven't used a Cricut machine before, you will fall in love with the ease and adaptability of it. For this project I used the Cricut Explore but Cricut also has a whole line of different machines to use.
If you have a different machine, don't worry, they all are very comparable in terms of functions, and you can use any of them for this project! If you want to find out more info on the different Cricut machines, check out this post for a detailed comparison that lists the pros, cons and different functions.
For those new to using a Cricut, the Cricut is essentially a cutting machine (similar to a mini CNC) that can cut a variety of materials including vinyl. When using the Cricut machine you use a program called the Cricut Design Space which can be accessed on a laptop, Ipad and computer.
On Cricut Design Space you are able to upload your own images, download images from the program and use various fonts for cutting text. In this project we will be using the text cutting setting, which I will show you how to do in the steps below.
Materials:
Cricut Explore Air 2
Glitter Gold Iron-On Vinyl
Navy Blue Iron-On Vinyl
Iron
Plain T-shirt
T-shirt design
(You are also agreeing to our Privacy Policy):
Now before you jump in, make sure to check out this tutorial on how to use the Cricut to make iron-on-vinyl designs.
How to make a First Day of Preschool Shirt using Iron on Vinyl: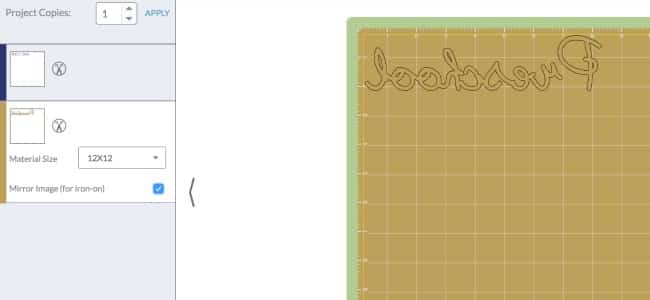 Once you open the design space links, press the "Make it" button on the top right hand corner! Set your Cricut to "Iron-On Vinyl" and don't forget to click the button to reverse your image. To do this, click the button on the left that says "mirror".
Place your iron-on vinyl on your mat with the shiny side down. Make sure the vinyl is smooth on the mat so you don't get creases or a miscut.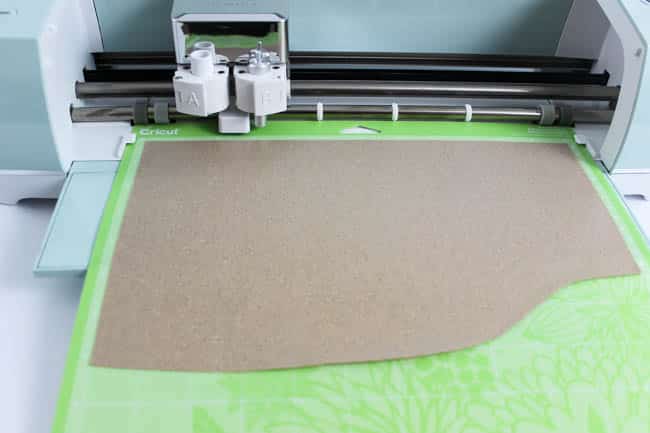 Once your vinyl is cut, peel back the unnecessary pieces to leave just the words overtop of the clear protective layer. If you are finding it hard to peel pack the vinyl, you can also use the Cricut weeding tool to remove the vinyl not included in your design.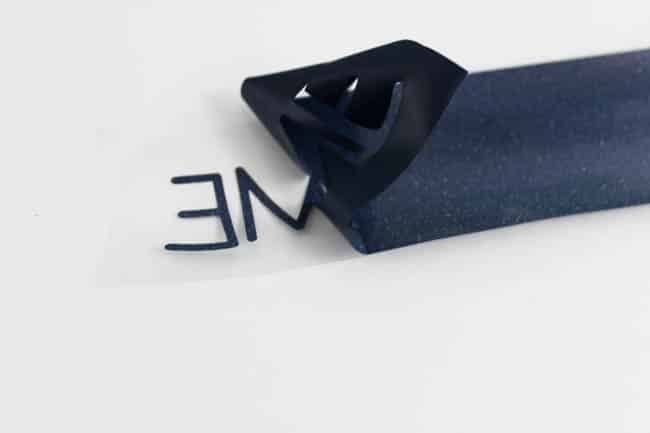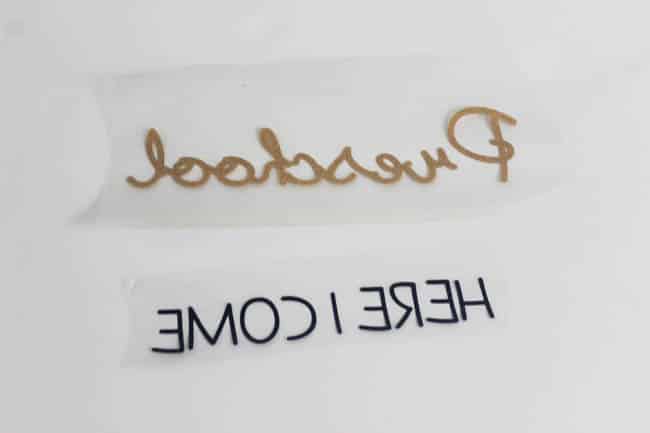 Once your set of words is cleared of any scraps, the cut out will be reversed with the protective layer underneath. You will then flip the design over and place the words overtop of your t-shirt, with the protective layer up.
Put your iron on the "no-steam" setting. Press over each spot for at least 10 seconds until the vinyl has set.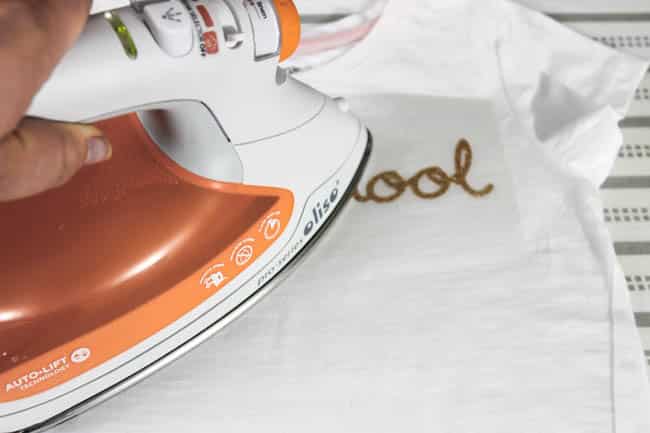 When the vinyl is set, I usually like to check a little corner to make sure it is set. If it is set you should be able to easily pull back the protective layer. If not, place the corner back down and add some more heat for a couple more seconds.
Do the same with the second set of words. When placing the second set of words on Make sure that your iron doesn't touch the already set words, unless you have a protective sheet on them.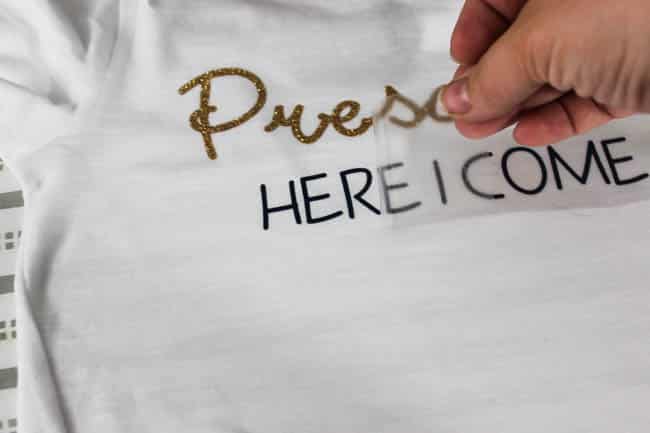 To say this little one is excited is an understatement! She is all ready to go to school and show off her new shirt to her friends. I hope your little ones enjoy their t-shirts just as much!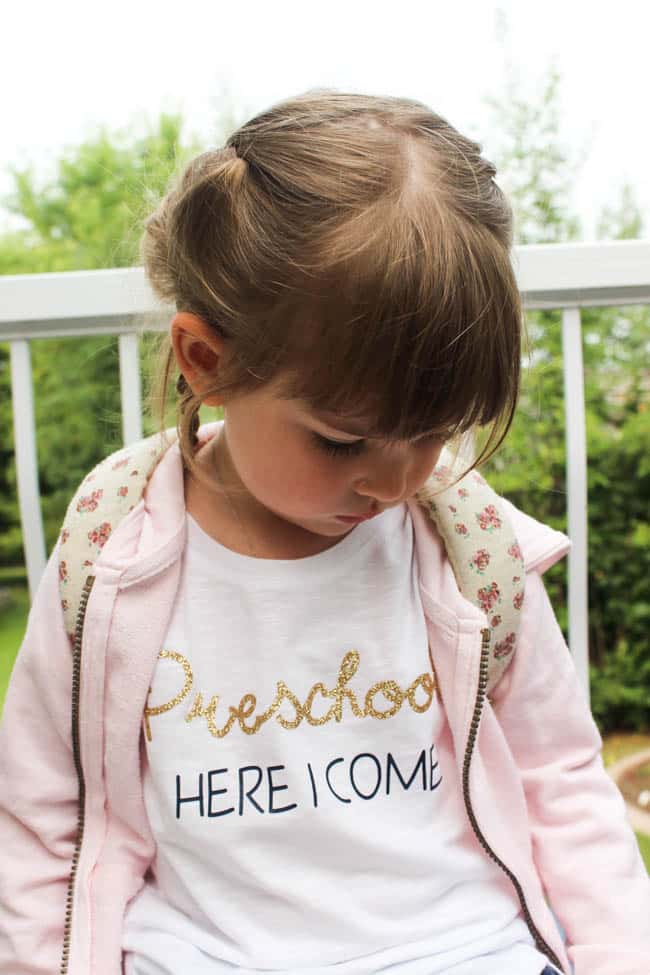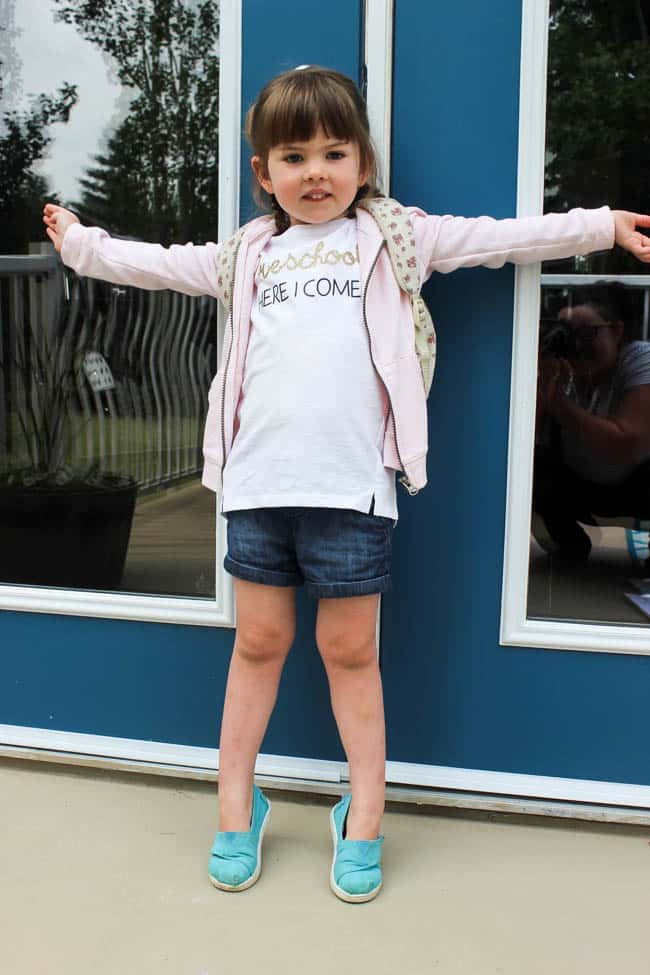 If you are looking for more inspiration, don't forget to check out some other friends who are sharing some quick 10 Minute DIY projects, for kids.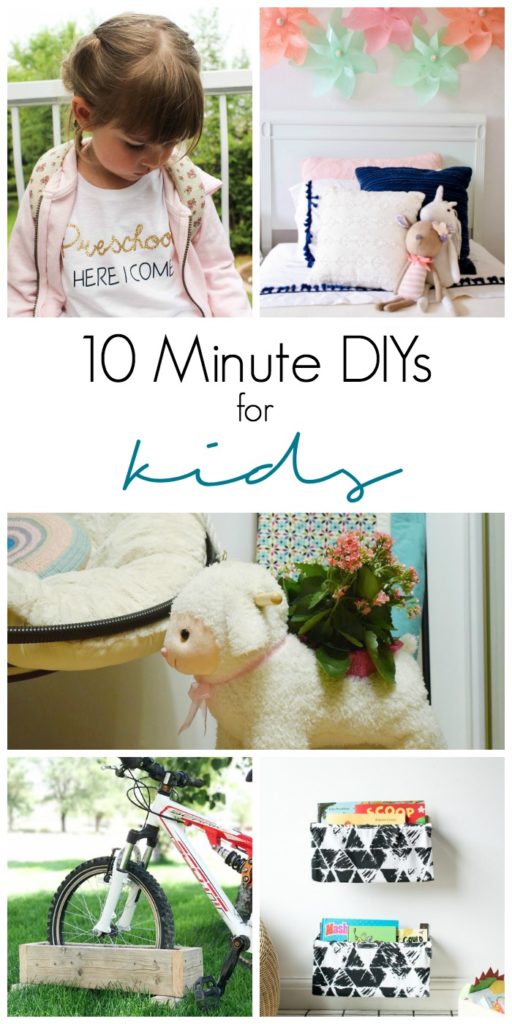 First Day of School T-Shirt by Love Create Celebrate
Pinwheel Wall Decor by Pocketful of Posies
Rocking Plant Stand by DNA Designs
Easy Bike Rack by Twelve on Main
Fabric Book Sling by Grillo Designs