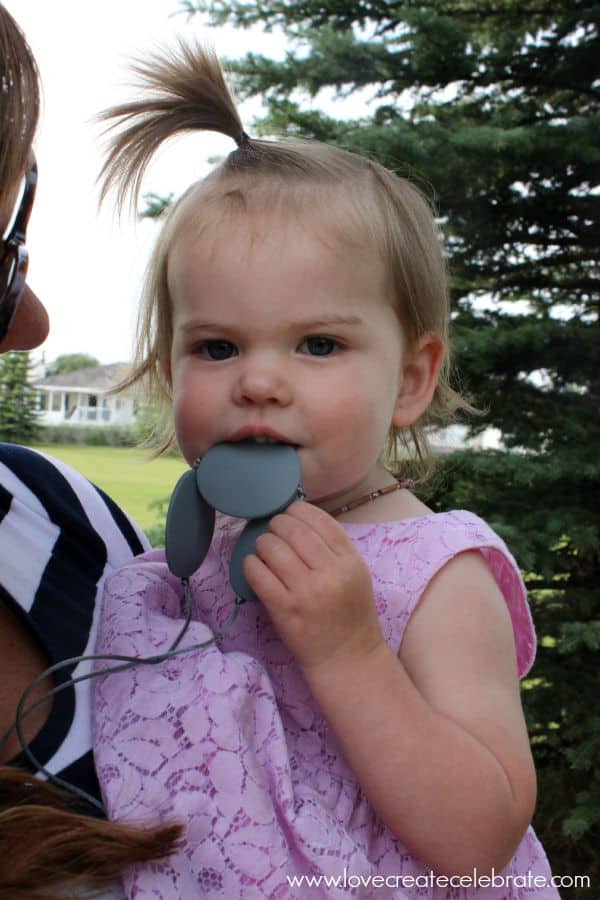 *This post was sponsored by Tiny Teethers. As always, thoughts and opinions are 100% my own. For more information, please read my disclosure policy.*
There are many rights of passage that every baby must go through: learning to walk, learning to use a spoon, saying their first word. Most of these elicit joy and excitement from parents, but there are a few that inevitably cause stress for every mommy and daddy: getting sick for the first time, getting their shots, sprouting up those dreaded teeth. As a Speech-Language Pathologist, I know that baby teeth can play an important role in your child's early speech development, chewing skills, and eating preferences. That is why I thought I would switch roles from my DIY-self today, and share some Healthy Teething tips for parents.
Well… if you needed proof, here it is! Not only do I have my Speech-Language Pathology background to guide you, but I have real experience from this little bundle of joy (usually!).
It's so important to recognize and support your child through each stage of teething. First is the erupting phase, in which the teeth, that formed in utero and slowly coming out of the jaw. At this stage we often can't see any redness or changes to the gums, and we tend to shake off symptoms and pain of teething as our babies being cranky, or being picky eaters. Then comes the cutting stage. At this point we can see that our babies gums are inflamed (if they let us see inside!) and we start seeing the physical tooth appear. This stage often comes with pain, which leads to avoidance of certain foods or textures, and extra biting, drooling, or sucking.
What are some signs of teething?
Since most teething occurs before our children have developed speech and language, they can't tell us what is wrong. Therefore we have to watch for changes in behaviour as indicators of teething. Some things to watch for are:
drooling
gum rubbing
sucking
irritibility
wakefulness
slight fever
red cheeks or facial rash
poor appetite
avoiding breastfeeding
biting
chewing
What should I avoid?
There are some foods, flavours, etc. that can increase pain and discomfort during teething stages because they can sting or burn or cut the open, hurting gums. You can help to keep your baby as comfortable as possible by avoiding:
citrus foods
tomatoes or tomato sauce
spicy foods
salty foods
frozen foods or frozen teethers
hard or crunchy foods
How can I help my baby?
First of all, love on that baby of yours! Do what's natural by providing hugs, and kisses, and comfort. Another thing every parent can do is clean their baby's gums with a damp cloth (as early as two months!), and with a small toothbrush later on. This helps to desensitize the baby and get them familiar with mouth cleaning, but also, the pressure from the massage can help with teething. Here are some other ideas to consider when experimenting with what works for your baby:
homeopathic remedies
amber necklaces
cool cloths dipped in breast milk, formula, or milk
cooled teething toys (not frozen)
teething jewellery
medications (talk to your Doctor)
Although there are many, many options out there to help your child with teething, I wanted to highlight the silicone Baby Teething Necklaces from Tiny Teethers. I didn't have one of these teething necklaces until my daughter was about 18 months old, but boy did I notice a difference once my daughter started playing with it. I had tried cool foods and toys on her gums, but she didn't keep them in. I had tried various amber necklaces, which didn't seem to make a difference for her. I had used homeopathic remedies with no luck. This necklace was finally something that she would keep in her mouth by choice!
She loves the feel of the silicone necklace on her gums, and I feel 100% comfortable with her chewing on it and playing with it. One of the things about teething is that you never know when the pain going to come or when those teeth are going to pop up. That's my it's been such a blessing (for her and for me!) to have something stylish that I want to wear and bring along on weekend trips to Edmonton, or camping trips in the summer.
I'm currently showing off the grey necklace from the Safflower Collection by Tiny Teethers and I would recommend one of these stylish necklaces to promote healthy teething to any mama!
Happy teething :)
Please let me know if you have any questions!
{xoxo}