DIY Toothbrush Holder using a thrift store pencil holder! Try this simple thrift flip to make a beautiful toothbrush holder on a budget!
We did it again… we took a trip to the thrift store. Clearly that means we're going to have another thrift flip on our hands! This time we found a little wooden container, and I couldn't resist turning it into a DIY toothbrush holder, since we didn't have one in the kids' bathroom yet!
*This post may contain affiliate links. When you buy a product through one of our links, we get a commission at no cost to you! Thank you for supporting our blog so that we can continue to bring you posts like these. For more information, please see our disclosure page.*
How to Make a DIY Toothbrush Holder
Materials Needed
Thrift shop pencil holder
Sander
Sandpaper
Painter's tape
Step-by-step Tutorial for my DIY Toothbrush Holder
For this project, Russel found this little wooden item for me at the thrift store, and honestly it's great as it is. I like the shape of it and I like the circle inside.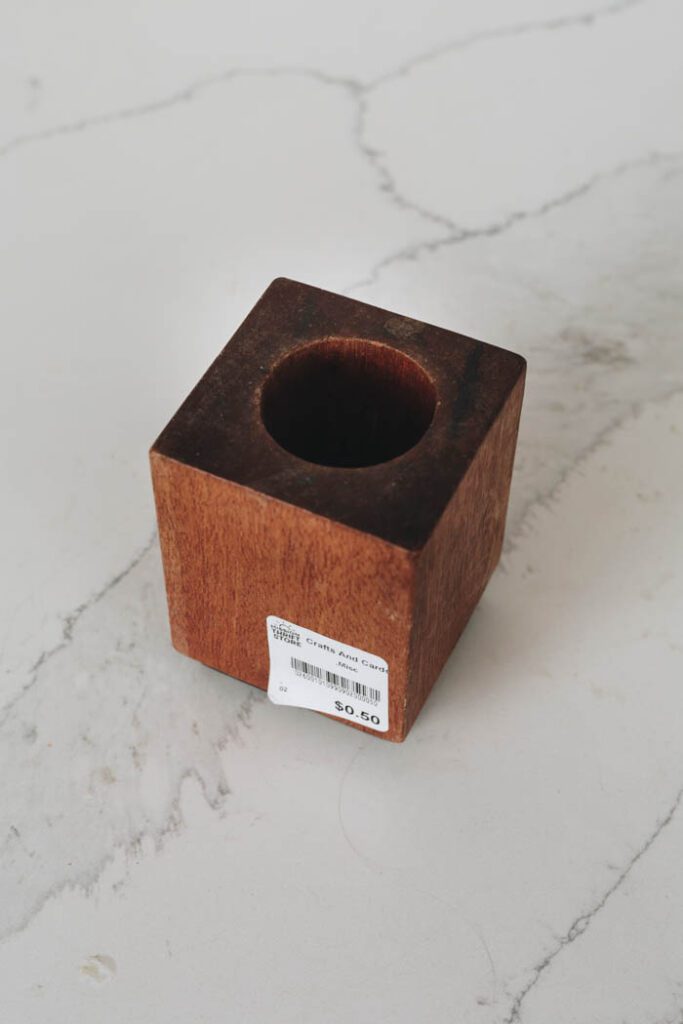 Since I already loved the look of it, I just wanted to use it for something other than a pencil holder. But first I had to sand it all down and refinish it.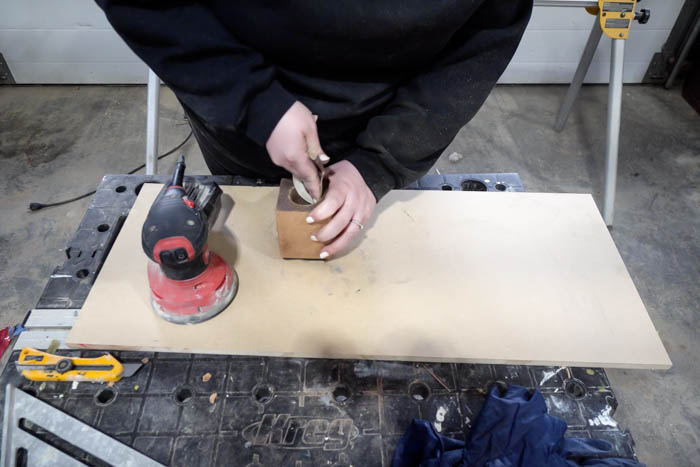 I sanded it all with my orbital sander on the outside, and some sand paper rolled up on the inside. Once everything was sanded I just re-stained and re-finished the top and bottom. I used an ebony gel stain on the bottom and a dark walnut stain at the top half.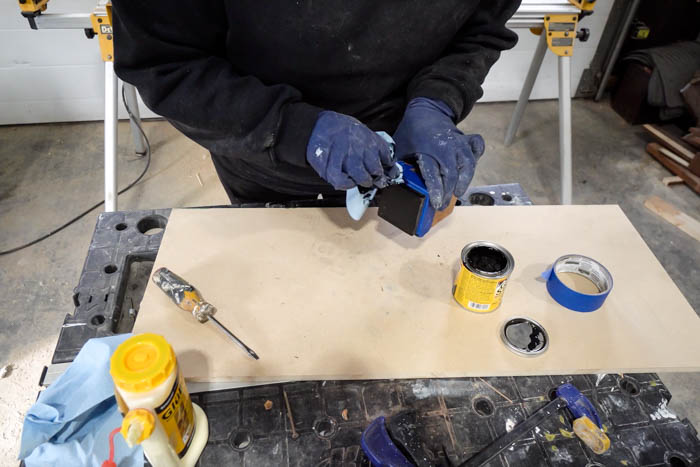 Then because I was planning to use this around water, I gave it a couple thick coats of polycrylic to protect the finish.
Another thing you could do is add some holes through the bottom with a drill. It's pretty easy to get inside and clean, but if you're worried about cleaning drilling holes will allow water to seep through and make it even easy to clean.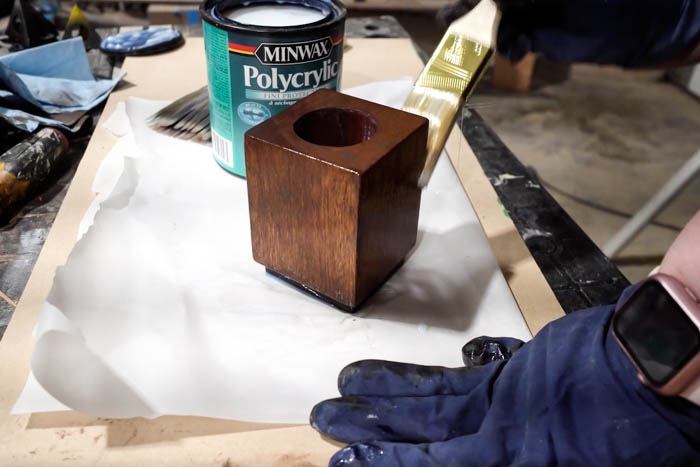 The plan all along for my little thrift store pencil holder was that I wanted to have a way to corral my kids toothbrushes.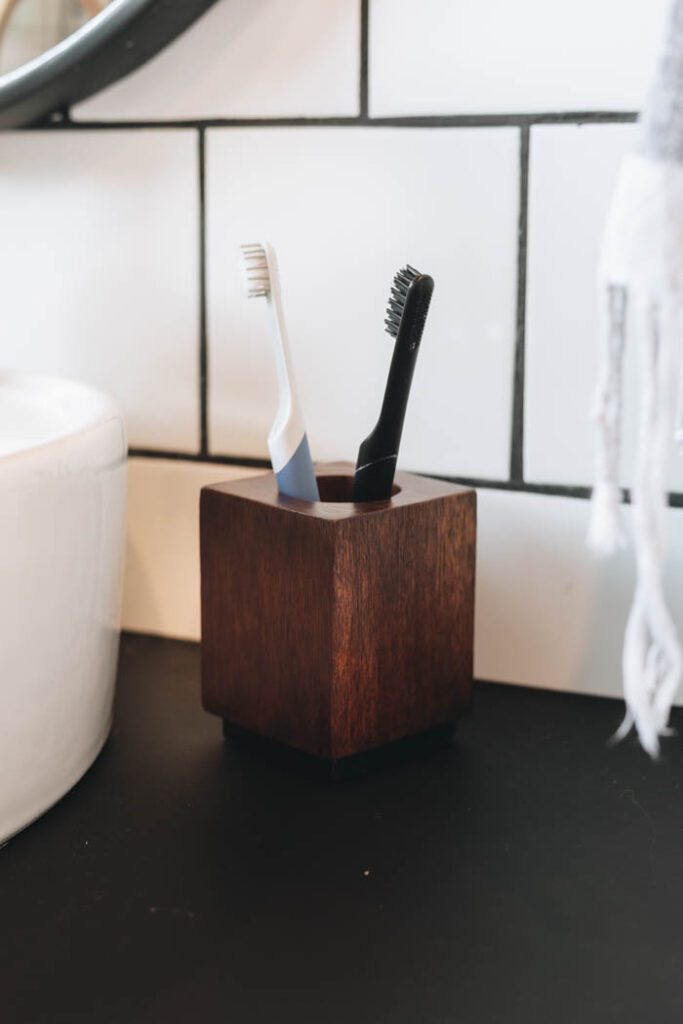 I'm going to take it one step further and actually hang it on the tile with moldable glue that I've used in a previous project. This stuff is really versatile it's supposed to be able to stick to tile so i'm going to stick it on see if it lasts.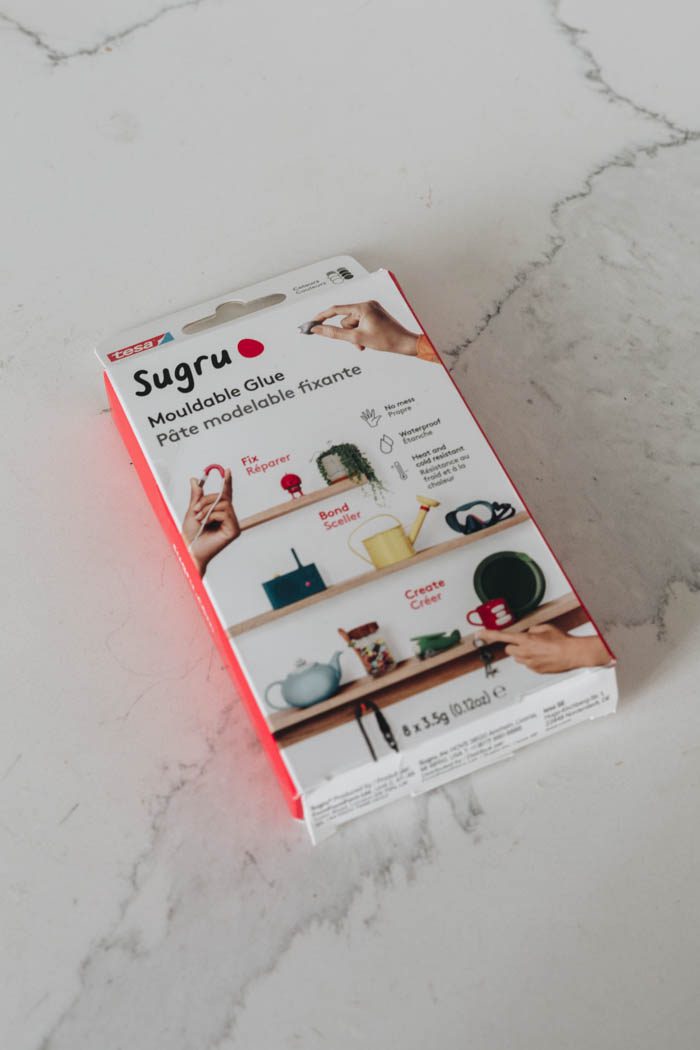 It was really easy to use! Literally just pull it out, play with it and spread it out like silly putty, and then stick it to the wall.
The Finished Toothbrush Holder
This one wasn't really a DIY project per se, since I only updated the piece and repurposed it, but here's what it looked like on the counter top.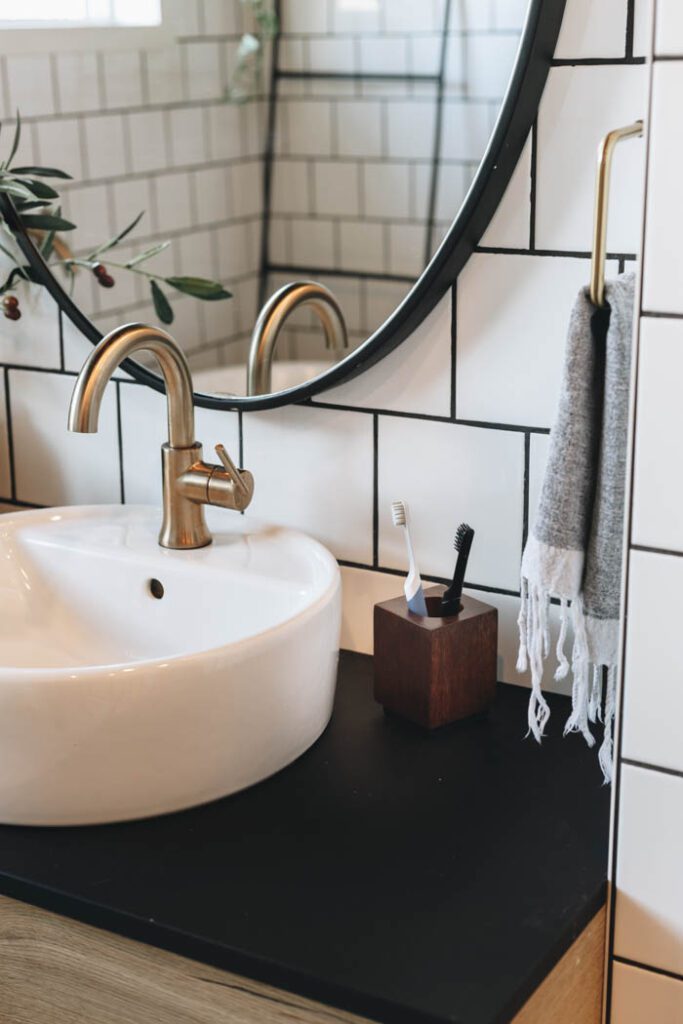 And here's what it looks like hanging on the tile.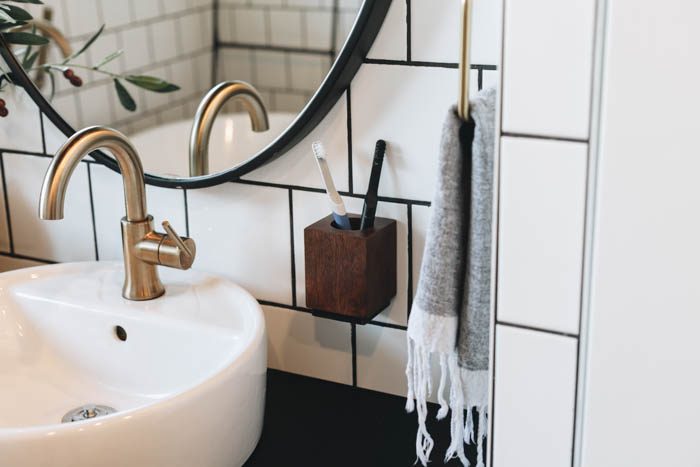 I really love the look of this DIY toothbrush holder. I think it was a really good find and I'm glad we were able to find a use for it!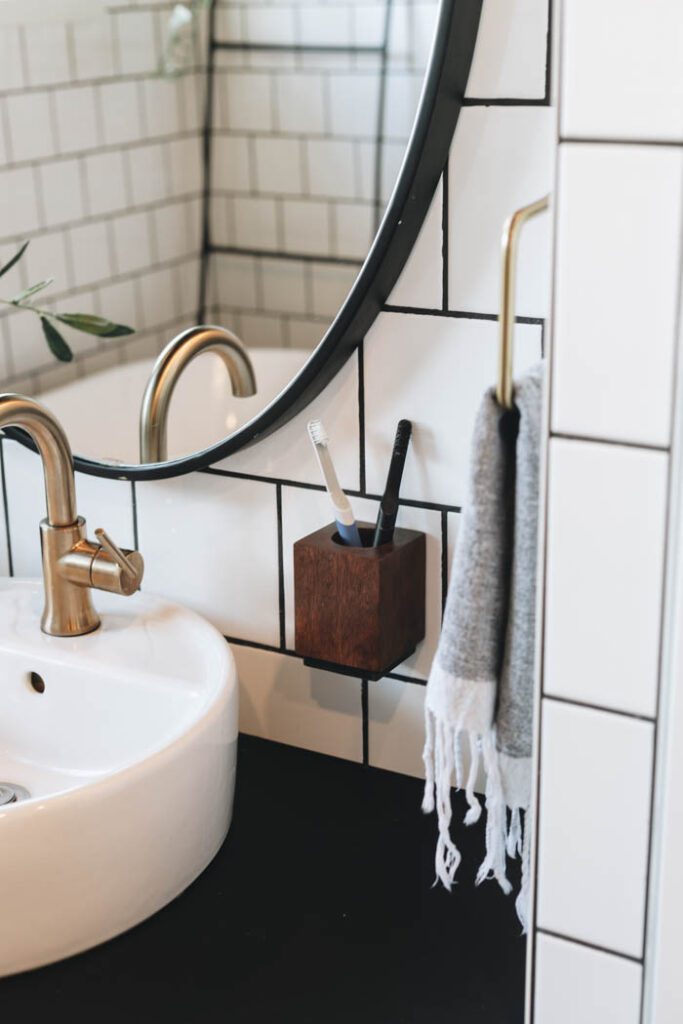 More Thrift Store Flips on a Budget!
This DIY Toothbrush Holder was one of 4 modern thrift flips I did for under $2! Check out the video below to see how I made the other modern, budget-friendly thrift flips!
Don't forget to subscribe to our YouTube channel for more great home decor thrift flips on a budget!!
For more great thrift store DIY ideas, check out these High End Thrift Flip Gifts!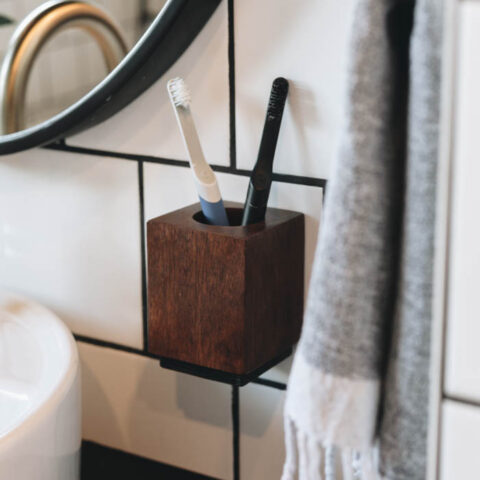 DIY Toothbrush Holder
DIY Toothbrush Holder using a thrift store pencil holder! Try this simple thrift flip to make a beautiful toothbrush holder on a budget!
Materials
Thrifted pencil holder
Sandpaper
Painter's tape
Ebony gel stain
Dark walnut stain
Minwax Polycrylic
Sugru moldable glue
Instructions
Sand the thrift store toothbrush holder
Apply tape to separate sections of material to protect during staining
Stain the bottom with ebony gel stain
Stain the top with dark walnut stain
Re-finish by applying 2 thick coats of polycrylic
Hang finished toothbrush holder on bathroom tile wall using moldable glue