Love fall décor? This DIY copper pipe wreath is a touch of industrial style with colorful fall foliage. It is the perfect addition to your autumn décor!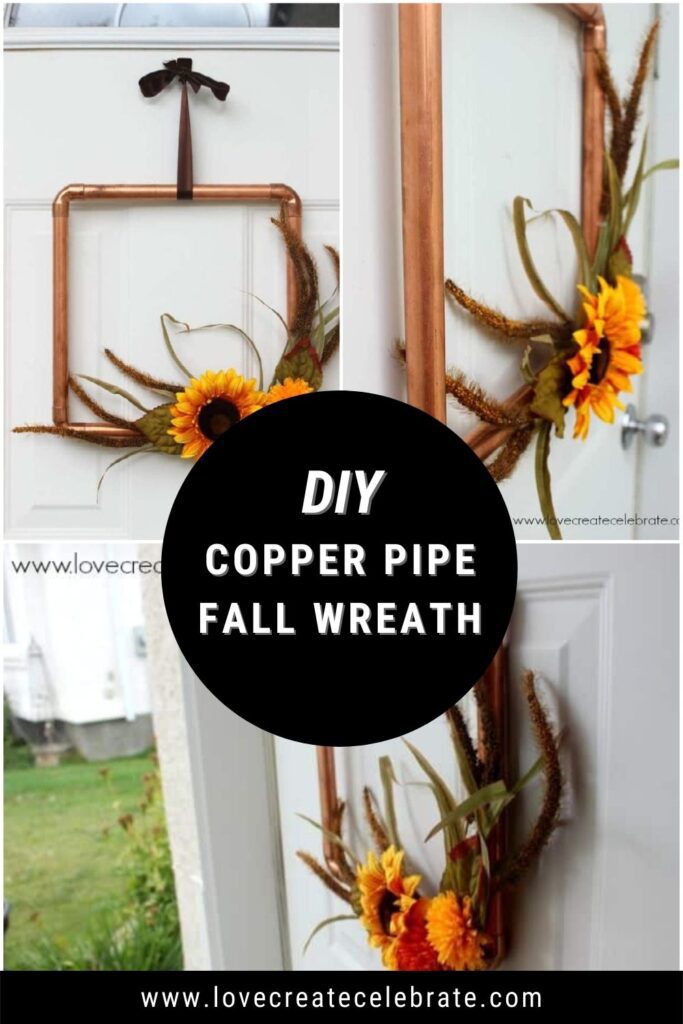 I am a big fan of copper décor. I used to love having copper elements in my home. I had a very "industrial" phase of décor (don't we all go through these phases?! lol), and I feel like this unique and pretty DIY copper pipe fall wreath is a nod back to those creative days.
I had the idea to make a wreath out of copper pipe way back when I was working on this Copper Wine Rack, but I knew that the copper would be perfect for the fall, so I resisted until now! Today I'm here with 13 other amazing Canadian bloggers to show off a great collection of DIY fall wreaths! I hope you find some autumn inspiration in this easy DIY Copper Pipe Fall Wreath.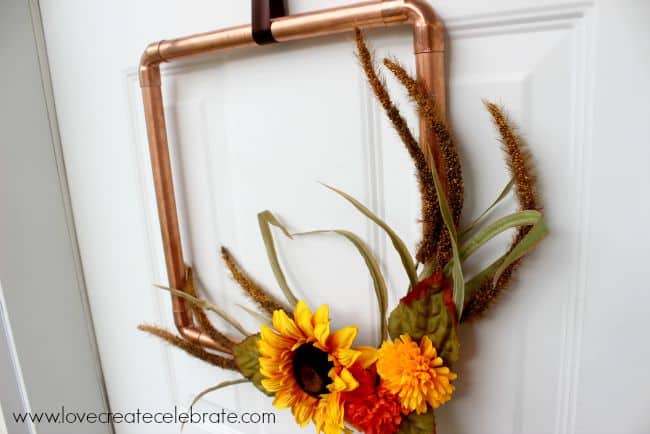 *This post contains affiliate links. For more information, please read my disclosure policy*
This industrial wreath is the perfect colour for the fall. You don't have to do anything to the copper to protect it and it will naturally patina beautifully! I love the rich metallic colour, but I especially love it against the white door.
Everything You Need to Make This Industrial Wreath
All of the tools for any copper project can be found in your local hardware store, in the plumbing section. People don't typically use copper for DIY projects, but I love how versatile it is.
Materials Needed to Make a Copper Pipe Wreath
3/4 Inch x 3 Foot Straight Length Copper Pipe (x2)
3/4 Inch Copper Fitting 90 Degree Elbow (x4)
Various faux florals
Sharpie
Tools Needed to Make a Copper Pipe Wreath: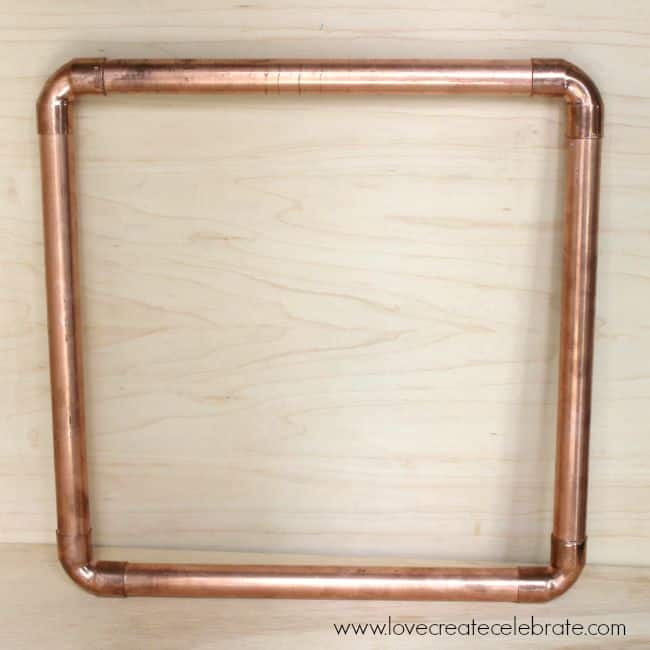 How to Make a Copper Pipe Wreath
Forming the Copper Base
The hardest part about making this wreath is forming the base with the copper pipe. I used a Ratcheting Pipe Cutter to cut the copper.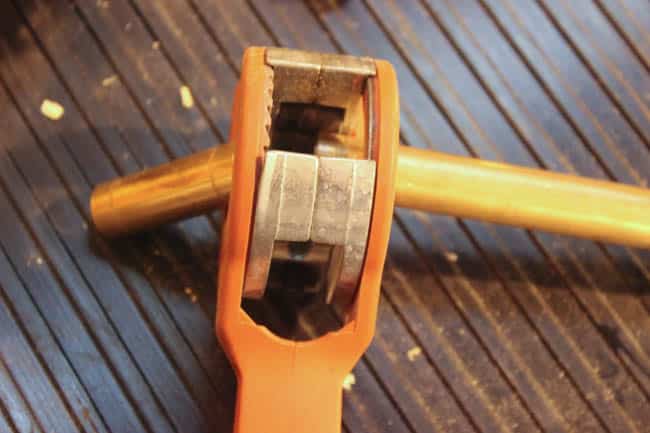 Use a sharpie to make marks on your copper pipe where you want to make your cuts. I made 10″ long sections for all four sides of my wreath.
Next, line up the cutter inside your ratcheting tool with your sharpie mark, and slowly tighten the ratcheting tool until the pipe cuts through. It will get tougher and tougher to tighten the tool until it breaks. Do this four times, for each one of your pipe pieces
Then, I used a two-part epoxy glue to attach the copper elbows and straight pipe pieces in place. All you do is mix approximately the same amount of glue from each container (the resin and the hardener), and then mix it with a spare piece of wood (I often use a popsicle stick of a small dowel from the dollar store), until it looks well-mixed.
Apply the glue to the inside edges of the copper elbows, and then slide the straight copper pieces inside. Make sure to let your piece dry flat, so that it's not bent out of shape – it will be impossible to bend once it's dry! Let it dry for five minutes.
(For a more detailed tutorial of cutting and gluing copper pipe, see this post.)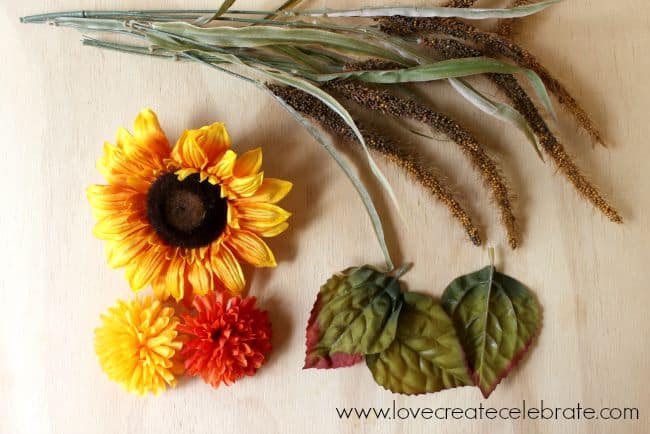 Adding Florals and Greenery to Your Wreath
Once the glue is dry, you can add your fall florals to the industrial wreath. I searched through my craft supplies for some fall foliage that I could add and loved the way that they yellow and red popped against the copper.
I used a hot glue gun to add everything. You just have to be strategic about where you put the glue so that it doesn't ruin the leaves, and still looks as natural as possible.
Add the greenery first, as a base. When they were set, I played around with the placement of my leaves and florals until I was happy. I glued the leaves down first and the florals last.
I had to be careful not to use too much greenery or it would have weighed down the wreath too much on one side. Luckily the ones I chose were fairly light and I could still place them a bit unevenly.
The final step is to add some ribbon to your new wreath. I kept with the fall theme and added some shiny brown ribbon to pop against our white door. We had a hook on our door, but if you don't have one, you can hang your wreaths with command hooks too!
Our Finished Copper Pipe Wreath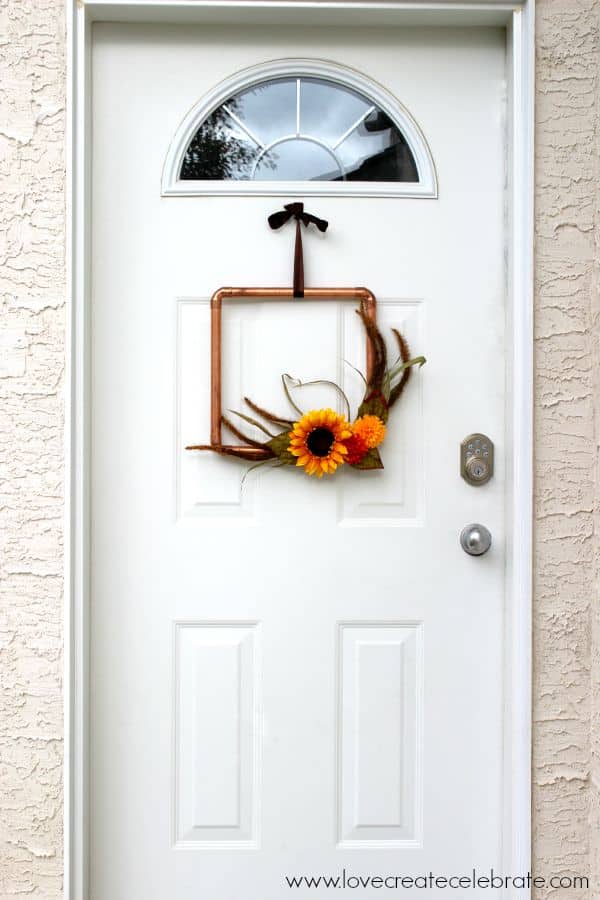 It's been hanging on our door ever since I finished it, and it has definitely caught the eye of all of our guests! We've had so many compliments on our industrial wreath!
I like it so much, I'm trying to envision a winter version now, with pine branches and some red berries… I can see it already! Hope you like it too!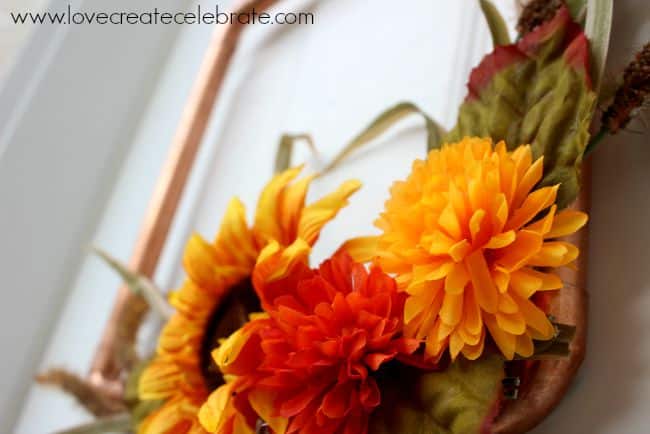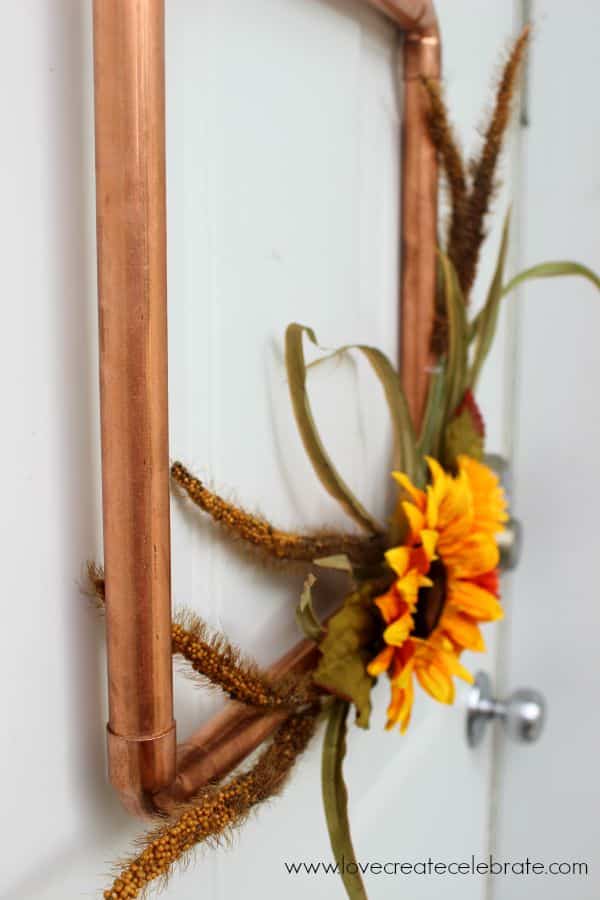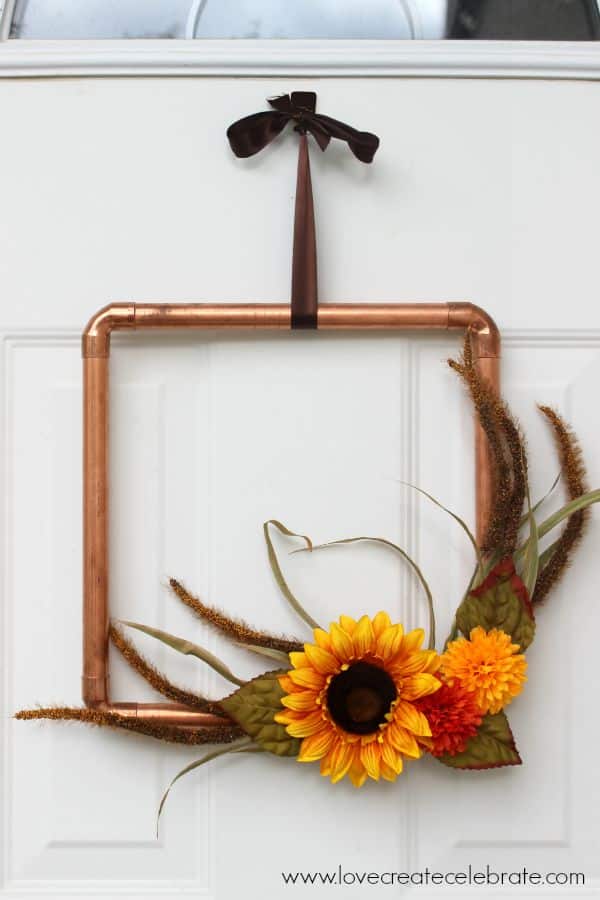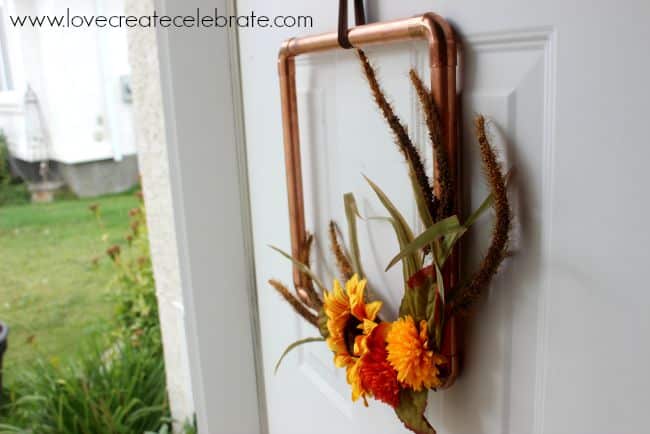 A Collection of Autumn Wreaths
14 amazing Canadian bloggers came together to share some fall inspiration! Check out this amazing collection of autumn wreaths. We hope you feel inspired to create something of your very own!
From the top, left to right are:
DIY Autumn Metallics Wreath From Lemon Thistle
Copper Wreath From Love Create Celebrate
Dried Hydrangea Wreath From Garden Therapy
Fall Hydrangea Pumpkin Wreath From Time with Thea
Cotton Bud Fall Wreath From PMQ For Two
Kitchen Wreath from Personally Andrea
Copper Pot Scrubber Wreath From Life Is A Party
Embroidery Hoop Rag Wreath From AKA Design
Wistful Wheat Wreath From Sustain Your Craft Habit
Feathers & Foliage DIY Fall Wreath From New House New Home
DIY Foraged Fall Wreath From The DIY Mommy
Monogram Succulent Wreath From Fynes Designs
Rustic Fall Box Wreath From Echoes of Laughter
Nature Inspired Fall Wreath From Vin'yet Etc.
I did a creative variation of this wreath in my Fall Home Tour too! Be sure to check out the tour and see how I changed the colours!