When I started blogging six or so years ago, I did not have a clear direction about what style I wanted my home to be. I honestly had no idea what style I was designing in, and experimented with all kinds of different furnishings, shapes, textures & colours. Through experimenting, I learned what we liked, and what we didn't like in our home, and eventually landed on a style we loved.
As I continued sharing my home, I was asked SO MANY TIMES on every platform one question: "What is this style called?"
I was so flattered that everyone liked what we did, but I honestly didn't have a name for our style. I knew I liked things in the "modern" realm, but that our style was unique. So I decided to put some work into defining our style as Modern Casual. Today I'm sharing exactly what Modern Casual is and sharing some of the common characteristics from every Modern Casual home.
What is Modern Interior Design?
Before we dive into what Modern Casual is, we should probably define what "Modern" interior design is. Modern design actually refers to a time-period of design in the 20th century, but when most people think of modern interior design, they are referring to a few common characteristics, including clean, straight lines, without additional details (cornices, mouldings, etc.), and minimal, uncluttered decor.
Some examples of modern decor would be clean, simple mouldings around windows and doors, open floor plans, and built-ins that are inset rather than protruding into a space.
What is the Difference between Modern and Contemporary Interior Design?
Contemporary design is often confused with modern design. Modern design is actually a design period from the early to mid-twentieth century that focuses on simple form and function, natural materials, and earthy palettes. However, most everyday home DIYers and designers use it to define the "current" style today.
The term contemporary actually refers to the style of the present day and is ever-evolving and doesn't refer to a specific time period. Contemporary design is a term that is more often used by interior designers than everyday home decorators.
Typically contemporary design refers to clean, smooth surfaces and uncluttered spaces. Where modern design displays crisp, sharp lines, contemporary can be more sweeping and show off more curves.
While I love the clean, sleek lines of both of these design styles, they can come off as "cold" and not feel "lived in".
What is Modern Casual Interior Design?
As far as I know, I've made it up… lol. I love the clean, sleek lines of modern and contemporary design, but what was lacking in both of these design styles for me was comfort.
When you are defining your style, you need to think about how you want your space to FEEL, and for me, it was all about having a contemporary or modern looking home, but still having the cozy "home" feel
This is where the casual part fits into my design style – it's a casual comfort in a home with sleek, clean lines.
I add comfort by allowing my home to look "lived in", with functional storage, cozy furnishings and spaces (e.g. a usable, functional coffee bar!).
Modern Casual Design Explained
I explained exactly what modern casual is in this YouTube video! You can watch the video, with some specific examples, or read all about this design style below.
How Can You Achieve Modern Casual?
Contrasting Colours
One of the most telling features of this design style is the contrasting colour palette used. Typically this refers to the high contrast of white and black, but can incorporate some bold accent colours too.
A lot of modern interior spaces are better described as achromatic rooms (more neutral with all whites and beiges), but an all white room does not give that level of comfort that I want in a space, so we add contrast and colour.
When I design, a space is not complete without high contrast because it adds so much depth and is visually impactful.
I tend to be drawn to moody shades as accents, and cooler colours like deep blues and greens. Usually accents take a bold stance in a room, such as a big piece of furniture or a bold, colourful accent wall.
Even when spaces don't use black and white, I will often use complementary colours to create contrast, as we did with our recent space for our kids (above). By using complementary colours and mixing the blues on the wall, with the warm orange tones in the leather and the stained wood provided a strong contrast.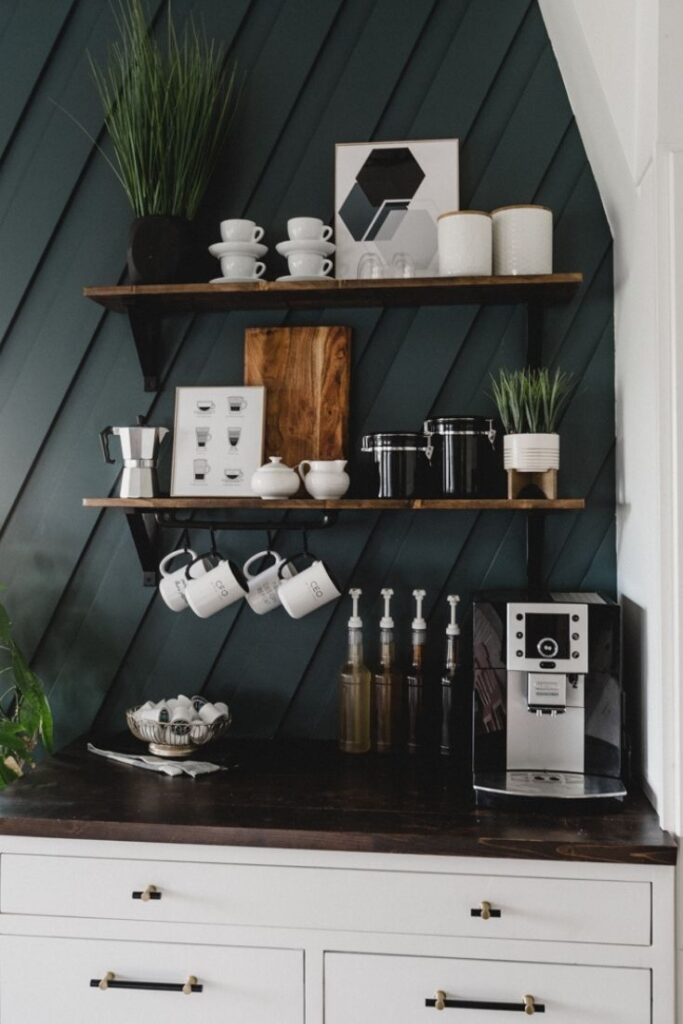 Layers of Texture
Texture is a very important design element in any style. However, I'm not just talking about the furnishings and textiles, but the walls, ceilings, and architecture as well.
Moulding walls, vertical shiplap, tiled walls, clean sleek lines on slatted ceilings, etc. all provide an extra layer of texture to a space. While recognizing that some of these elements are fads that will fade, the idea of textured walls is timeless, and I believe will always be incorporated into our design with new fads.
Texture is also a great way to incorporate pattern into a space, as subtle or as loud as you want.
Beautiful Functionality
Another hallmark of this design style is creating spaces that are functional. This should be a hallmark of almost all design styles, but that's not always the case. I expect a modern casual room to look "lived in". Not in the sense that it's messy, but in the sense that there is ample storage, comfortable seating, and a sense that each furnishing has a function in the space.
For a space to be comfortable, or casual, it must also be functional. Simple, practical solutions for board games, towel storage, and bookshelves. Maintaining the sleek design style, but adding built-ins, or open shelving pieces that are a part of the room, not an afterthought.
Minimalist Design Mentality
Less is more! Did I mention that all of that functional storage is a seamless part of the design? In modern casual design there are no superfluous details such as columns, moldings, cabinet trim. No excessive use of colour or excessive use of textiles.
I don't typically have a ton of negative space, or clear surfaces, like minimal design would, but I do have a simplified colour scheme, and a focus on quality over quantity in our home. You can have decor on the shelves and extra cushions on the couch, but not every surface needs something. Visual balance is so important!
Contrasting Shapes
The visual interest in a modern casual room often comes from the shapes and forms of furniture and accessories. Adding circles or rounded arches adds softness to the straight, sleek lines.
In rooms that are often square boxes, the subtle curved handles on a piece of furniture or a circular design on a door or in a wallpaper pattern, can do so much to lift the energy in that space. The contrast elevates the design.
Finishes and Accessories Add Warmth
When we think of warm colours, we think of red, yellow, and orange on the colour wheel. Rather than incorporating a lot of these tones, you can incorporate warmth through your finishes and accessories.
Warm metals, woods, gold or brass accents and hardware, leather upholstery – these are all things that can bring warmth to a space when the focal points of the room don't.
Greenery is another great way to bring in some warmth. Real or faux (realistic faux though, lol) can both bring energy and breath life into spaces.
Questions about our style, please ask below!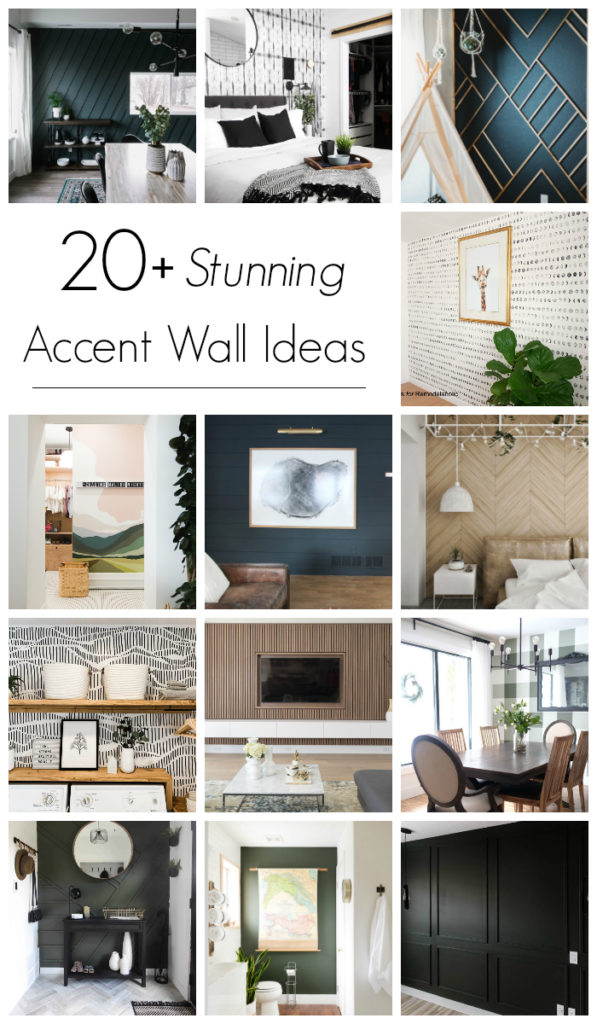 Looking for more beautiful home design inspiration?! Here are some gorgeous accent wall ideas!