Beauty products are something that I generally avoid dabbling with. One reason is that I just don't use many! Second, I think to myself… if they are manufactured this well already, is it really worth messing with?
But I was on a mission to create some DIY gifts for my friends, so I think I'd give it a try.
Lip gloss is a pretty safe bet as a gift. I don't wear much make-up at all, and I still dab on some lip gloss here and there! So I went to work creating a DIY raspberry (& coconut) flavoured lip gloss :)
Ingredients:
Coconut oil
Vaseline
Raspberry Extract
An old lipstick
A couple of containers to hold the gloss (mine are from the dollarstore)
Microwavable bowl
Spoon
Melt equal amounts of vaseline and coconut oil together in the microwave until completely melted. I used 1/2 cup of each and it took about 90 seconds, stopping every 30 seconds to stir together.
Then empty the lipstick into the mixture – I used almost the entire stick. You can see from the pictures above that the colour will be slightly diluted, so choose a colour that is slightly darker than you want. Finally, add the raspberry extract and stir until all is combined. I almost used the entire tiny bottle, because I needed that much to taste the raspberry flavour.
Carefully spoon the lip gloss into your containers.
I made tiny labels for the jars, but cutting cardstock circles, and covering them with washi tape to add some more colour!
Simple, beautiful, and useful – the trifecta!
Stay tuned to see what else went into the gift bags :)
Also, this post was featured here: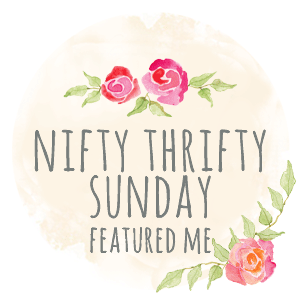 Check it out!!
{xoxo}