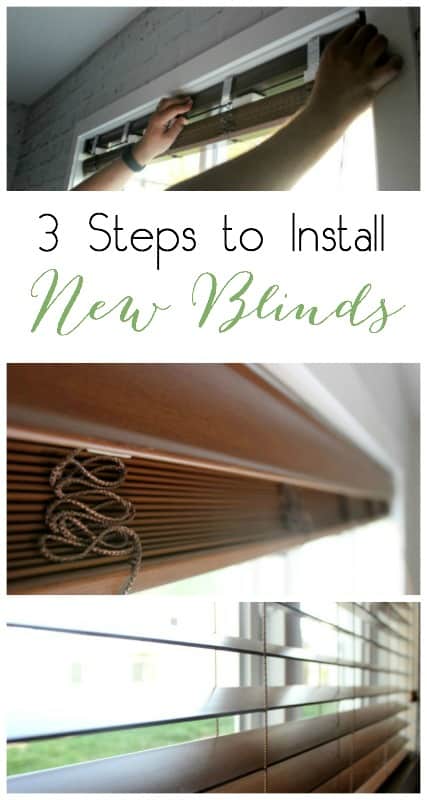 Welcome to Week 5 of the One Room Challenge! If you're not sure what I'm talking about, you may want to pop over to my Week 1 post, where I lay out all my plans for the space. The short version is that I am participating in a six week challenge, hosted by Calling It Home, where I am renovating a room in my home from top to bottom! I chose to work on our cold and outdated guest bedroom to give it a fresh new look. I'm SO glad I did! This week we got our new wall mural up (hooray!) and our new blinds put up – I'll show you how easy it was! The room is finally starting to take shape!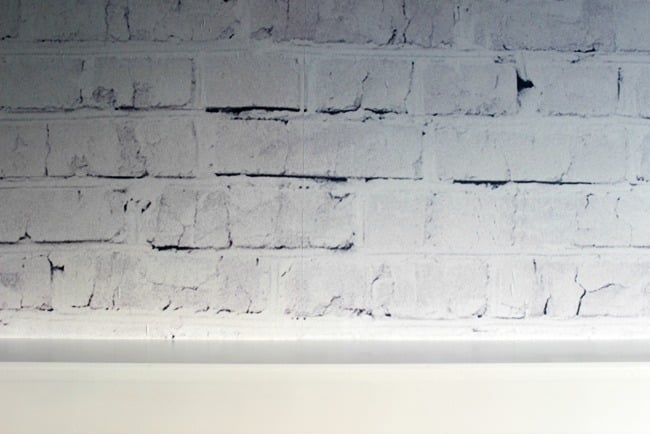 *This post was sponsored. As always, opinions are 100% my own. For more information, please read my Disclosure Policy*
Week 1 / Week 2 / Week 3 / Week 4 / Week 5
I show you how to install your own blinds in 3 quick and easy steps, but first I'll give a quick recap of our bedroom progress!
The style I chose for the room is modern industrial. In my design plans, I highlighted a gorgeous faux brick wall to help bring life and texture to the room. I LOVED the idea of a brick wall with my industrial design.
Walls Need Love has an amazing selection of wallpapers and murals with gorgeous designs and patterns. As soon as I saw their White-Washed Brick Mural, I knew I wanted to use it!
We put it up over a couple of days, and I love the way it transformed the room. It really gave the space a whole new feel. I'm even more excited to decorate the room now and play off of the look and feel of our faux brick wall. There is a bit more blue in the wall mural than I expected, so I'll have to mix up my decor ideas a bit more to tie in the blue tones in the mural and the brown tones in the paint colour. Should be a fun challenge!
Last week, I talked about getting the trim all finished. Well friends… it is finally up! Doors, windows and ledges are all finished! The new smooth lines and bright white colour are perfect.
You can see that our basement bedroom had a pony wall along the two of the walls. I decided to put the brick up on the top portion of these walls. Both are outside walls and I thought it would give the illusion of a brick wall on an older house. LOVE how it turned out!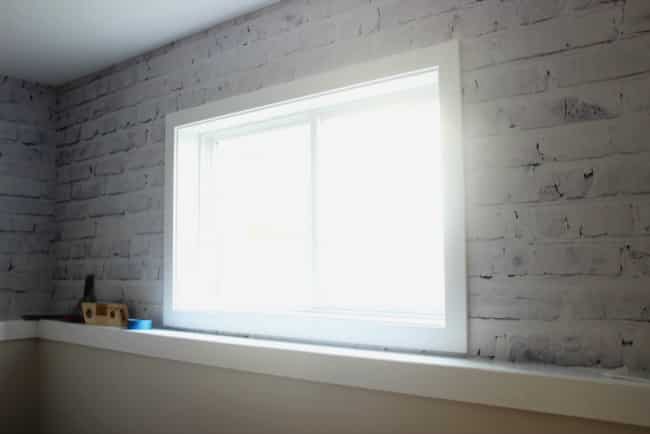 Onto the blinds! The first time I ever did a task like this, I put it off for ages. I had no idea how easy it was – and you can save some great money by doing the install yourself! Here are your three easy install steps: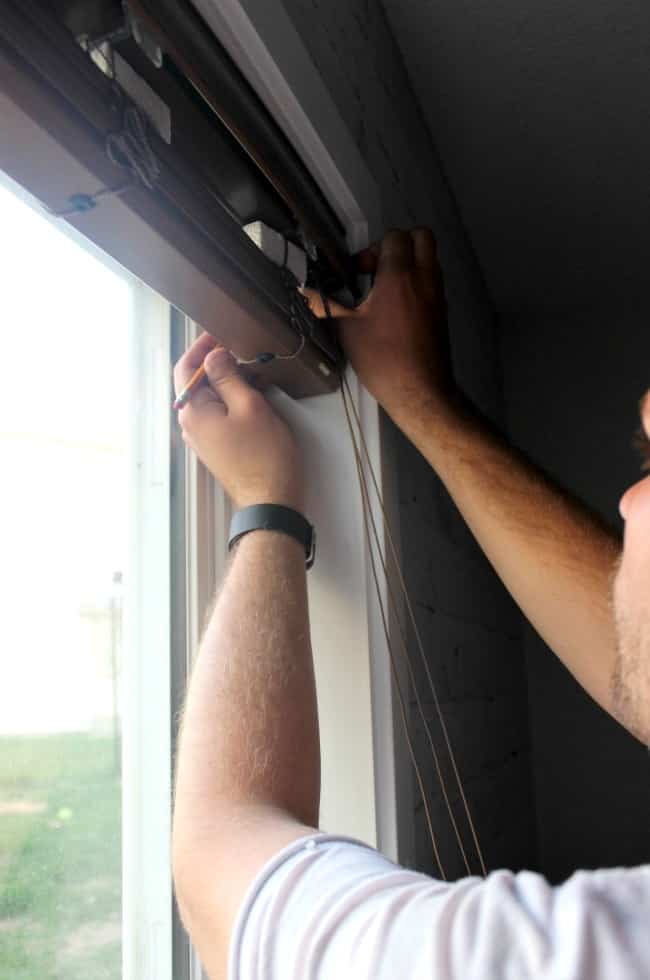 Step One
Do a dry fit and decide where you want you blinds to sit. You want everything to be in place, but not attached with screws. If you do the dry fit without the blinds in place, you will not have a good idea of how far forward the blinds will come. We wanted our valence to sit just in front of the trim. When you have it where you want it, mark a line on both sides at the back of the box.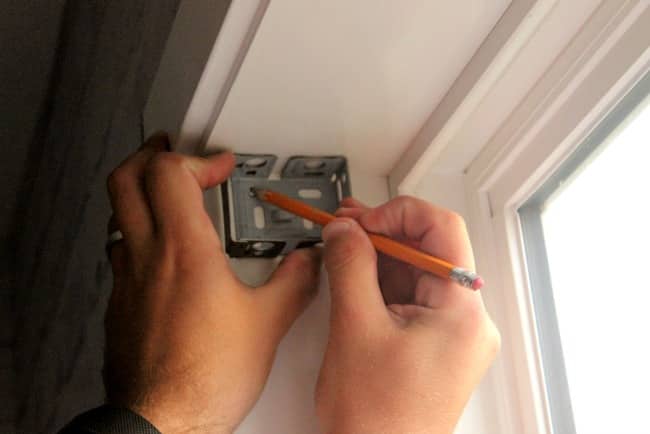 Step Two
Next, hold your end brackets in place, lining them up with the line you just drew. Using a pencil, mark the holes that you will be screwing into. Use a level to make sure that your bracket is sitting horizontally.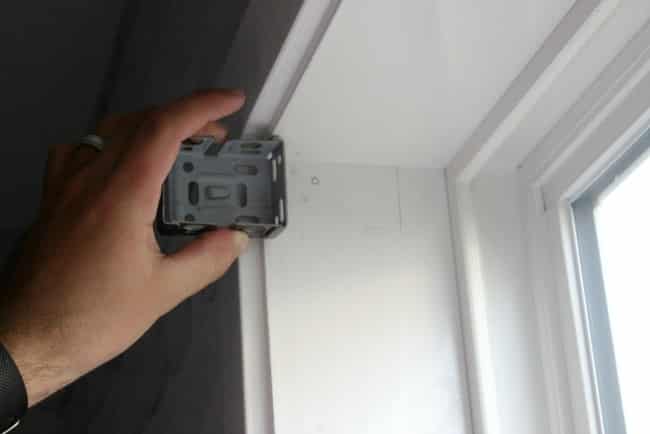 Step Three
Drill holes into the spots that you just marked. Then screw the brackets in place. If you are drilling into wood, drill the hole slightly smaller than the screw you'll be using. If you aren't going into wood trim or wood framing, use wall anchors or other hardware and follow the directions supplied.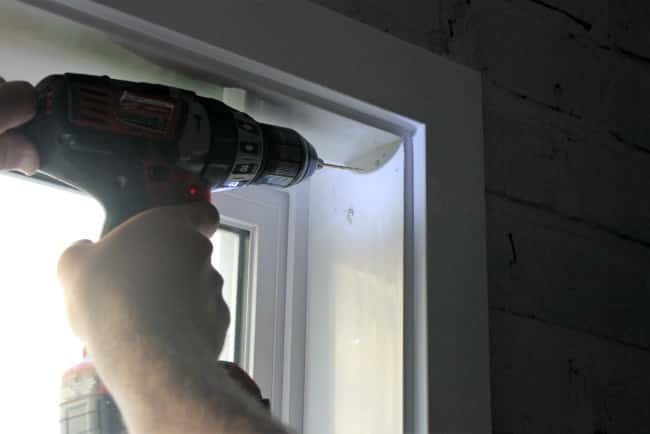 That's it! Now you just slide your blinds into the bracket, slide your valence on top, and admire your new blinds!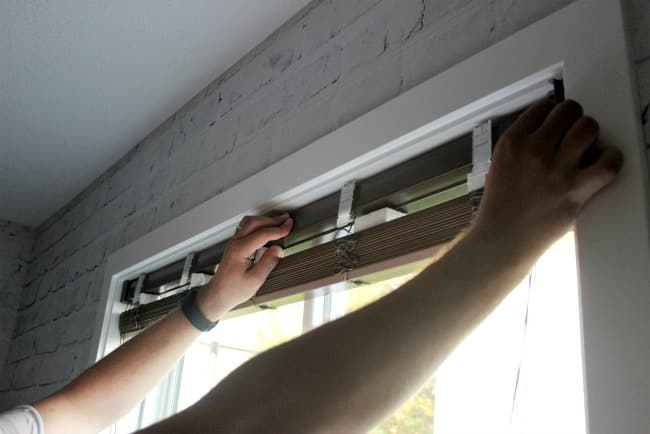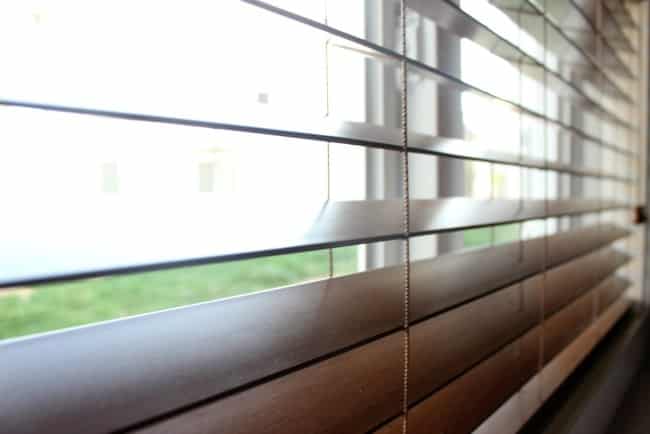 I choose these beautiful faux wood blinds from Sheer Illusions because they are affordable and give off a more high-end look.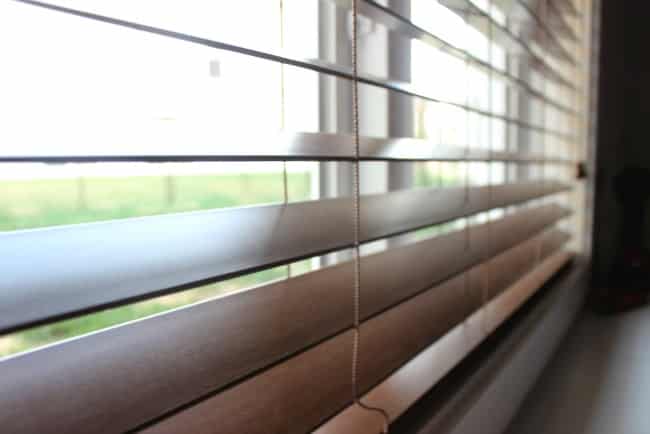 I can't believe how far this room has come in only 5 short weeks!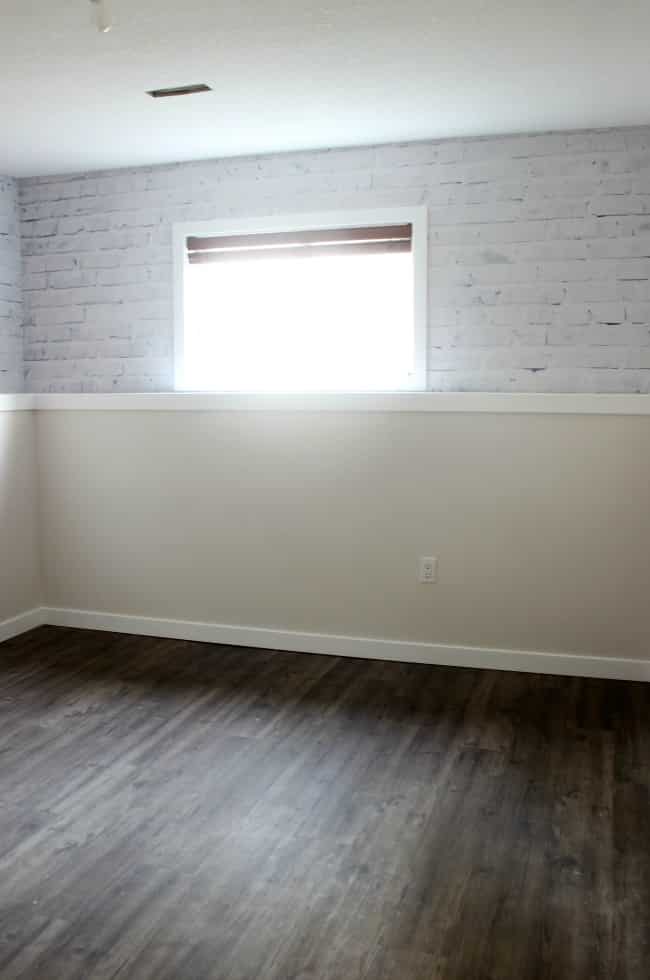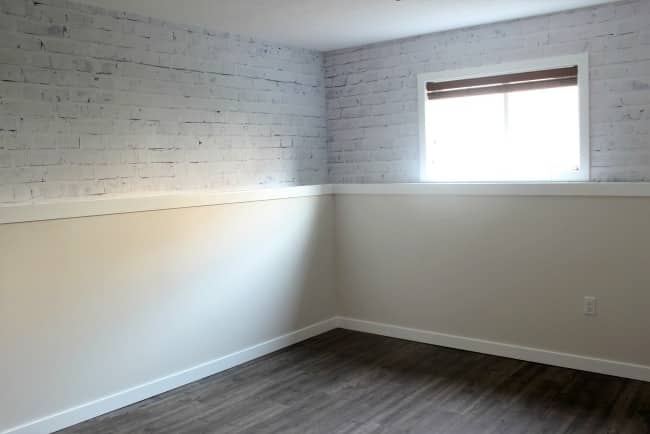 This week I also tried my hand at a couple of DIY projects. I'll be sharing tutorials on these in the weeks to come, but I thought I'd give you a sneak peek at a couple of my DIY decor pieces…
DIY Decorative Black Orb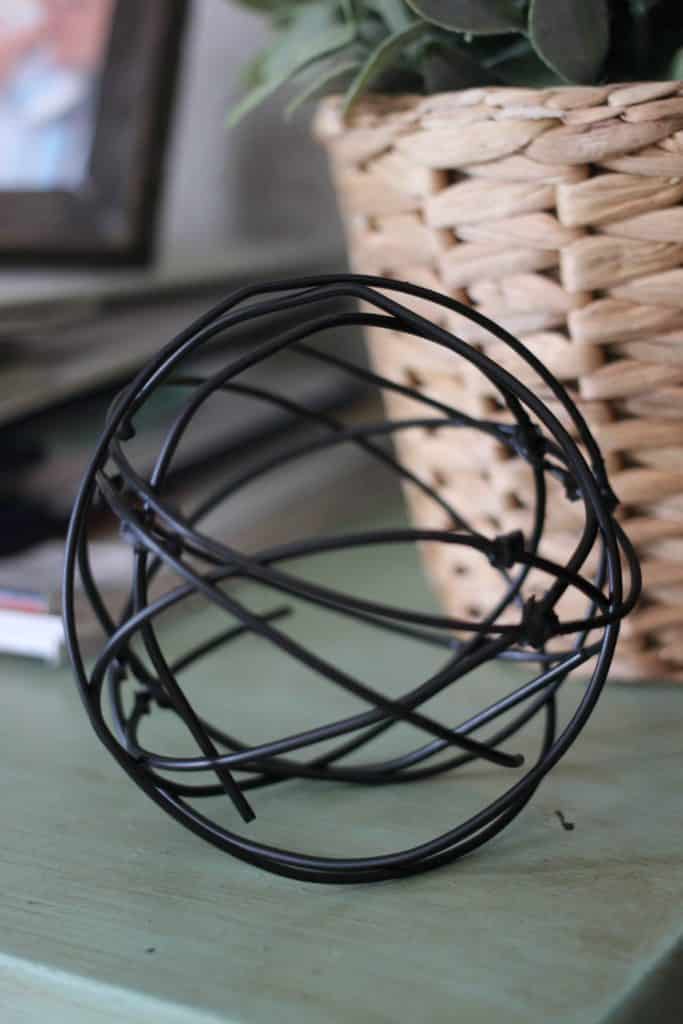 DIY 3-Wick Concrete Candle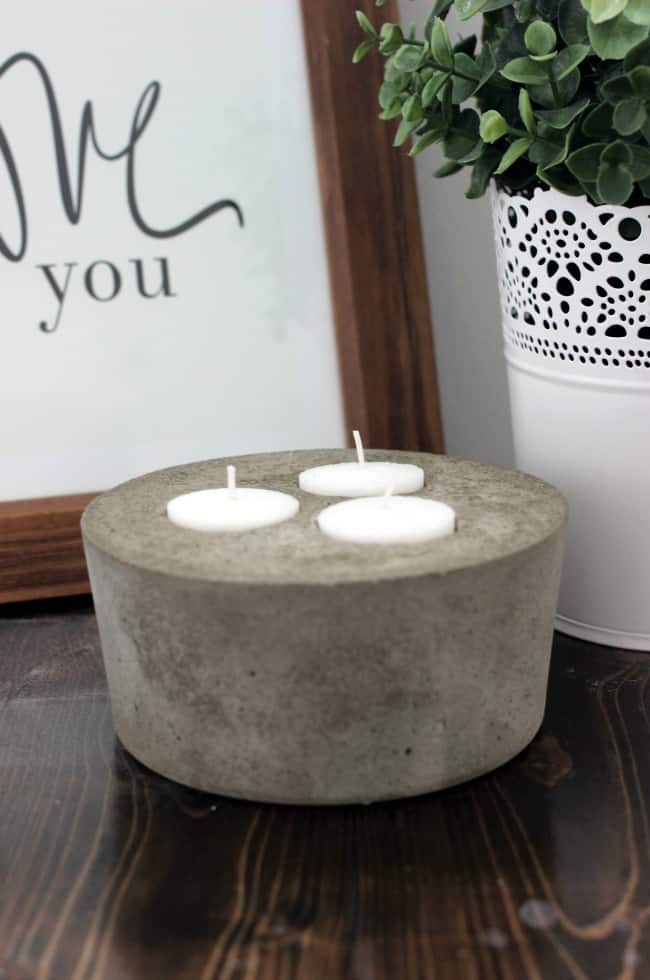 This is the FINAL week of the challenge and we have a LOT to do! I'm not sure how much we will get done, but wish us luck!
Don't forget to find more great Industrial Ideas by following my Pinterest Board.
Here's how we are doing on our lengthy Industrial Guest Bedroom To-Do List:
Clear room
Paint walls
Paint ceiling, trim, and doors
Install new flooring
Install new trim
Install pendant light
Buy a new rug
Buy new bedding
Put up faux brick wall
Buy new pendant light
DIY new bedside lights
DIY side table refresh (done!)
Install new blinds
Make DIY Valence
DIY headboard
Build DIY sideboard
Build DIY Towel Rack
Find/thrift room accessories
DIY or buy new artwork