Great ideas for the four gifts of Christmas rule – one thing you want, need, wear, and read! Plus great free printable gift tags!
Sometimes I find the holiday season very overwhelming. I'm a gift giver by nature. I love buying gifts, and finding the perfect thing, and watching my friends or family members open them. But during the Christmas season, we get so bombarded with gifts, ideas, and ads, that it easily becomes overwhelming. Instead, let me tell you about the Four Gifts of Christmas Rule I'm adapting this year, and how it's simplifying the holidays for us!
Last year I found myself constantly trying to make sure that everyone had a "equal" number of gifts, with multiple options, and I ended up with way too many things on Christmas morning. My children loved it, but they were done after opening just a few things. They didn't need anything else.
Then they played with their favourite things and the rest ended up mixed into a pile of wrapping paper on the floor. I didn't want that to happen again, so I decided to adapt the Four Gifts of Christmas Rule.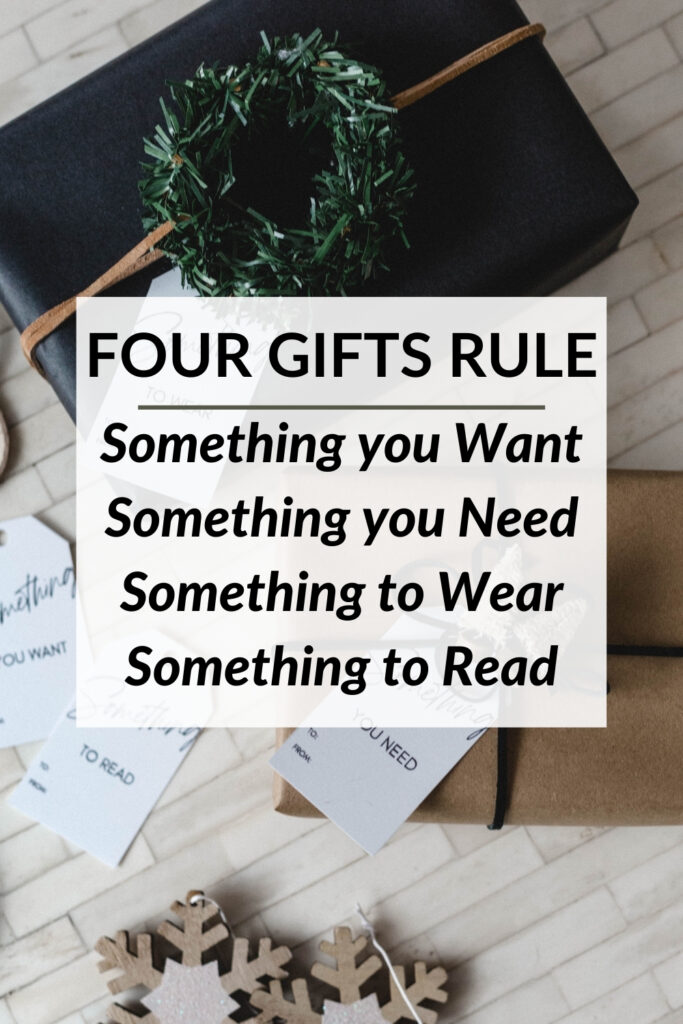 What is the Four Gifts of Christmas Rule?
The Four Gifts of Christmas rule was designed by a mom (obviously! lol), to help simplify the holiday season by giving only four gifts to each family member: one thing they WANT, one thing they NEED, one thing to WEAR, and one thing to READ.
It's an amazing gift giving strategy that reduces stress and anxiety over the holiday season. When we discussed this with our kids, we told them that, "we already have so many amazing things, and we're so fortunate, that we're only going to ask Santa for four gifts this year!"
To our surprise, they didn't bat an eye! They were excited to be part of the decision making process. As a parent, I think it's a really healthy exercise for them to learn to think critically about what they actually want and need, and not just make a never-ending list that would inevitably end in disappointment.
Ideas for things to WANT
We consider the want to be the one fun item my kids get each year! This is a chance for them and us to really think about what they would love. It focuses on buying one quality gift rather than a bunch of "ok" gifts.
Here are some ideas:
That one toy they've been wanting for a long time!
One bigger gift like a big lego set, a dollhouse, or gaming system
Something homemade and meaningful (that they would still love!), like the dress-up cabinet we made our daughter, or a DIY dollhouse.
For adults this could things that they wouldn't typically buy themselves such as a specialty tool, camera or electronic gear, or anything hobby related (ask yourself what they do for fun!)
Ideas for things to NEED
We consider the need to be something that we would have to buy at some point because they need it for school, sports, health and wellness, etc.
Here are some ideas:
Anything needed for school or learning, such as backpacks, learning games, etc.
Anything for their sports or hobbies, such as hockey gear, running shoes, ski lessons, etc.
Anything they've outgrown, such as good boots, jackets, etc.
Another creative idea here could be experiences. We consider dates with mom and dad, or with the family to be a need for our family, and a gift card, ticket, or membership for something we can experience together is a great idea
For adults this could include clothing they need (new boots, winter coat, etc.), a course they have to take, a spa day or relaxing day for mental health and wellness, or household items that we need to replace.
Ideas for things to WEAR
This category gets a little bit easier to brainstorm. It can be something fun your kids wants to wear, something they have outgrown, or something totally goofy.
Here are some ideas:
A new outfit (thinking about what they love to wear!)
A new stylish statement piece, like a hat, a purse, or a jacket that we typically wouldn't buy
A jersey or something fun from their favourite sports team, game, or online store
New pyjamas
For adults, any of these ideas apply too!
Ideas for things to READ
This category is the easiest to understand, but also the hardest one for me! I love books, and I love reading with my kids, so pairing down to just one book each was a challenge!
Here are some ideas:
A personalized book (cause they're fun, and when else do we buy them?)
The next book in their chapter series
The new book from a favourite author
A subscription to a fun kids magazine (or adult!)
Audio books for car rides (if they aren't book readers)
FREE Gift Tags for something they WANT, NEED, WEAR, and READ
If you're joining us on this adventure to give your kids four quality gifts, you can download these free printable gift tags!
Free printables on our blog are available to anyone on our newsletter list! Just enter your name and e-mail below to get your gift tags sent straight to your inbox!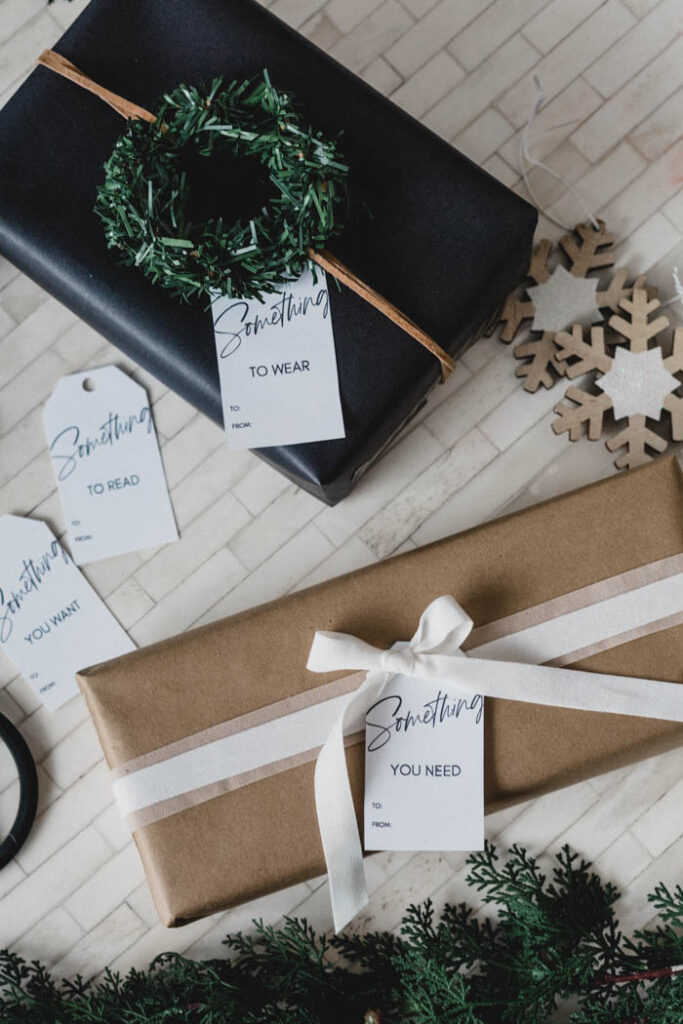 The HARDEST person to by for is always my husband! Here are 20+ Great Ideas for Men Under $50!