Easy Dollar Tree Desk Organization Idea. Make this simple dollar store desk tray in minutes to organize your office space!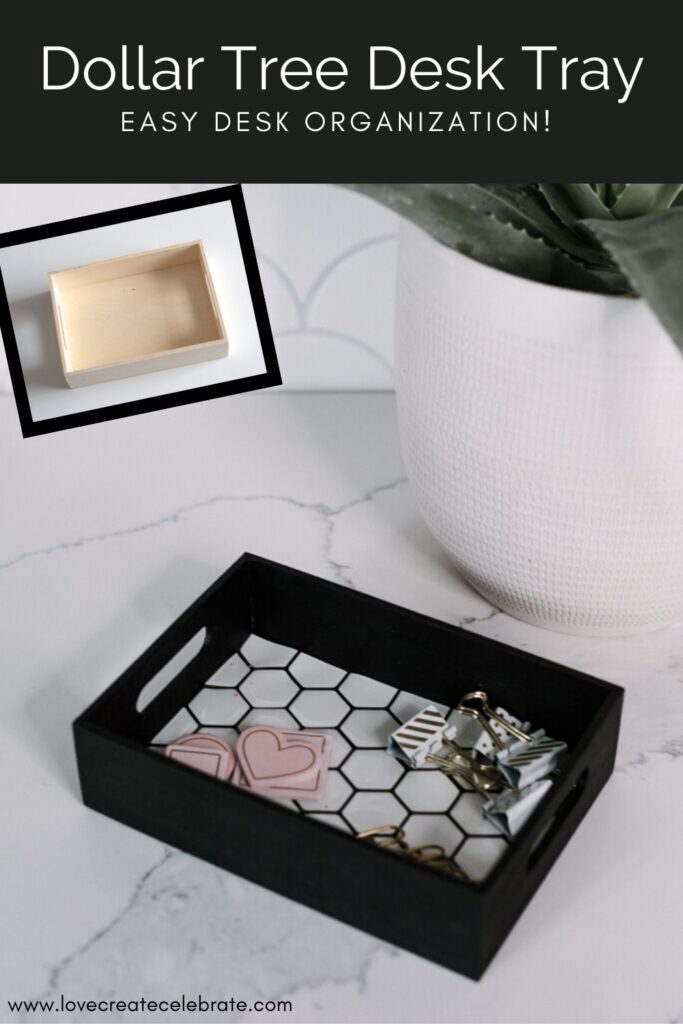 My desk fills up with clutter faster than any other surface in our home. I'm always surprised at how quickly all of the small things pile up, which is why I needed some quick dollar tree desk organization solutions!
Affordable Desk Organization Ideas
There are a ton of desk organization solutions out there! If you want a specific design, it probably already exists, but I wanted to create something on a budget. When I found little wooden trays for $1.25, I couldn't pass those up!
If you're looking for a couple quick ideas without having to do the DIY work, here's a couple of cute desk options for your office.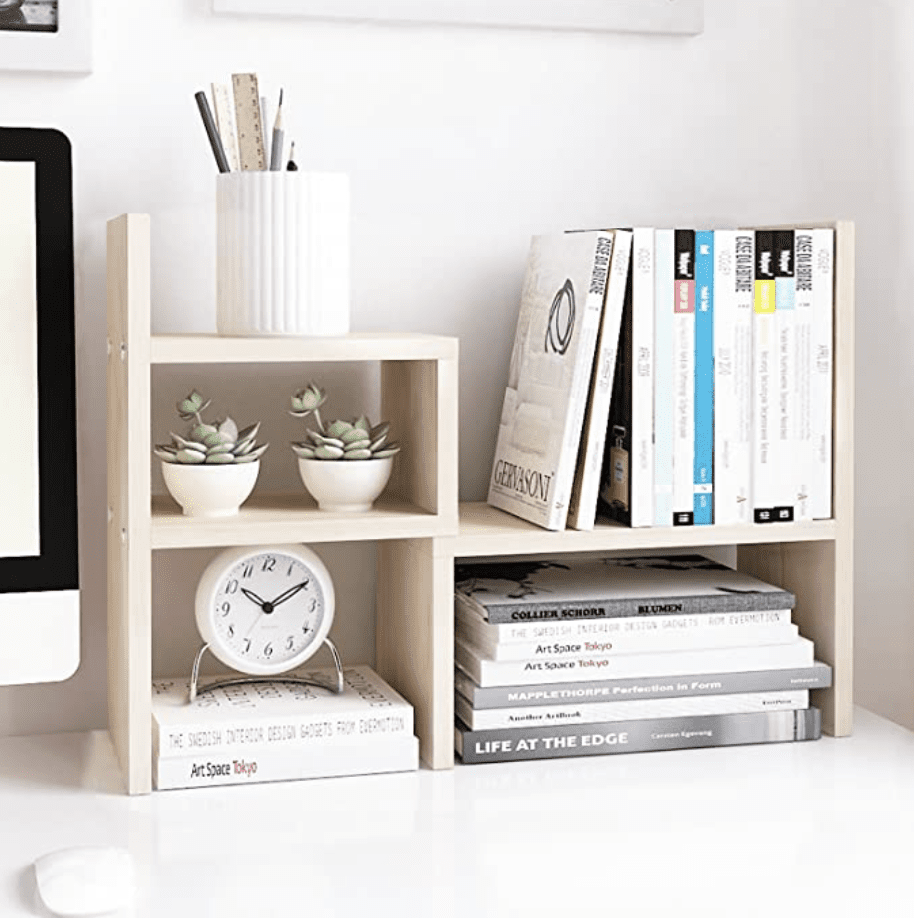 Wooden Desk Organizer / Matte Black Organizer / Concrete Desk Organizer
I decided to make something on a smaller scale instead!
How to Make a Dollar Tree Desk Tray
This project is a quick and easy DIY that I did along with 5 other dollar store projects (below) to organize my desk and office space.
Materials Needed
Dollar Tree Wooden Tray
Dollar Tree Faux Tile
Scissors
Step-by-step tutorial for dollar tree desk organization tray
I started by grabbing my absolute favourite black paint, which is from Fusion Mineral Paint. And I painted this tray with just one coat of beautiful black paint.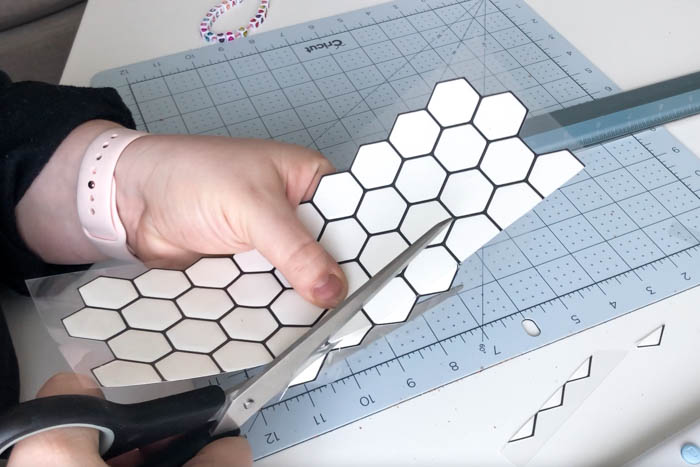 When the coat of paint was dry, I started cutting the sheets of tile to fit right into the bottom of the tray. You can see that I started with a little cutter, but I found scissors to just be faster and easier.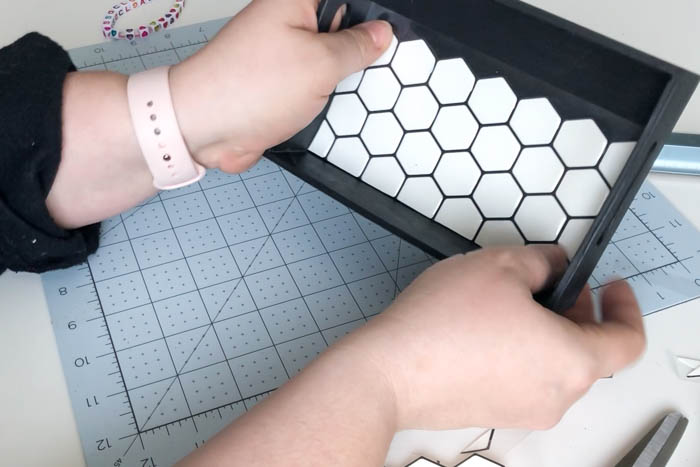 I actually needed two sheets of the tile to be able to fit across the whole bottom of the tray. I started by cutting one sheet to size, and when everything was cut and fit, I just peeled off the backing and stuck them right to the bottom of the tray.
Once I had a reference for the second sheet, and then I measured and stuck the top half down as well. They were really easy to line up so the whole process only took a couple of minutes.
My Finished DIY Desk Tray
I'm using this little tray right now to store all of my office accessories and little trinkets. It's functional for this space and looks really pretty, so I'm really happy with the results for such a quick and easy DIY.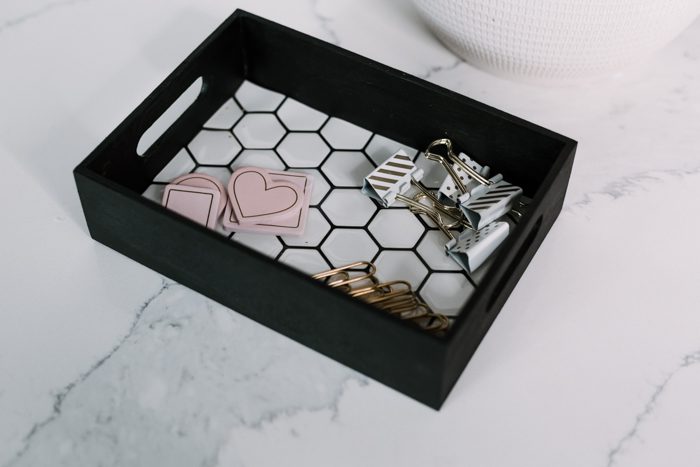 More Dollar Tree Desk Organization Ideas
If you love dollar store DIYs, some of my absolute favourite office DIY projects are in this video below! Make sure to check them all out.
Don't forget to subscribe to our YouTube channel for more great dollar store DIYs!
For more great dollar store organization ideas, check out this beautiful Fluted DIY Utensil Holder!