Easy Dollar Store Pot Lid Storage Hack! Make this simple dollar store pot lid holder in minutes to organize your kitchen cupboard!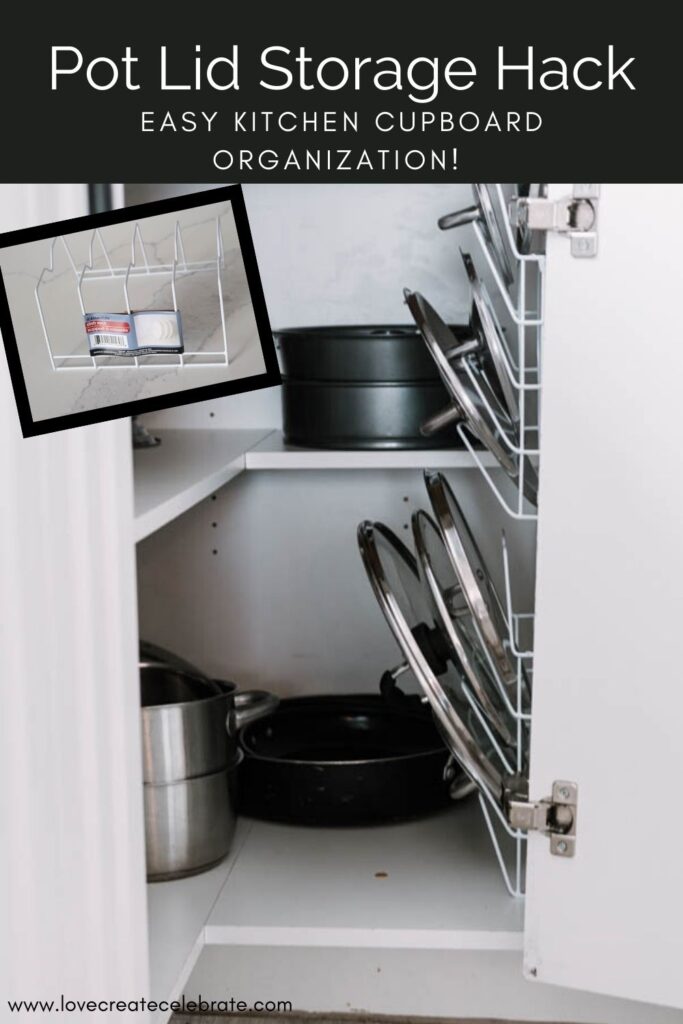 Do you have things in your cupboards that drive you absolutely crazy? I definitely have my share of unorganized storage in this house, but I finally tackled our pots and pans cupboard! I found a quick and easy way to organize the space with a dollar store pot lid storage hack!
*This post may contain affiliate links. When you buy a product through one of our links, we get a commission at no cost to you! Thank you for supporting our blog so that we can continue to bring you posts like these. For more information, please see our disclosure page.*
Dollar Store Pot Lid Storage Hack
This project consists of three DIY under the kitchen sink storage ideas, and it's an inexpensive pot lid storage hack that I did along with other dollar store projects to organize our kitchen cupboards!
Materials Needed
Dish Rack
Adhesive Hooks
Drill and Screws
Step-By-Step Tutorial for Dollar Store Pot Lid Storage Hack
The biggest issue we've had with our kitchen cabinet is the organization of all the pots and lids and pans and lids. We were looking for a dollar store solution to all of our lid issues and we came across these dish racks from the Dollar Tree and we figured that we could actually morph them into pot holders.
Pot Lid Holders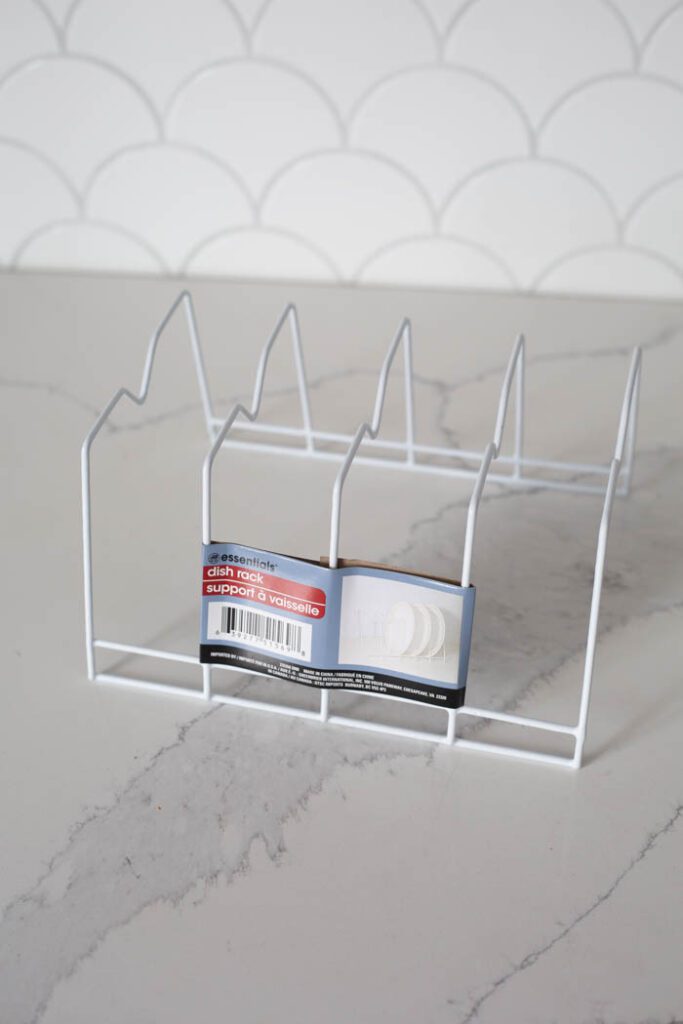 So this is how I did it. I literally just pushed on it with my hand. You have to be careful 'cause these could potentially bend and break right off. But if you just do it once and bend it all the way up, it should be strong enough to hold in place.
We've had ours for over a year now, and so far it has been working really, really well. Bending them upwards just naturally puts them at the perfect angle for pot lids, and we haven't seen them bend or break from the weight at all.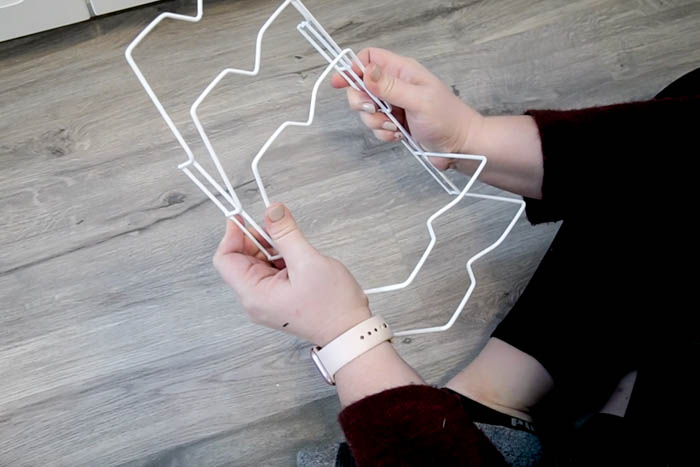 You don't actually have to get inside your cupboard to install them, but my husband wanted to, lol. So while I sorted out which pots we were keeping and which ones we were donating, my husband used cable clips and drilled them right over top of the sides of the wire dish rack, until they were secured in place on the side of the cabinet.
We originally used plastic cable clamps, but had one break, so I would recommend the metal cable clamps instead, and so far we haven't had any issues in over a year with them!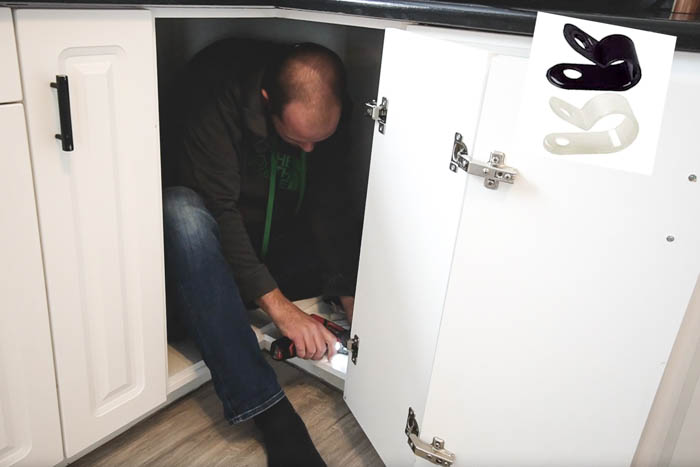 The lids look great on the side of the cupboard and we are extremely happy with how much more organized the lids are, and how much more storage space we have.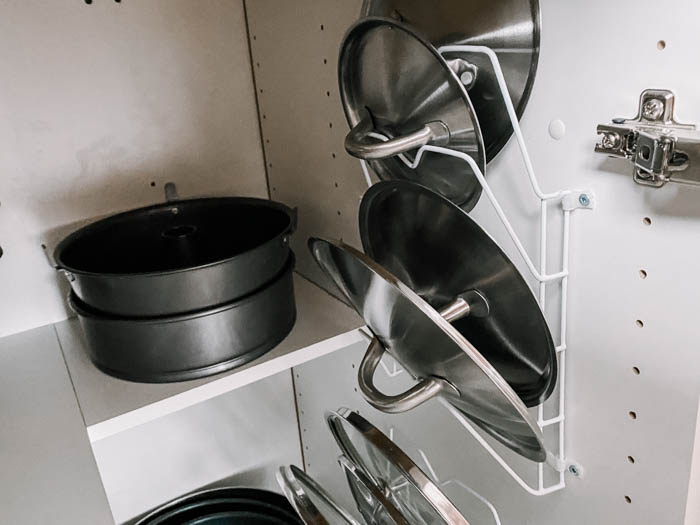 Frying Pan and Wok Lid Holders
Unfortunately, the really large lids for our frying pans and wok, didn't fit in that rack, but we still wanted to organize those lids. So we decided to hang a few hooks on the other side that the lids could easily slide into.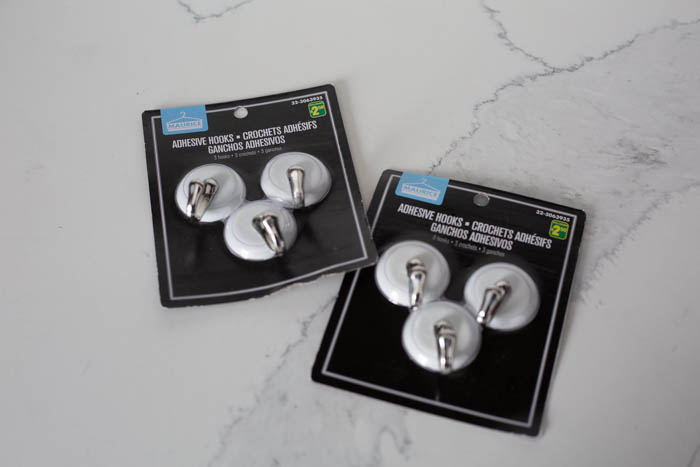 These hooks were also from the dollar store. We hung three of them so that we could just slide the lids in from the door opening side. This storage hack was quick and easy and we're super happy with the results.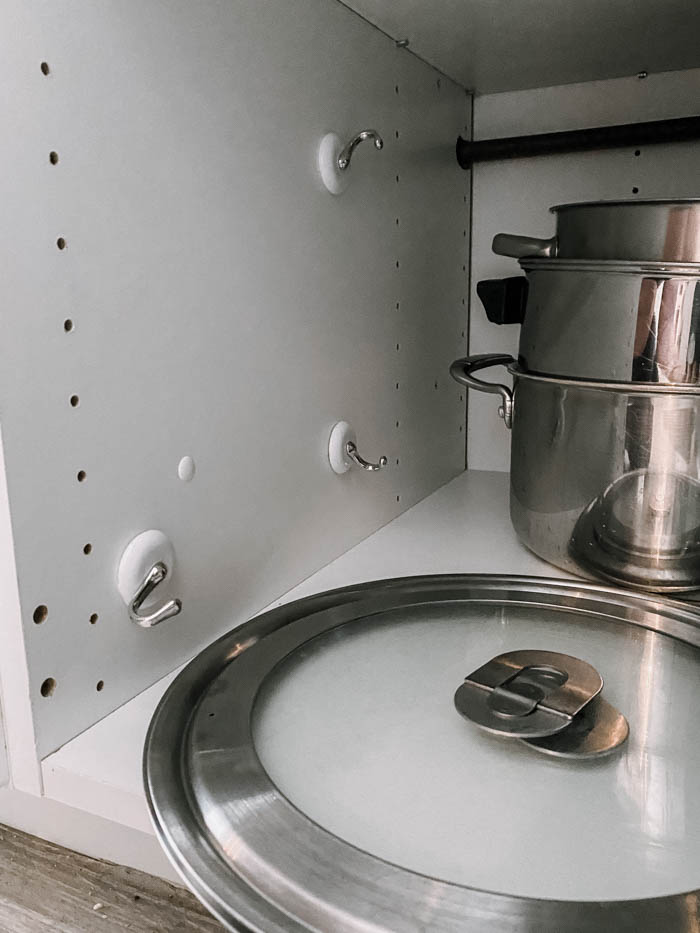 I would definitely say that these two cupboards were our least organized spaces in the kitchen before and I'm really happy to have some proper organization in here now.
My Finished Dollar Store Pot Lid Storage Hack
I love these pot lid storage hacks. You could easily put the lid rack on the inside of the door that you pull open as well and it would work just perfectly. The lids on the other side, in the hooks, work really well too, as they sit in the hooks really nicely.
The whole space is decluttered and organized now. We can easily stack the rest of our pots and pans without the lids getting in the way! It's so much easier to get things out of this cupboard.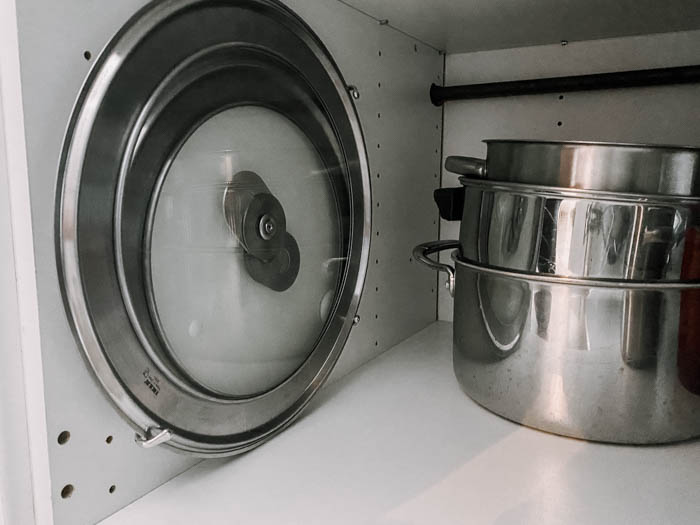 More Dollar Store Kitchen Storage DIYs
This project was one that I did along with three other dollar store projects to organize our kitchen cupboards! Check out the video below to see how I made these other inexpensive projects!
Don't forget to subscribe to our YouTube channel for more great dollar store DIYs!
For more great dollar store DIY ideas, check out this DIY Clock, and more amazing dollar store office organization ideas!