Easy DIY Under Kitchen Sink Storage Ideas. Try these simple dollar store DIYs to organize and improve storage under your sink!
Last time I did a kitchen organization video, you guys mentioned that you wanted some help organizing that space under the sink and obviously, I need some help in that area too. As you'll see below, I have never done anything to functionally organize this space, and honestly, it has become a bit of a catch-all for miscellaneous things that I don't want on the kitchen counter, lol. I've finally got my act together and I'm sharing some of my DIY Under the Kitchen Sink Storage Ideas!
*This post may contain affiliate links. When you buy a product through one of our links, we get a commission at no cost to you! Thank you for supporting our blog so that we can continue to bring you posts like these. For more information, please see our disclosure page.*
Under the Kitchen Sink Storage DIYs
This project consists of three DIY under the kitchen sink storage ideas, and it's an inexpensive under the sink storage hack that I did along with other dollar store projects to organize our kitchen cupboards!
Materials Needed
Under the sink mat
Car seat organizer
Over the door storage basket
Plunger
Storage baskets
Hooks
Drill and screws
Pliers or Vice Grips
Step-by-step Tutorial for DIY Under the Sink Storage Ideas
Here's what it looked like under my sink before I got this space organized with dollar store supplies. It wasn't filthy, but it was cluttered and unorganized.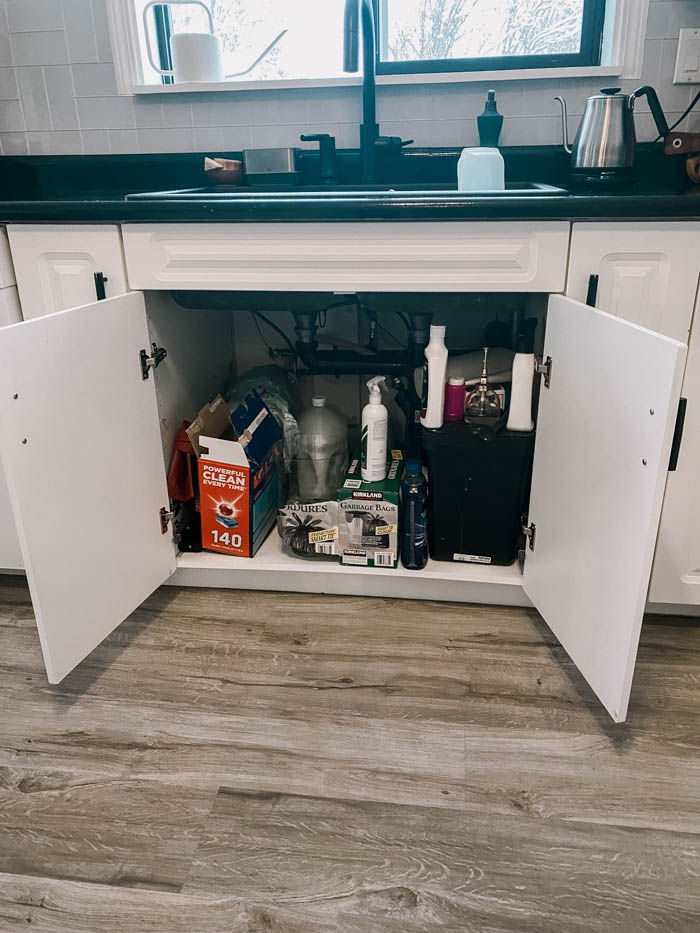 I cleaned out everything under the sink and then I used a dollar store under-the-sink mat, which I measured and cut down to size so it fit under the sink space.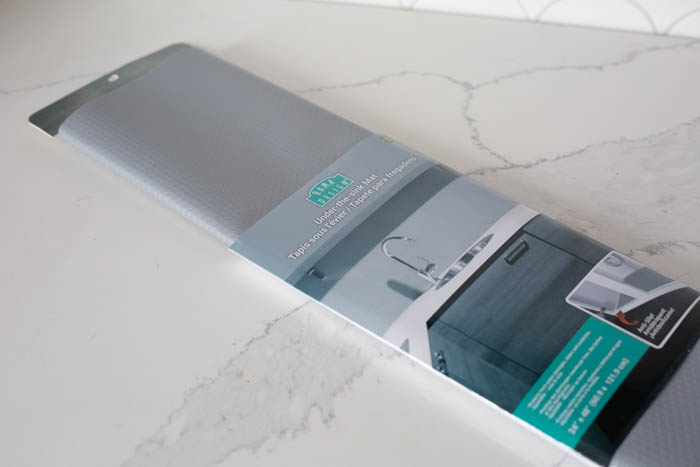 Car Seat Organizer Hack
Once I had that mat down, the first thing I wanted to do was organize some of the little things in this space. I actually found this car seat organizer at the dollar store and I thought it would be the perfect hack for this space.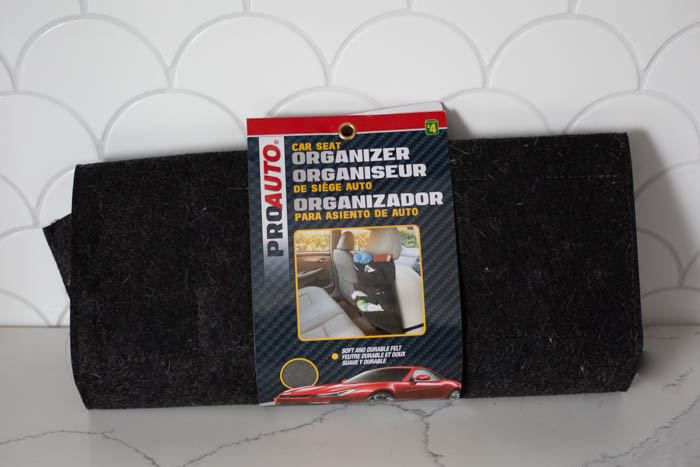 I cut off any excess pieces (like the straps) and knew that I could use the pockets to hold all of the loose things under the sink, like extra sponges, bags, etc.
I got a drill and some screws and drilled right through the felt car piece into the side of the cupboard so that I could hold everything upright and take up as little space as possible under the sink.
I used the Kleenex part of the mat to hold all of our plastic bags, nice and snug.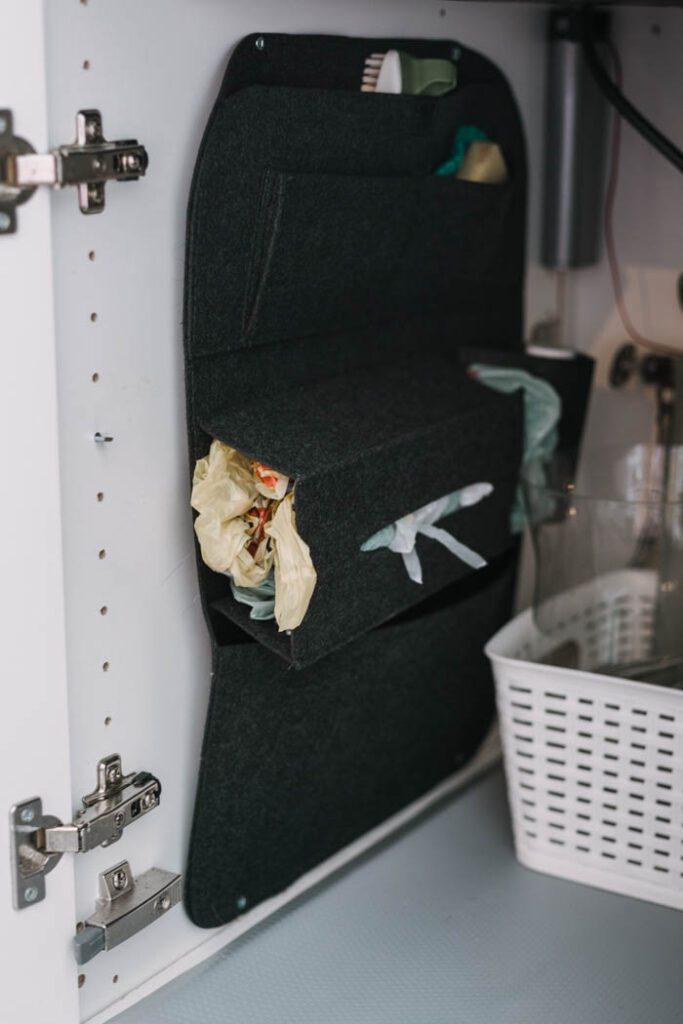 Garbage Bag Roll Holder
I love the idea of having the garbage more accessible than in the box, so I bought an over-the-door storage basket from the dollar store
I didn't like the look of having hooks hanging over the kitchen cupboard door, so I had to find a way to engineer something so it hung inside the cupboard.
For this kitchen sink storage DIY, I decided to buy a plunger and take the rubber part off the bottom and then to buy some hooks from the dollar store that I could use to hang that wooden plunger up. The hooks weren't quite wide enough for the wooden dowel, so you can use pliers or vice grips to stretch the hook open a little bit, so that the dowel sits in it nicely.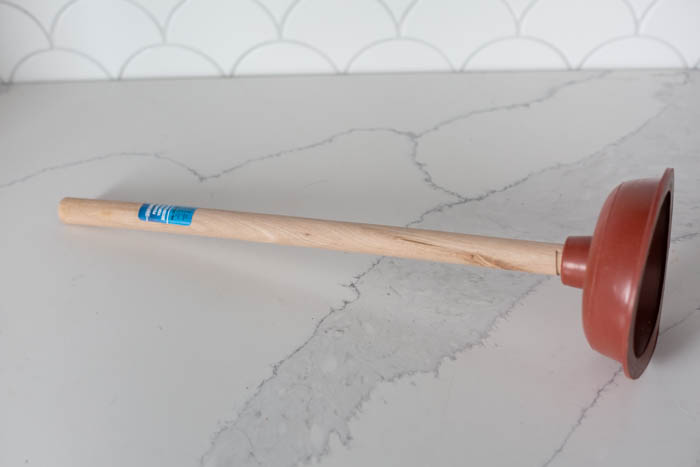 Once your hooks are ready, you can put them into the side of the cabinet. Put the dowel right into the hooks and hang your basket on the dowel.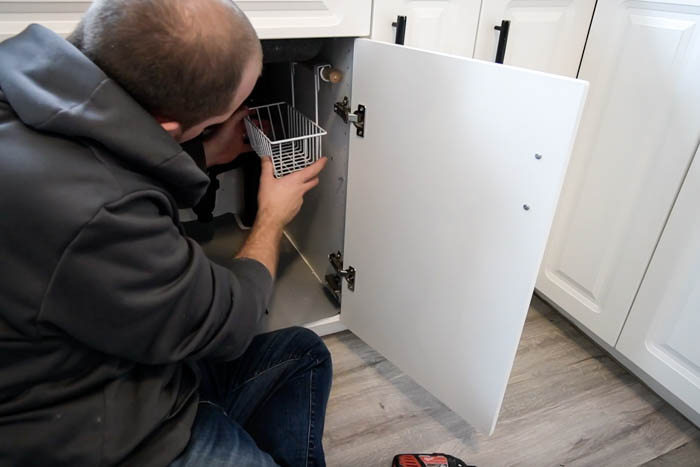 You can cut your dowel down to size, but ours was just gonna be sticking into the back of the cabinet, so we left it the same size.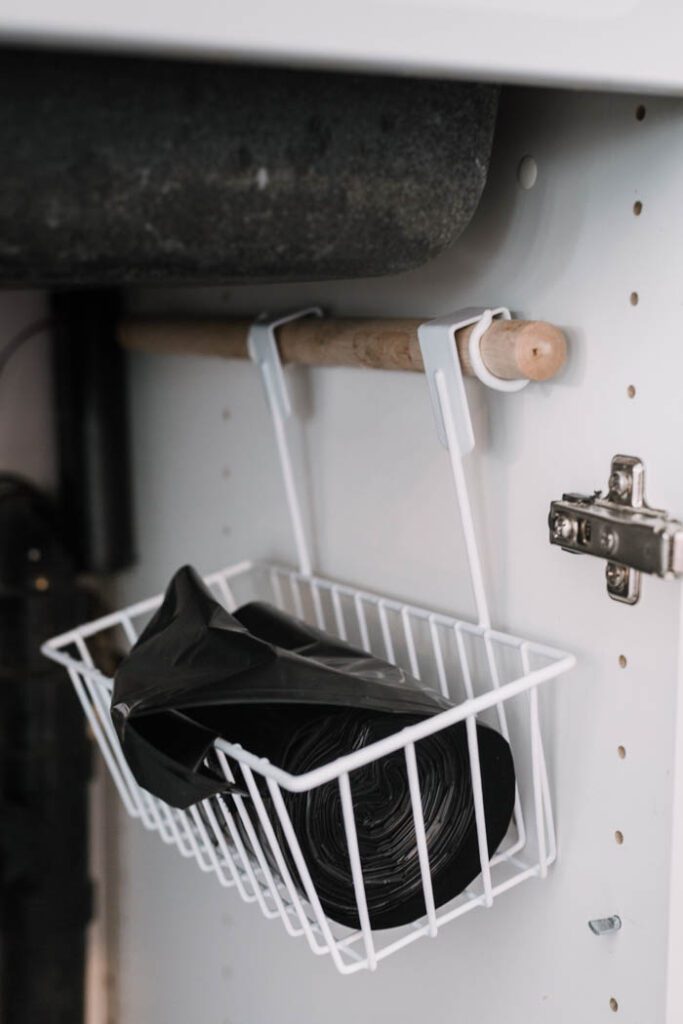 Dollar Store Baskets
Finally, I used some dollar store baskets to organize all of the vases and things that I reach for less often in the back.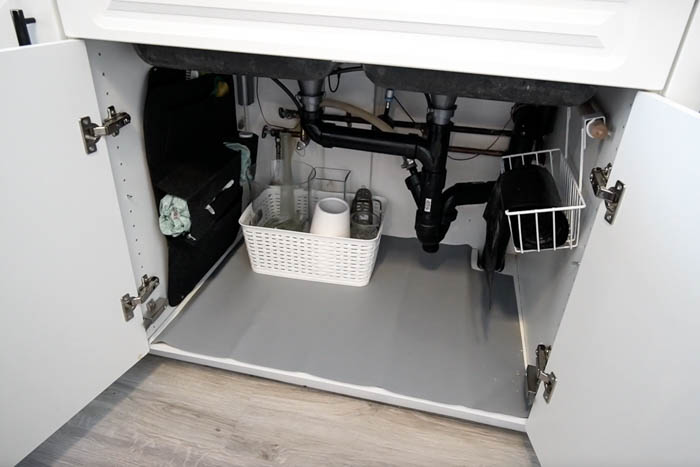 And then all of the cleaning supplies, and things I reach for more frequently, in the front.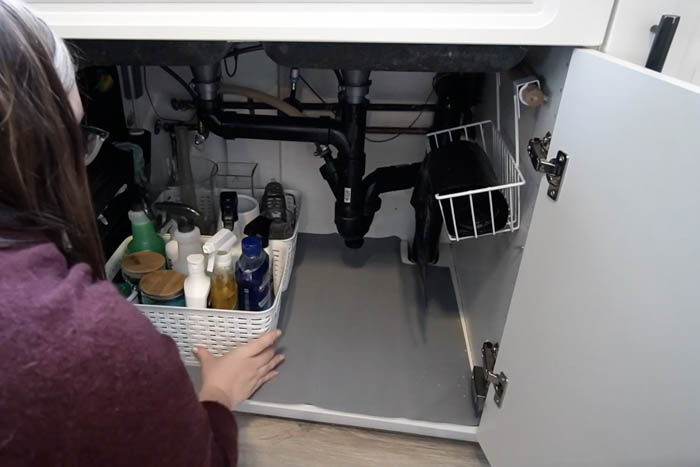 These are more dollar store hacks than DIYs, but I'm really happy with how organized this space feels now, after only spending a few dollars at the dollar store. The car mat is so functional in here, I love how it stores everything. And honestly, the space just finally looks nice.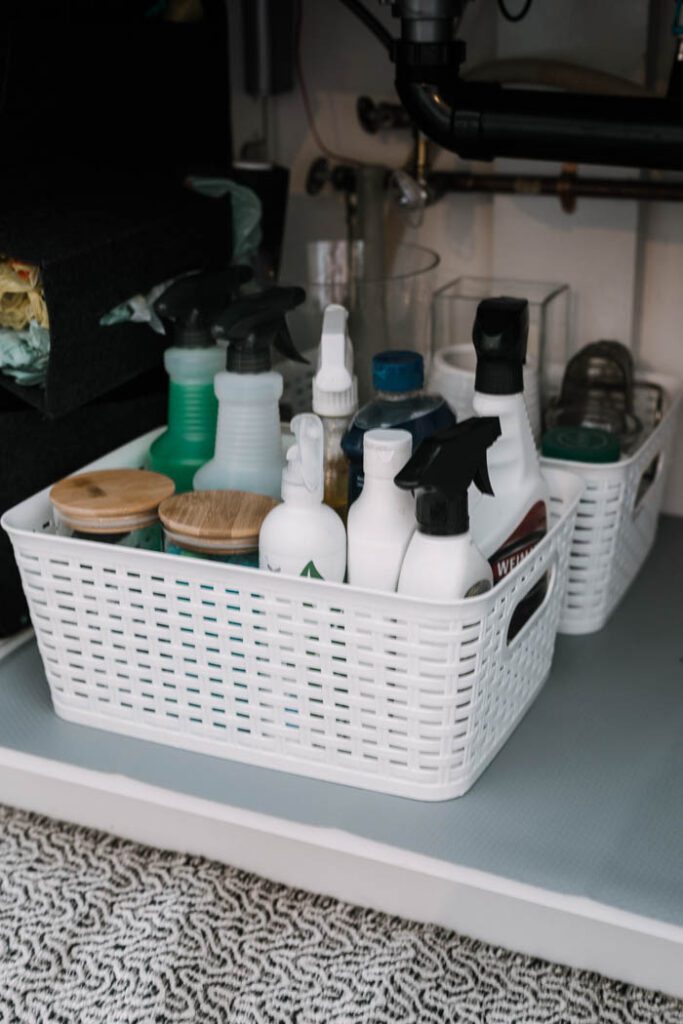 There's lots of extra space if I have to put any of those Costco sized containers back in for storage, but I'm really happy with how accessible all these bags are now and I'm happy that they're not hanging on my door.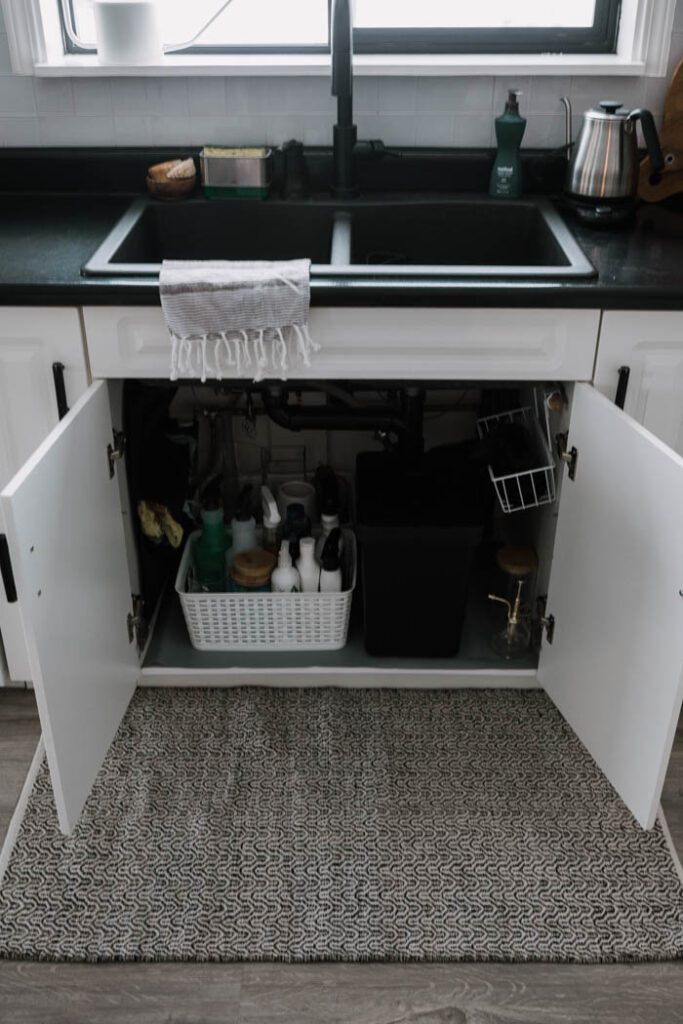 More Dollar Store Kitchen Storage DIYs
This project was one that I did along with other dollar store projects to organize our kitchen cupboards! Check out the video below to see how I made these other inexpensive projects!
Don't forget to subscribe to our YouTube channel for more great dollar store DIYs!
For more great dollar store DIY ideas, check out these beautiful DIY vases!