Happy Thanksgiving to my Canadian friends!! You may know by now that I had a baby last week! While I'm settling into life with two little ones, I asked some amazing bloggy friends if they would be willing to write a guest posts for me. Please welcome them and show them some love :) Don't forget to follow along with me on Instagram to see pictures of my new little girl! [Birth story to come soon].
Today, I have the amazingly talented and creative Emily, from Table & Hearth sharing a great DIY decor project! You will LOVE the final project :) Here she is…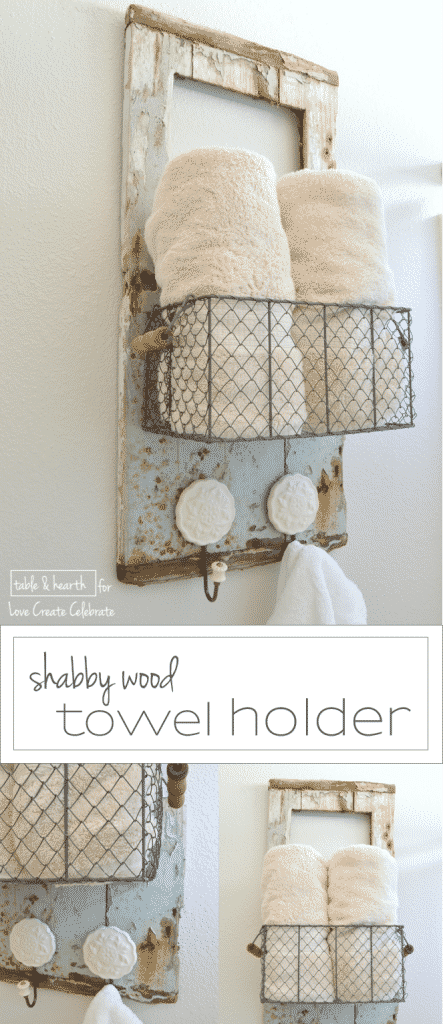 Hi Love Create Celebrate peeps! I'm Emily and I blog at Table & Hearth where I share DIY projects and home decor in our little home on the Texas coast, as well as crafts and recipes. I'm super excited to share this simple project with you guys for my friend Lindi while she has her beautiful baby!
As I mentioned, we live on the Texas coast so I have a soft spot for all things beachy, driftwoody, weathered, and chippy. My friend found this old little door washed up on the beach that was all of those things and asked if I could make something with it. Um, heck yes!
I fell in love with it's old chippy layers of seafoam green paint (always check to see if old paint is lead-based though!) and I decided to attach a basket to it to hold towels along with a couple of cute hooks to hang sachets or hand towels from.
I couldn't find a basket I loved around town so I ordered this one from Magnolia Market (love!). It just hangs on a couple screws I drilled in, same thing with the ceramic hooks (those are from World Market). It's actually a pretty heavy piece of wood so I used two large D-rings screwed into the back which hang on screws mounted with anchors in the wall.
This little guy was the perfect size for the space over the toilet where I had removed an ugly large cabinet during our bathroom update.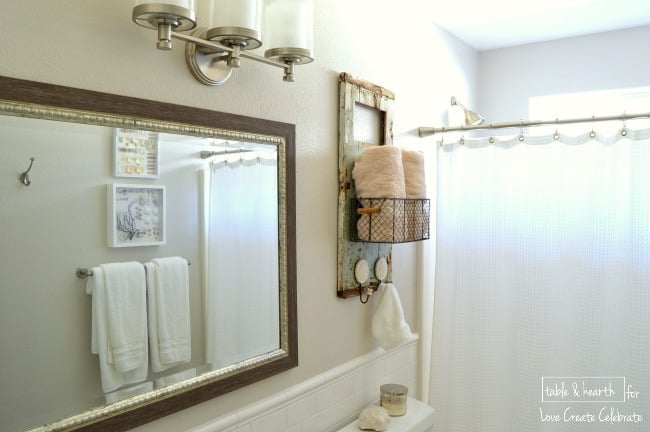 I also love that it gives the space a little pop of muted color in the bright, white, and neutral space. The paint is just the prettiest shade of mint green. How cute are those hooks?!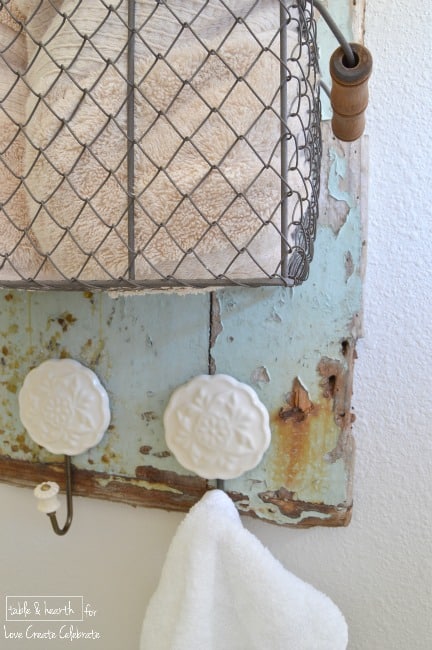 I absolutely love finding items that are normally discarded or considered trash (especially on the beach) and using them for practical, unexpected purposes. Chippy paint is like the cherry on top too :)
Thanks again to Lindi for having me here today!!
You may also love these other projects too!
Relaxing Master Bedroom Update
I'd love it if you visited me over at the blog too or followed me around social media!