Beautiful DIY Modern Wooden Tree Ornaments! Quick and easy Christmas ornaments using dollar store supplies!
No Christmas tree is complete without some wooden ornaments, right? And although these guys are stained white, the wood grain shines through! Grab some scrap wood or take a trip to the dollar store and get ready to make your own little modern wooden ornaments.
This project is one of six holiday decorations we made, and it's a quick and inexpensive DIY that we did along with other dollar store projects to get ready for the holiday season!
*This post may contain affiliate links. When you buy a product through one of our links, we get a commission at no cost to you! Thank you for supporting our blog so that we can continue to bring you posts like these. For more information, please see our disclosure page.*
How to Make your Modern Wooden Ornaments
Materials Needed
Dollar store kids wooden blocks (with triangular pieces)
Dollar store wooden mini blocks
Wood glue
Painter's tape
Ornament string or white leather cording
Drill and drill bits
Step-by-step Tutorial for your Modern Wooden Ornaments
To make these modern wooden ornaments, you'll need some triangular wood pieces. I saw these tall triangle pieces from this set of kids blocks and I thought I could make a really unique tree ornament out of them.
If you have a pile of scrap pine wood and a couple of tools, you can also make these quickly and easily from scraps!
Start by drilling some pilot holes, with a smaller drill bit, into the top of the triangles from your block set. Start drilling at an angle because these triangles are an odd angle, and then when you get a good hole, drill straight down.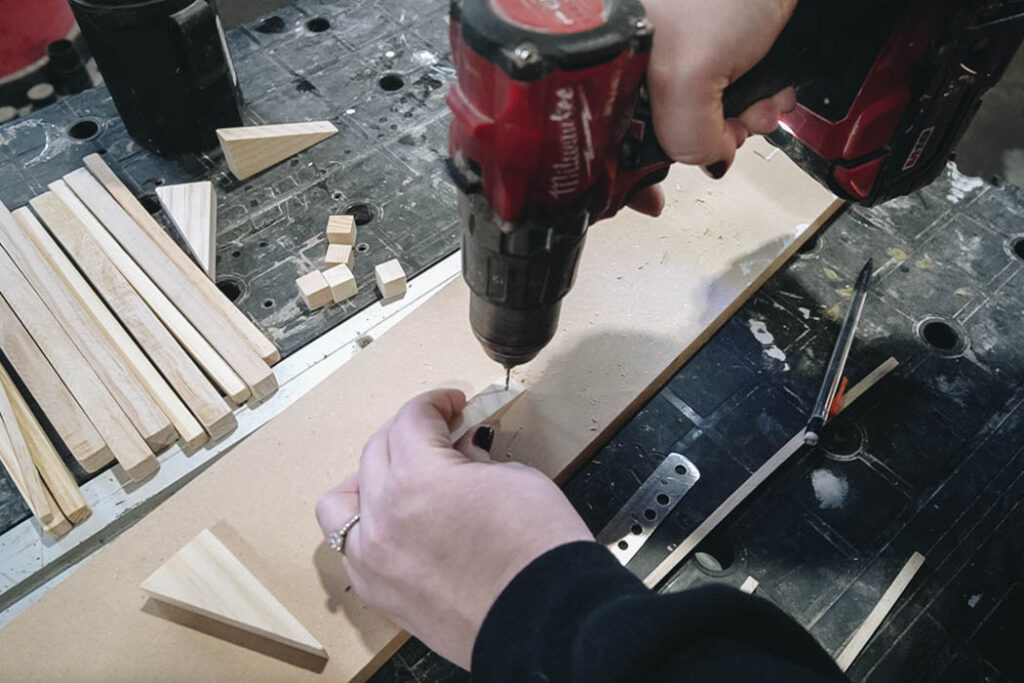 Then use a larger drill bit, large enough for the ornament string to pass through, and drill straight down in the same spot.
Grab some little wooden blocks from the dollar store (or again, cut some yourself!).
Now use some wood glue to attach those to the bottom of the triangular pieces.
This will create a modern wooden tree shape for your ornaments. For me, it looks better to attach the wooden blocks a little bit closer to the straighter side, because if you center the squares on the bottom, the tree will look a bit off balance.
Now use some painters tape to tape the square to the tree, just to hold them in place while the glue dries.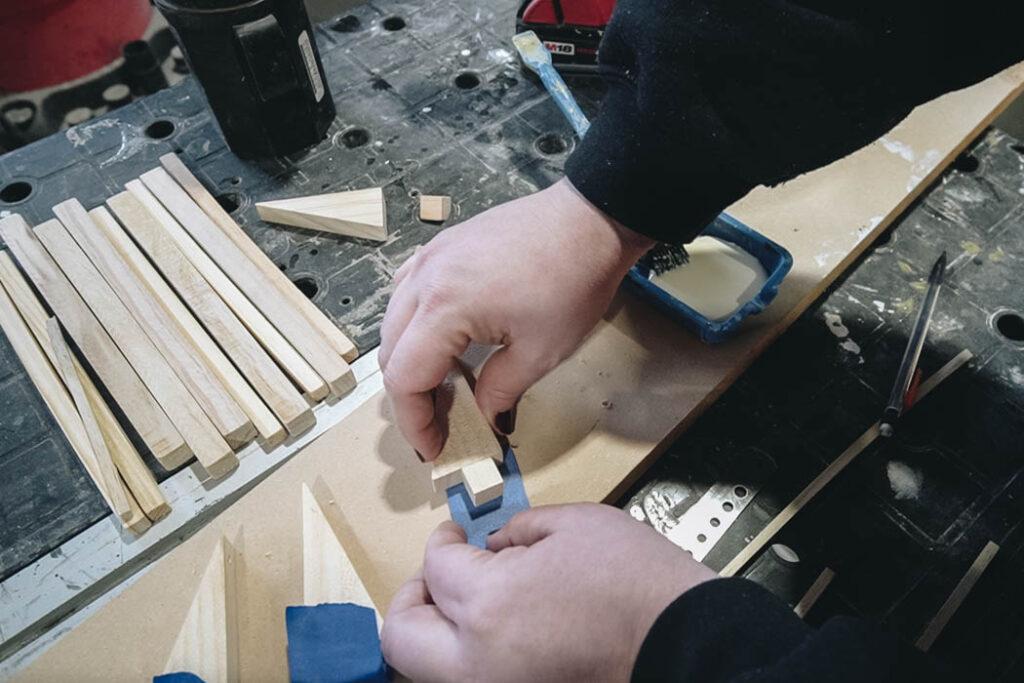 Finally, in order to give these trees a wintry feel, stain them with a white linen stain.
Our Finished Modern Wooden Ornaments
I love how these modern wooden ornaments turned out. I think it's just a modern take on a really traditional ornament.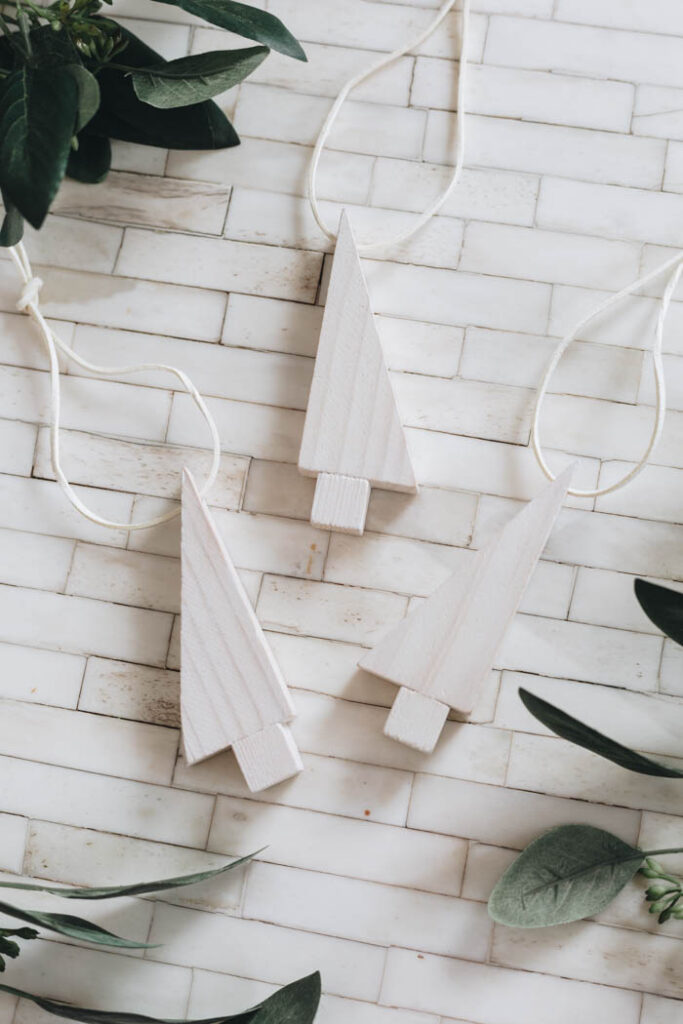 I love that I can still see the wood grain through them so they can fit that rustic or natural nordic feel, without screaming it and looking old-fashioned.
They're a nice, minimal design and they really look great on the tree!
More Dollar Store Holiday Season Projects
These yarn Christmas wreaths were one of 6 projects I did to get ready for the holiday season using dollar store supplies. Check out the video below to see how I made the other 5 quick and easy projects!
Don't forget to subscribe to our YouTube channel for more great holiday season DIYs!
For more great easy holiday season DIY ideas, check out these stunning DIY Mini Christmas Trees!
Modern Wooden Ornaments
Beautiful DIY Modern Wooden Tree Ornaments! Quick and easy Christmas ornaments using dollar store supplies!
Materials
Dollar store kids wooden blocks (use the triangular pieces)
Dollar store wooden mini blocks
Wood glue
Painter's tape
White linen stain
Instructions
Drill pilot holes into the top of the triangular wooden blocks
Drill a larger hole in the same spot, large enough for the string
Attach the wooden cubes to the bottom of the triangular pieces to create a tree shape
Attach painter's tape to hold the wooden blocks in place while the glue dries
Stain the wooden trees white
Put in the ornament string