Beautiful modern fall decor ideas for the home! These simple, neutral spaces will give you a ton of autumn inspiration!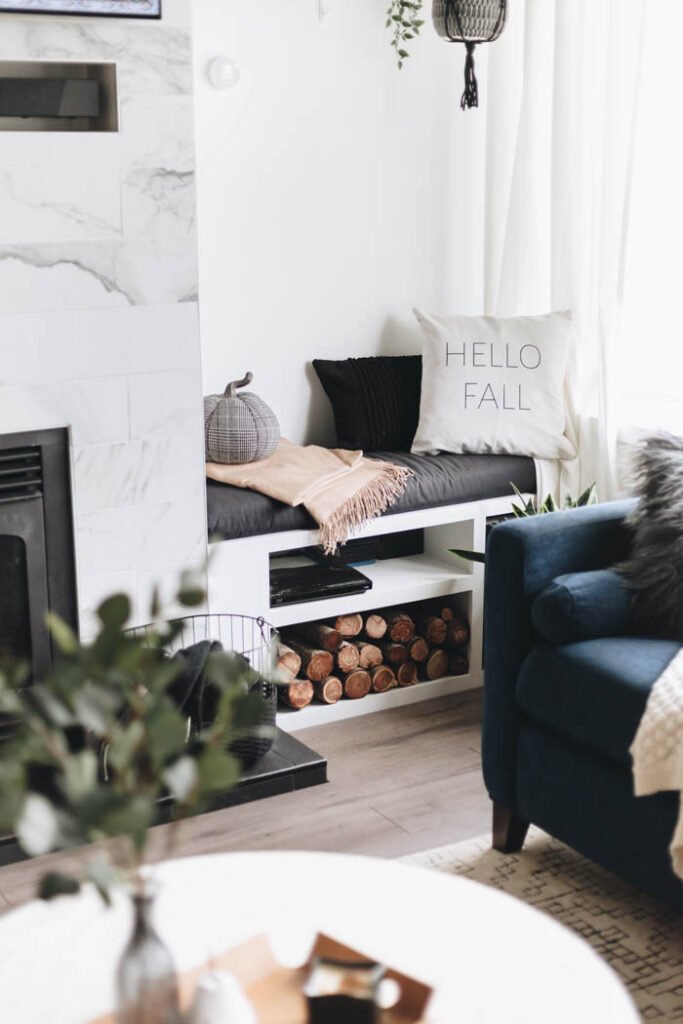 Hello hello! Welcome back into our home for another beautiful decor tour! I was so excited to be able to join the Brilliant Colours of Fall Home Tours and show off our spaces that got a small upgrade this week! If you're popping over from Simply Styled Inspo, welcome welcome, and I hope you love our modern fall decor ideas!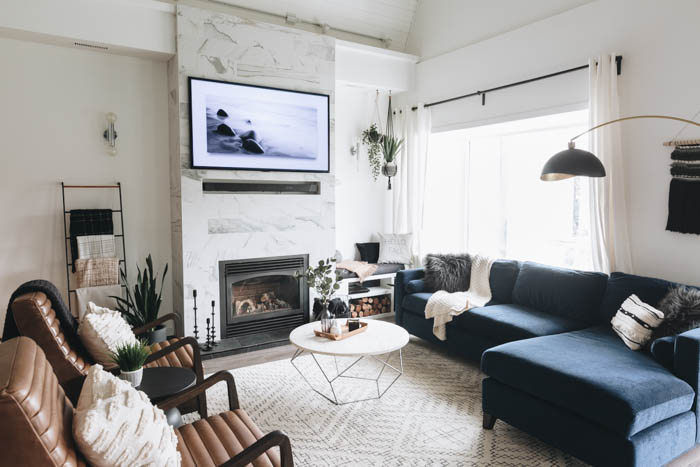 *This post may contain affiliate links. When you buy a product through one of our links, we get a commission at no cost to you! Thank you for supporting our blog so that we can continue to bring you posts like these. For more information, please see our disclosure page.*
Today I'm specifically showing off our living room. Last year I shared our dining room and kitchen too if you want to check out the entire space decorated for the season!
Our Modern Fall Decor Ideas Video
Our living room got a few extra upgrades this fall! We shared this video of the set-up and styling process if you want to see the before and after for our fall decorating this year!
The before is definitely worth checking out!
Don't forget to subscribe to our channel while you're there!
[show_shopthepost_widget id="4184130″]
Our Modern Fall Decor Ideas for the Living Room
Our living room is one of my favourite spaces in our home. The huge vaulted ceilings are simple unbelievably, and the large tiled fireplace (with hidden cords!) is one of the first DIYs we tackled when we moved in, so it holds a lot of sentimental value.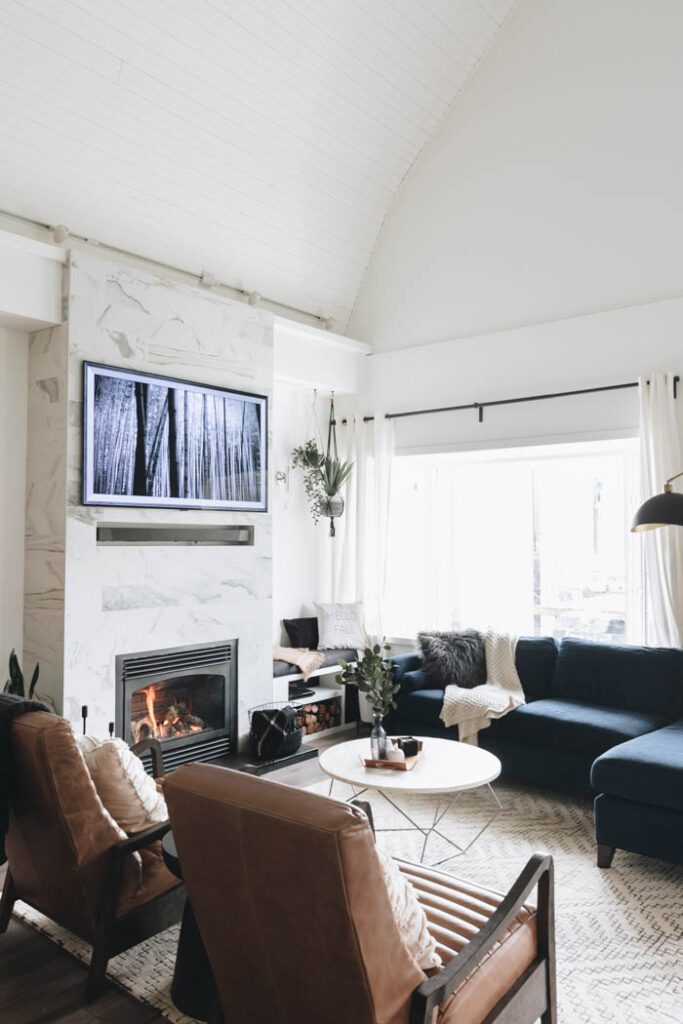 This year we were fortunate enough to finally switch out the chairs and the TV and we were STUNNED with how much is changed the space.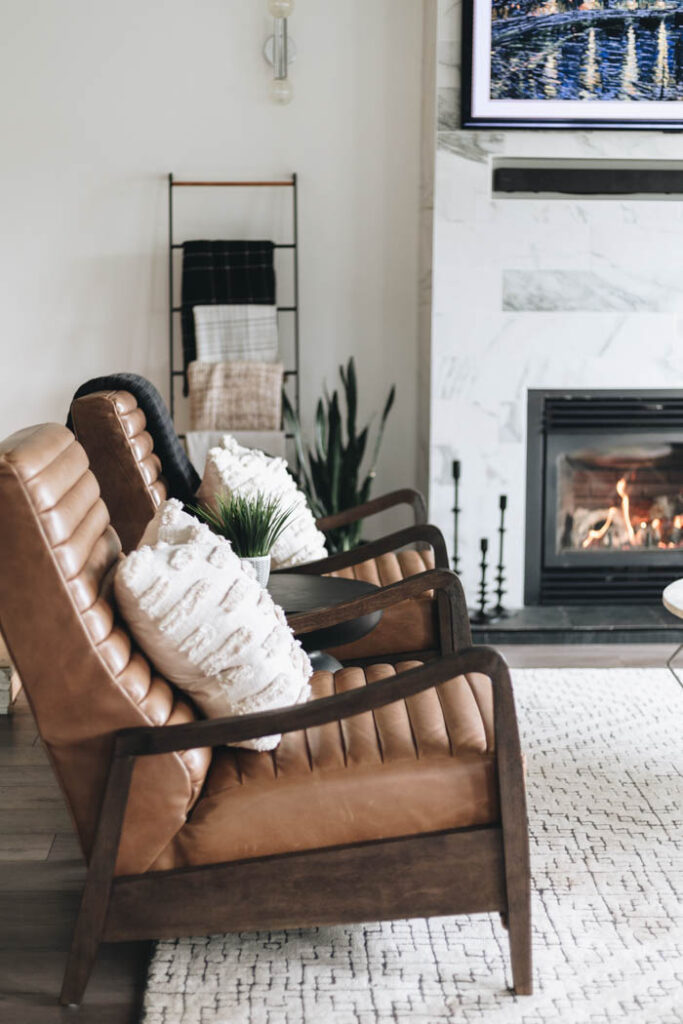 The brown leather chairs especially warm up the space so much – perfect timing for fall – and they are also recliners! If you don't believe me, just check out the video! They recline beautifully and they are so comfortable!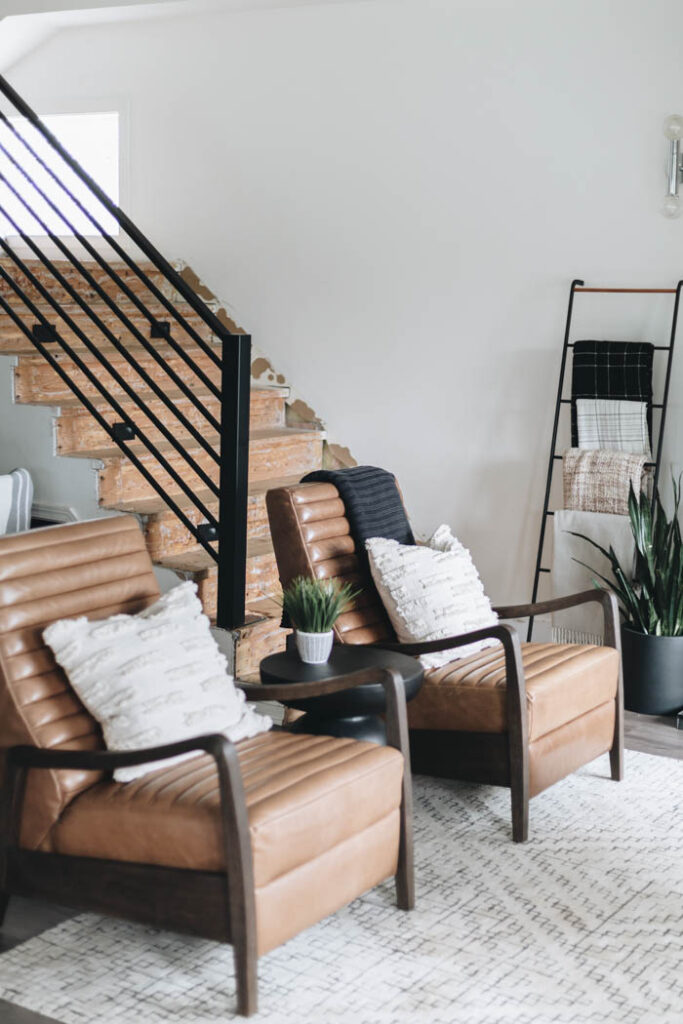 Sorry about the unfinished stairs in the background… that's still a work in progress moment, lol.
For the fall decor in the space I wanted to keep it simple, following three main rules for myself…
Don't overdue the "fall" decors – a few pieces here and there is all it needs.
Keep it neutral – the soft creams help maintain the warmth in the space
Bring in extra comfort – it's getting chilly, so pile on the blankets and throw pillows!
Bring in extra greenery – more life is always better when you are livening up a space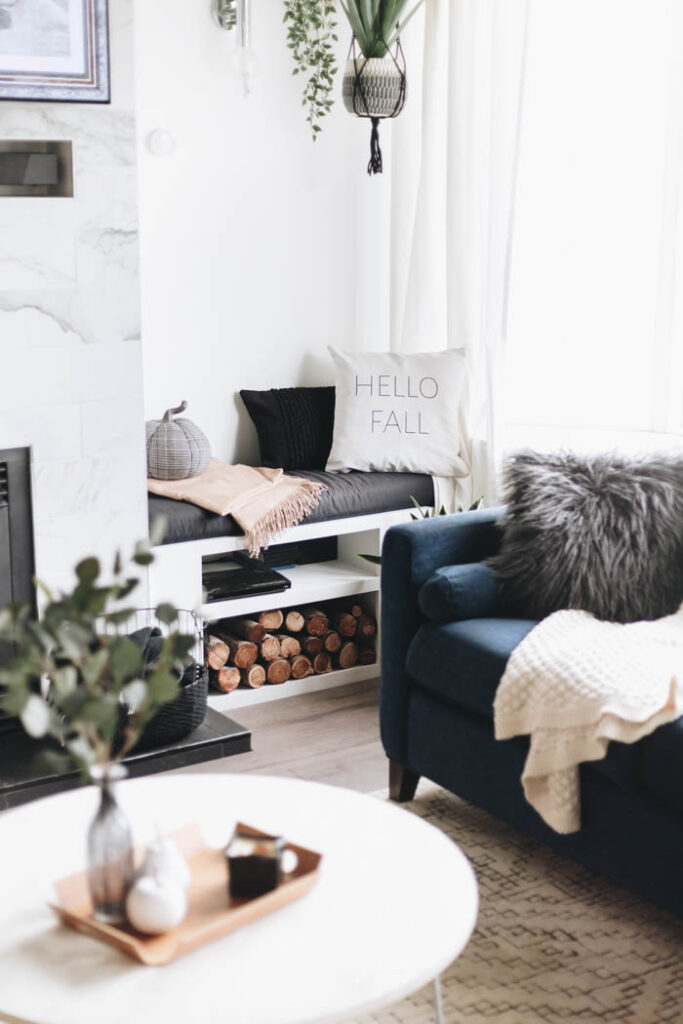 This little corner is always my favourite. Filled with warm woods underneath and a contrasting black cushion… you can't ask for anything cozier.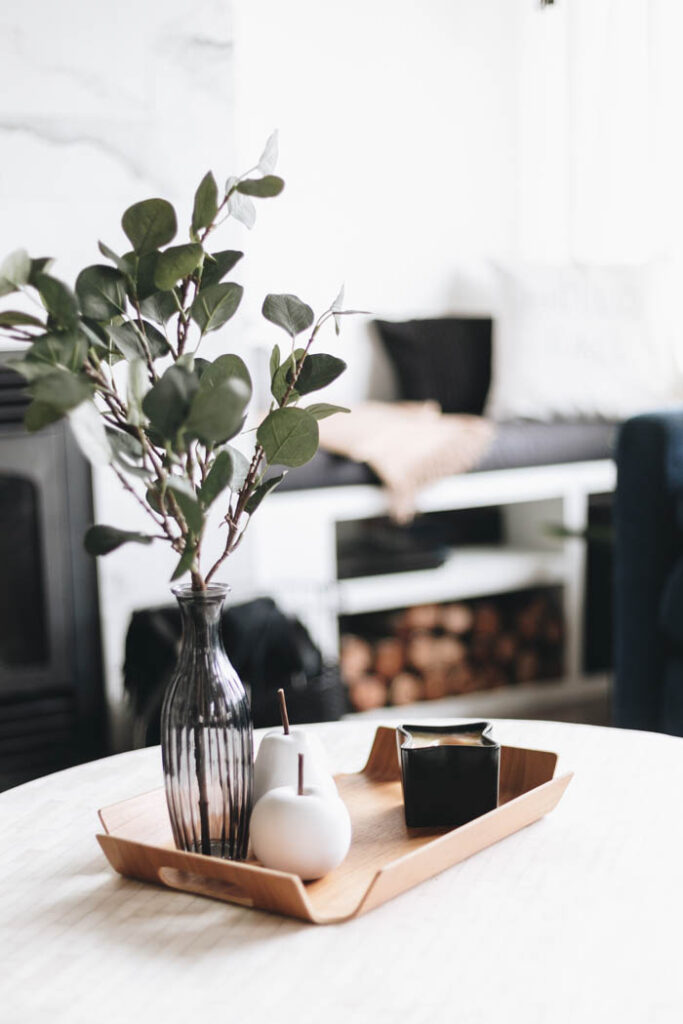 The centrepiece is simple and elegant. A couple of ceramic fruit, a warm candle, and a simple vase (from Dollar Tree!), all nestled in a walnut tray to contrast the lightly coloured coffee table we have in here.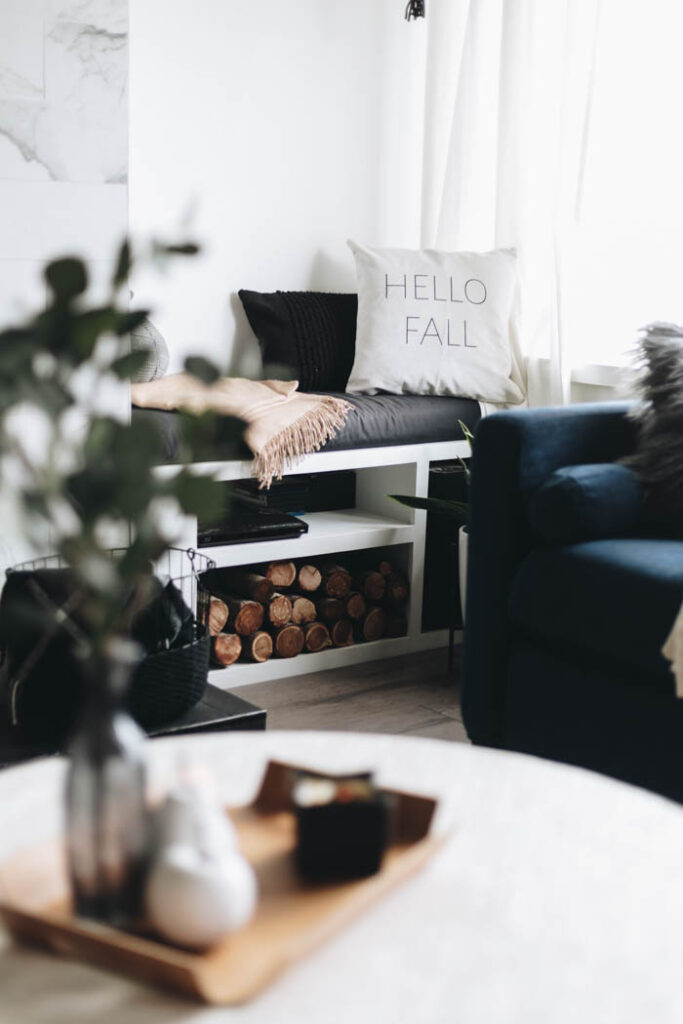 My absolute favourite white "Hello Fall" pillow, is the centrepiece of the bench behind.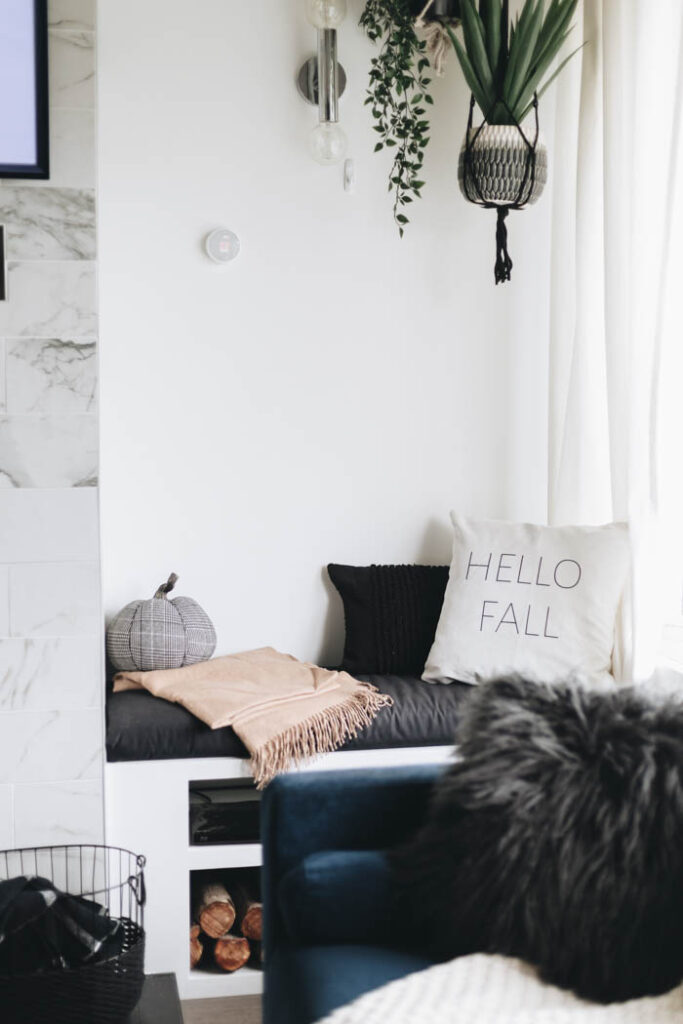 A plaid grey and white pumpkin is the only pumpkin making an appearance in here today and I'm not upset about it! Although I do love to look at a good fall display in other people's homes!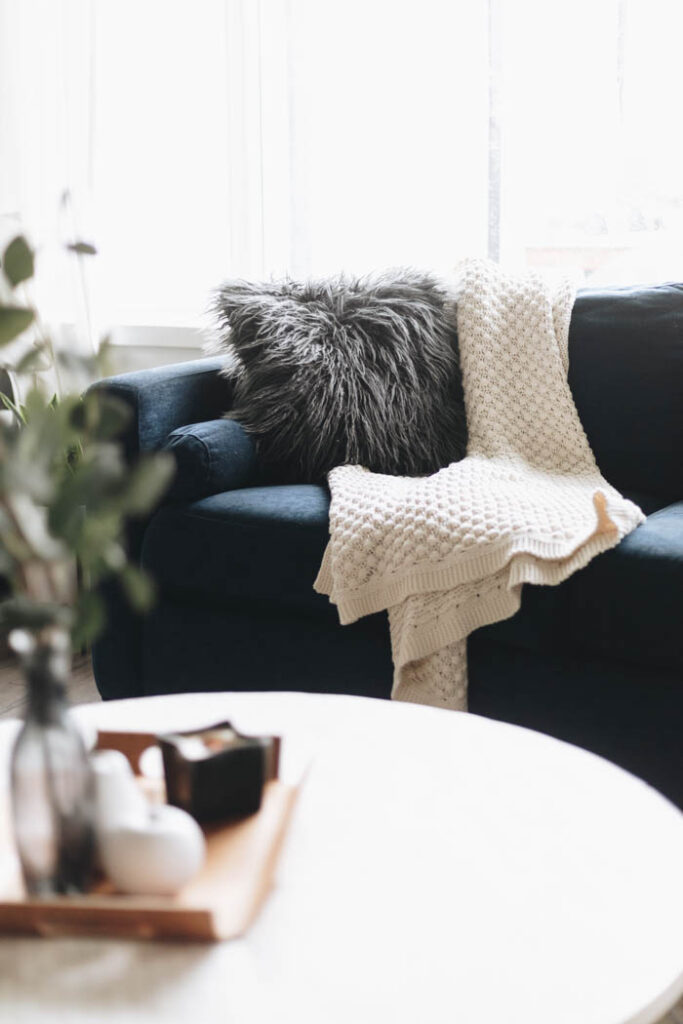 The only styling the couch got was a couple of extra blankets (that I'm already using EVERY day!).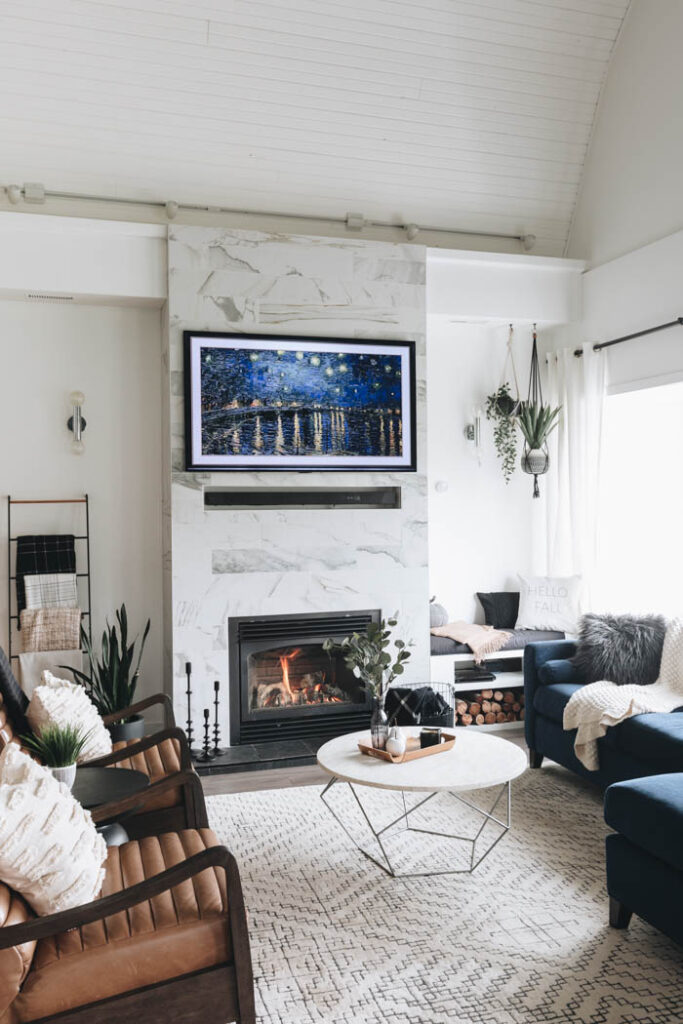 The living room looks perfect to me! I love the chairs facing the couch because it opens up the space so much, but when it's movie night, it's very easy to move them to the front of the room so that more of us can watch and recline comfortably!
[show_shopthepost_widget id="4184130″]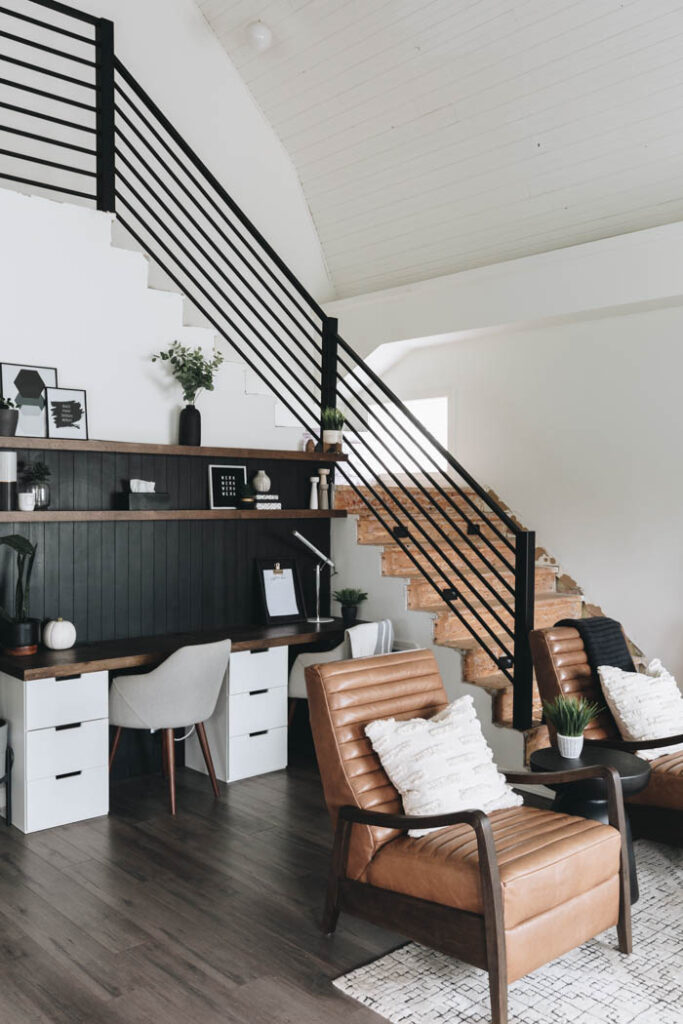 I thought I'd show you a quick view of our desk beside the living room too. It's nestled on blank wall behind new chairs, and is the perfect little work space for our kids!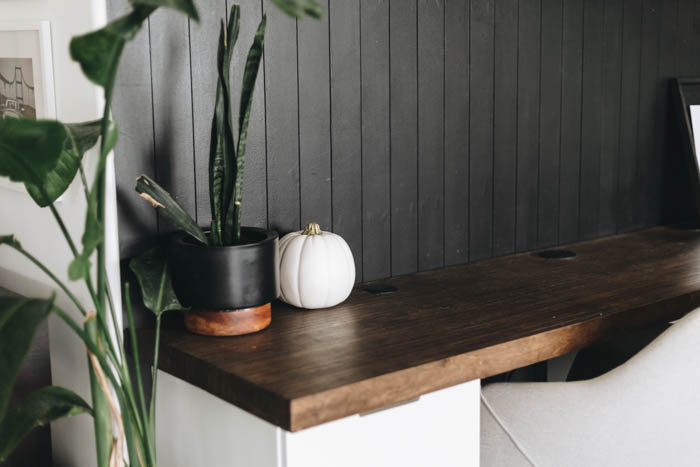 The small white pumpkin is the only sign of fall over here right now, lol. IT may get a few more trinkets when my new fall dollar store DIYs are done later this week!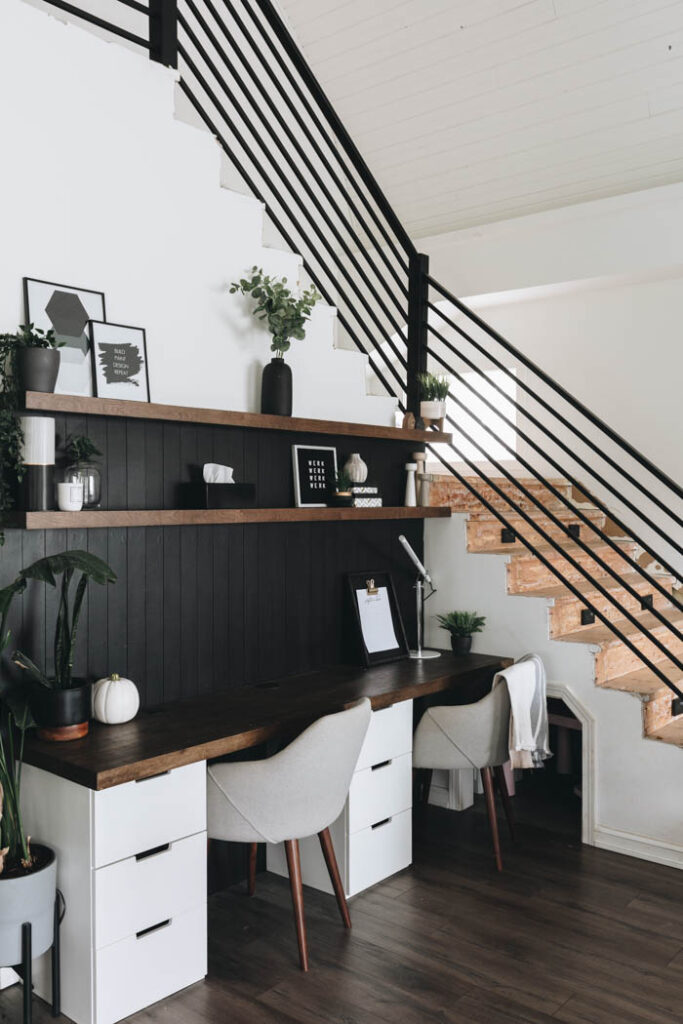 I hope you enjoyed stepping into our home! If you want to keep going on this lovely fall blog hop, skip on over to Noting Grace to see her beautiful home next!

Sharing with me today…
Friday Home Tours

Up To Date Interiors // Simply Styled Inspo. // Love Create Celebrate
Noting Grace // White Arrows Home // Dans Le Lakehouse
And sharing the rest of the week…
Monday Home Tours

Sweet Pea // The Tattered Pew // My Thrift Store Addiction
Shiplap and Shells // Stone Gable // Dabbling and Decorating
Tuesday Fall Home Tours
The Happy Housie // The Aspiring Home // Mint Candy Designs
This Is Simplicite // She Gave It A Go // Vintage Society Co.
Wednesday Fall Home Tours

Worthing Court // Kate Pearce Vintage // Casa Watkins Living
A Blue Nest // Caitlin Marie Designs // Inspiration For Moms
Thursday Fall Home Tours
Aratari At Home // My Wee Abode // Midwest Life and Style
Simply2Moms // Stacy Ling | Bricks 'n Blooms // Open Doors Open Hearts
Don't forget to check out our Full Modern Fall Home Tour
Our beautiful modern fall kitchen, dining room, and more!