Adorable fall gnomes made from Dollar Store supplies! Learn how to make your own to add to your home decor for fall!
Lately I have been really shifting towards nordic and scandinavian decor. I love the minimalism, the monochromatic colour palettes, and the way the style brings the outdoors indoors. When I was trying to think of some fall decor ideas this year, the most quintessential nordic decor I could think of was a gnome, so I decided to try my hand at some DIY fall gnomes!
This fall decor DIY involves some simple supplies that I found at my local Dollarama. When I found some winter hats with furry pom poms, and I knew they would be perfect and worth the price. I actually bought three of them and then I found some felt in fall colors to complete the project.
Taking cheap ugly things from the Dollar Store and turning them into beautiful home decor is one of my favourite things to do. After spending a huge amount of time on some outdoor projects, I was ready for a break. This fun craft project was just the distraction I needed!
*This post may contain affiliate links. When you buy a product through one of our links, we get a commission at no cost to you! Thank you for supporting our blog so that we can continue to bring you posts like these. For more information, please see our disclosure page.*
How to Make DIY Fall Gnomes
Supplies Needed
3 Tuques with pom poms
Wood beads
Felt sheets in fall colors
Step-by-Step Tutorial
I started by cutting the pom poms off the hats, then I cut the felt to make the gnome hats.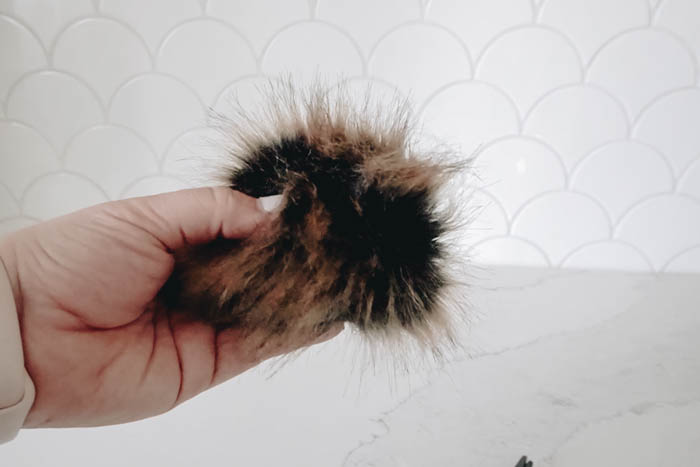 I found that a quarter of a circle shape was the perfect size to make the gnome hat for the poms poms I had. The length you cut will determine the height of your hats.
Next, I put some of my favourite craft glue along one of the straight edges of the felt piece, and then I rolled the felt piece into itself. Once the two straight edges met, I pressed them together to get the glue to stick.
This glue doesn't burn your fingers, but still dries very quickly and holds very well. So you don't have to hold the felt in place for long.
Then I filled the hats with stuffing from my craft stash and put glue all on the bottoms and stuck them on top of my pom poms.
The final step was to add a little nose. Using a wooden bead from the Dollar Store, just put a dab of craft glue on the back of the bead and stick it onto the pom pom just under the hat, so it looks like their little noses are sneaking out from under the hats.
I love these little guys! I don't know what it is about gnomes but they're always so cute, and instantly recognizable. It's the perfect little touch of fall decor for these shelves. I love how they turned out!
They look great sitting all together or sitting individually.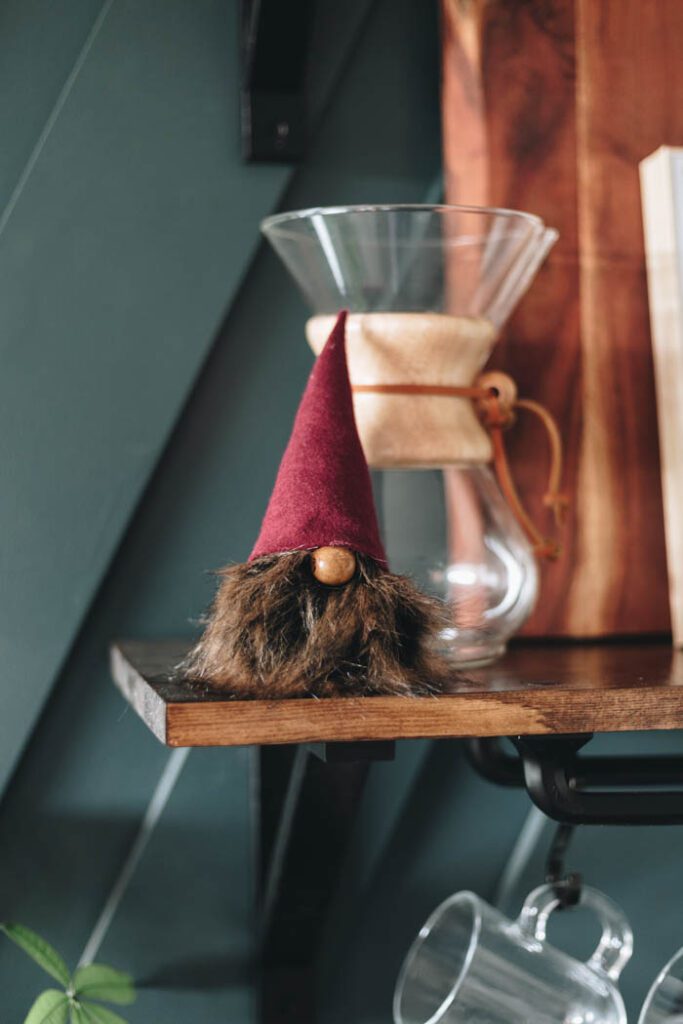 When I do Dollar Store DIYs, I always do a bunch at once. You can see me make these DIY fall gnomes along with a Fluted Candleholder, Pillar Candleholders, Table Setting Chargers, and Napkin Holders in the video below.
Print the instructions to make your own DIY fall gnomes!
DIY Fall Gnomes
How to make DIY fall gnomes using Dollar Store supplies. Make these adorable guys to add to your fall decor.
Materials
3 Tuques with pom poms
Wood beads
Felt sheets in fall colors
Instructions
Cut the pom poms off of the hats
Cut a quarter of a circle from each color felt sheet to fit the size of the pom poms
Apply craft glue to one straight edge of the felt and roll the felt into itself to make a cone. Press and hold so glue with adhere the edges together. Do this with each color.
Fill the hats with stuffing and apply glue to the stuffing. Attach the pom poms to the hats.
Add a bead as a nose by gluing it just under the hats.