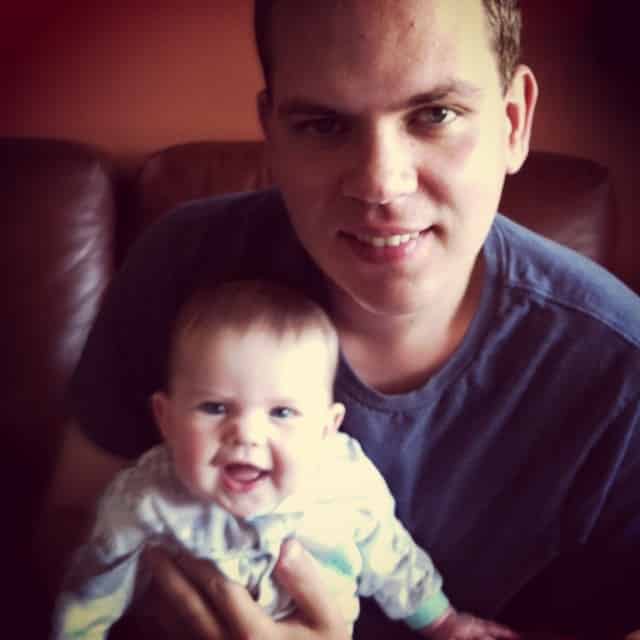 This year was this guy's first Father's Day with this adorable baby girl!
Last year, I attempted to celebrate a little, being as our baby girl was already on her way here. But this was really his first Father's Day.
First time he understood what it means to get sleep in one hour increments all night.
First time he knew the grossness (<– my made-up word) of changing poopy diapers, and knew the truthness (<– also made-up) that it's not actually that bad when it's your own child (shhh….).
First time he knew the joy of hearing his child giggle, of being able to make her smile, and of knowing that you are one of two people in the whole world that can calm her down :)
This many firsts deserved a celebration.
Even though I was far from home, and from my beautiful cricut, I managed to plan ahead, and celebrate, we did!
I followed a tutorial (like this one) to fold the napkins into ties for the place settings, and I made these handy dandy coaster place settings to label everyone's place at the table!
The coasters were simply made with cardstock. I used the circut to cut out squares in two different colours. One of which had cut-outs to show hints of the colour underneath. I tried to find a masculine pattern – I think rectangles worked! Then I stamped each coaster with a different colour of car stamp (also tried to be masculine). The stamp is from Close to My Heart called Fast and Furious. Then I added the names, and set the table :)
The "Happy Father's Day" banner was also cut out ahead of time with my handy dandy cricut machine :) And held up with two glorious, giant stacks of pancakes!
The feast was a joint effort from my mother and my brothers and I, all to celebrate my father and husband. Needless to say, we all skipped lunch afterwards…
Guests of honor: Opa and Daddy :)
All happy celebrations include gifts right?!? OR maybe it's just me. Gifting is one of my love languages. So I put my baby to work and made some presents.
It wasn't really hard work for her… she just had to hold some letters (bought at Michaels) and look adorable while I took pictures of her. She was getting a little unhappy towards the "o", but she held it together for some adorable photos!
We framed one set for Opa and one for Daddy. Best. Baby. Ever.
Happy belated Father's Day to all the Dad's!
Especially my daddy and my husband – Ellie and I love you both!
{xoxo}