Easy DIY Tree Topper! Make this simple dollar store wooden bead Christmas star in minutes to be ready for the holiday season!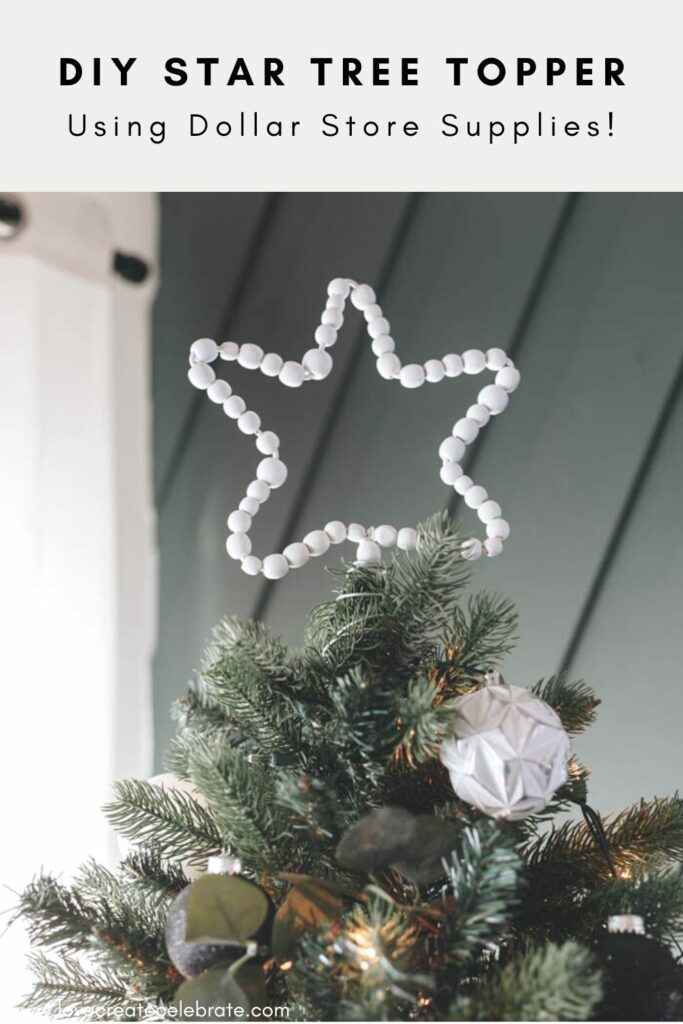 Do you have a Christmas tree without a topper? We had a tree without a topper this year and decided to try and DIY our own! When I decided to create a Christmas star, I used dollar store supplies to make this DIY tree topper, and we love how it turned out!
This project is one of six holiday decorations we made, and it's a quick and inexpensive DIY that we did along with other dollar store projects to get ready for the holiday season!
*This post may contain affiliate links. When you buy a product through one of our links, we get a commission at no cost to you! Thank you for supporting our blog so that we can continue to bring you posts like these. For more information, please see our disclosure page.*
How to Make your Star Tree Topper
Materials Needed
Dollar store wooden beads or these from amazon
Wire coat hanger
Dollar store tree topper
Step-by-step Tutorial for your Star Tree Topper
This project involves creating DIY Christmas star tree topper using wooden beads from your local Dollar Store. Alternatively, you could get these from amazon.
There are so many options out there for Christmas tree stars, but I wanted something that was more minimal, and would match our modern scandinavian Christmas decor.
This project didn't work out exactly as I hoped, meaning that it looks a little more "DIY" than store bought, but I'll let you guys be the judge after I show you exactly what we did.
I started with wire cording I bought from the dollar store. I ended up putting the wire through the beads three times to get it as strong as I could. But even then, when I held up my star tree topper, it kind of flopped. It didn't hold its shape at all. So I went onto plan B and released all of those wooden beads to try again.
This time I grabbed an old wire hanger. Use wire cutters to cut the hook off an old hanger. The plan was to bend the wire into a star shape. The wire is much stronger than wire cording.
Next, use needle-nose pliers to straighten out the hanger so you can string beads onto it.
Stick to the lighter colors of beads in case you want to stick with the wooden color instead of spray painting them. And don't pay too much attention to which size of beads you're using. Just string them on the wire as you go.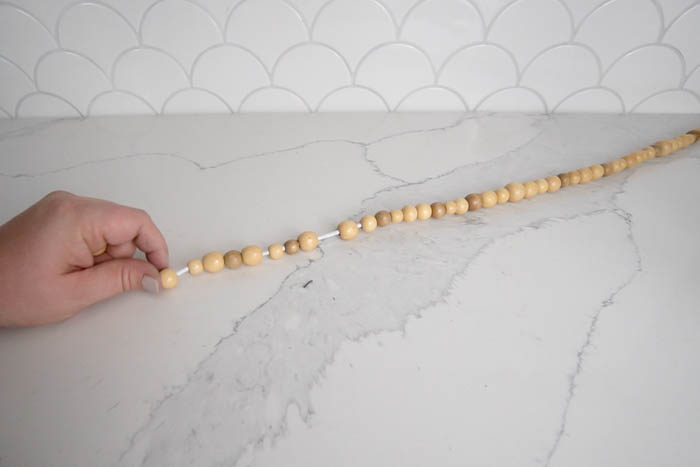 Once all the beads are on the wire, shape the wire into a star. You may have to remove a couple of beads because you do need some extra space on the wire for it to be able to bend at the corners.
I wasn't able to bend it perfectly flat or straight, which is probably the part that bugs me the most, but let's move on to how I put it on the star tree topper.
Buy a tree topper from the dollar store similar to this one and pull the spiral part out of the bottom.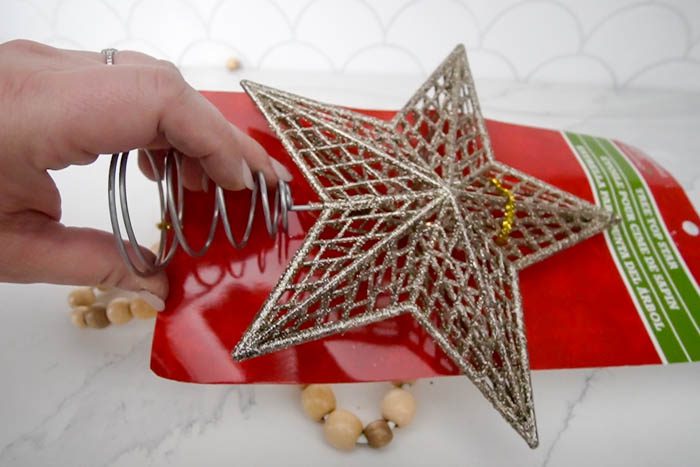 Then use the needle-nose pliers to flatten out the end pieces of your star so that they go straight down and will be able to attach to that spiral piece.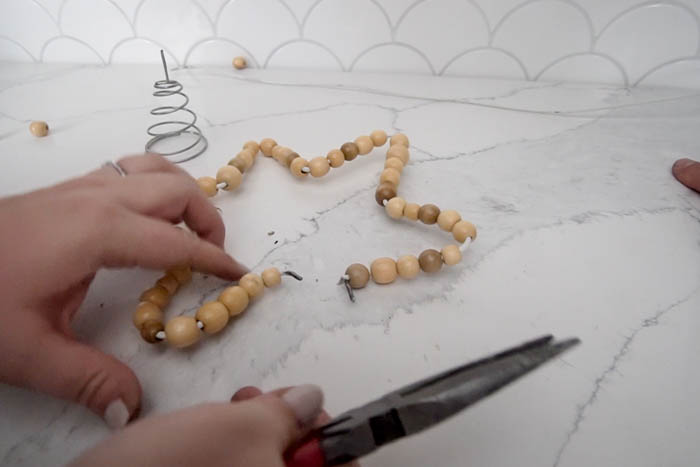 If necessary, ask someone for help here to hold the star tree topper while gluing it in place. Put glue into a bead and then feed the star through that bead. And then feed the spiral bottom piece through the bead from the bottom side. Then leave it alone so the glue can set.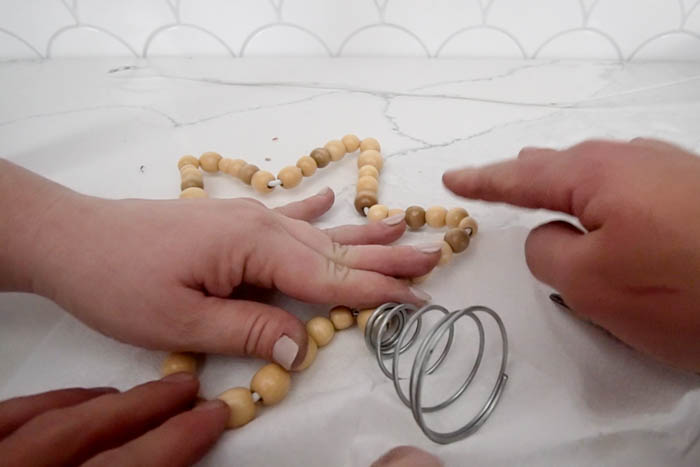 Finally, spray paint the entire star white, or any colour that matches your holiday decor.
Our Finished DIY Tree Topper
Here's how our final star tree topper looked. My kids love it and the white looks great on the top of the tree!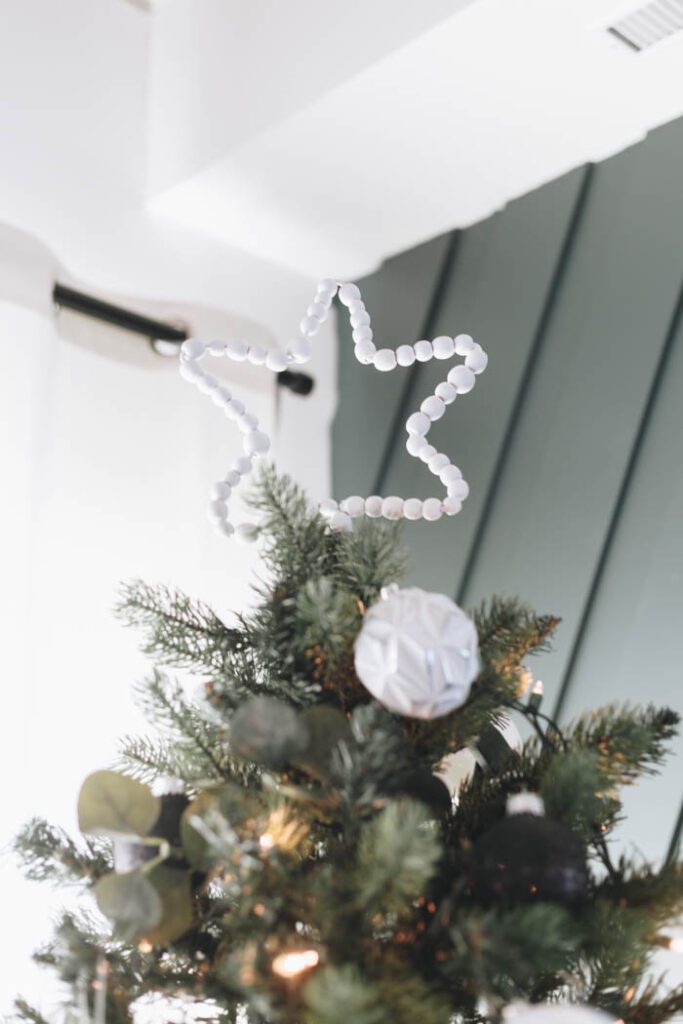 The imperfections give it some charm, but also definitely give away that it's a DIY too, lol. Hope it provided some inspiration!
More Dollar Store Holiday Season Projects
This Christmas star was one of 6 projects I did to get ready for the holiday season using dollar store supplies. Check out the video below to see how I made the other 5 quick and easy projects!
Don't forget to subscribe to our YouTube channel for more great holiday season DIYs!
For more great easy holiday season DIY ideas, check out these beautiful Five Minute Minimalist Christmas Wreaths!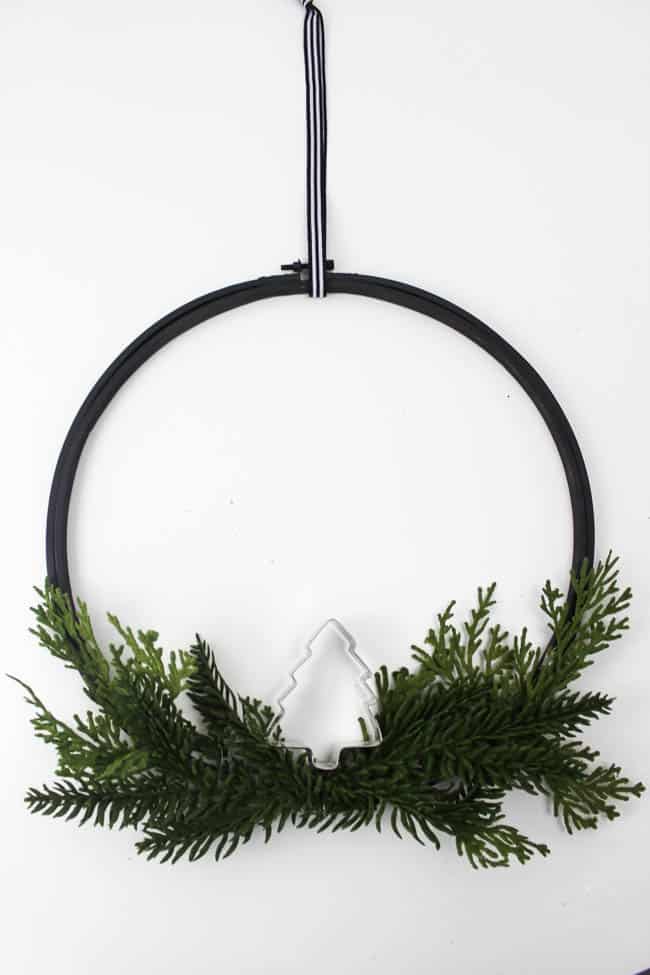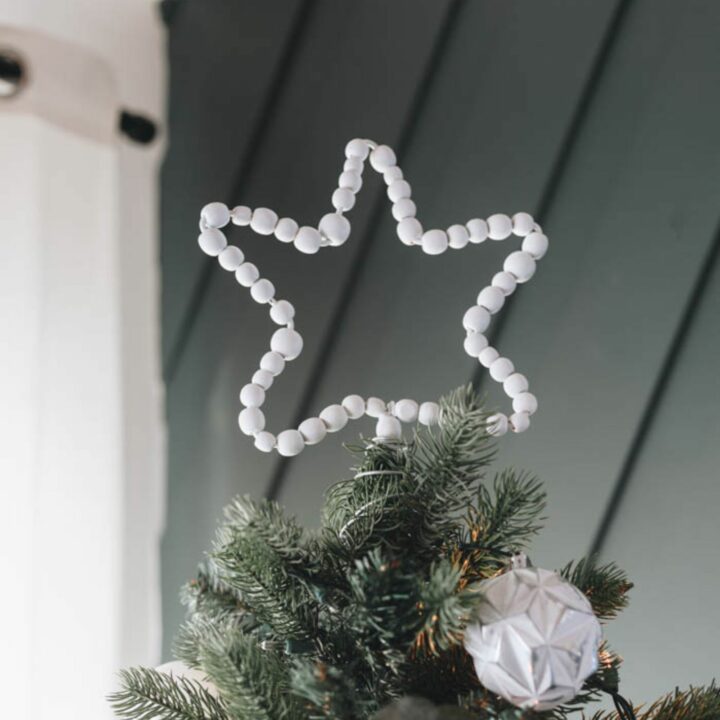 Star Tree Topper
Easy DIY Star Tree Topper! Make this simple dollar store wooden bead Christmas star in minutes to be ready for the holiday season!
Materials
Dollar store wooden beads
Dollar store wire cording
Wire coat hanger
Dollar store tree topper
Craft glue
White spray paint
Tools
Wire cutters
Needle-nose pliers
Instructions
Cut wire coat hanger to the proper size
Straighten out wire coat hanger using needle-nose pliers
Put wooden beads on the straightened wire coat hanger
Bend the piece into the shape of a star
Remove the spiral bottom part from the dollar store tree topper
Flatten out end pieces of your star using needle-nose pliers so they point straight down
Put glue into a bead and then feed the flattened-out end pieces of the star through that bead
Feed the spiral bottom part through the bead from the bottom side
Allow the glue to set
Spray paint the entire star white