Love these simple DIY Spring artwork ideas! Simple, budget-friendly DIYs that anyone can do, using supples came from the Dollar Store!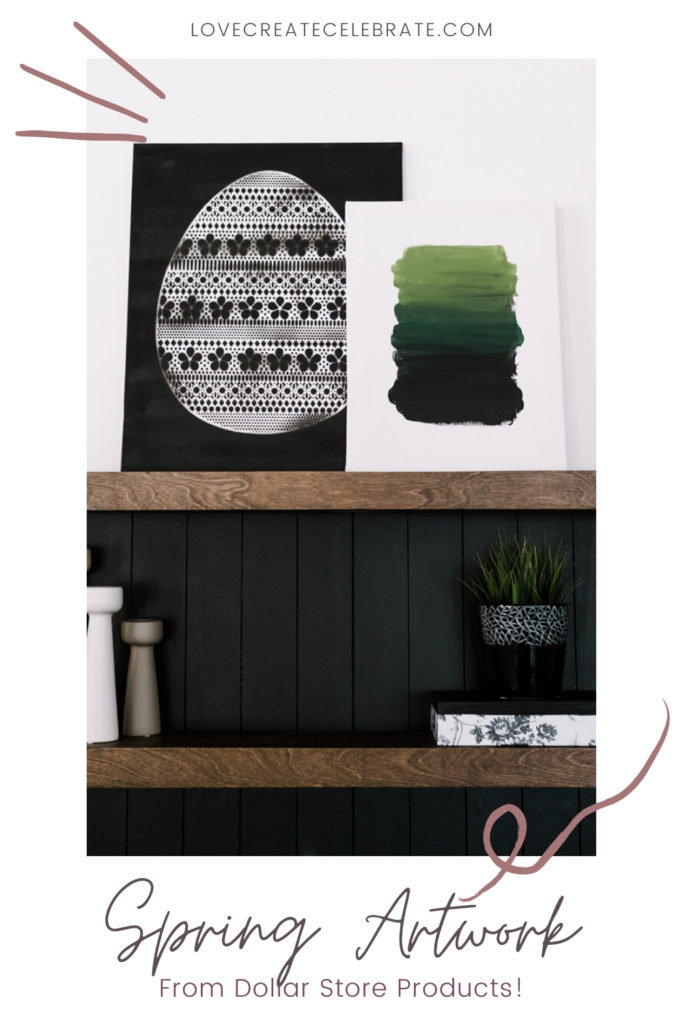 I couldn't let Spring go by without sharing at least a few seasonal DIYs. If you are visiting from the Seasonal Simplicity blog hop, then welcome! Long before I was a DIY blogger, I loved switching out frames and artwork with every season. This year I decided to try my hand at some DIY Spring Artwork for my desk shelves, and I spent less than $10 at our local dollar store making it all happen!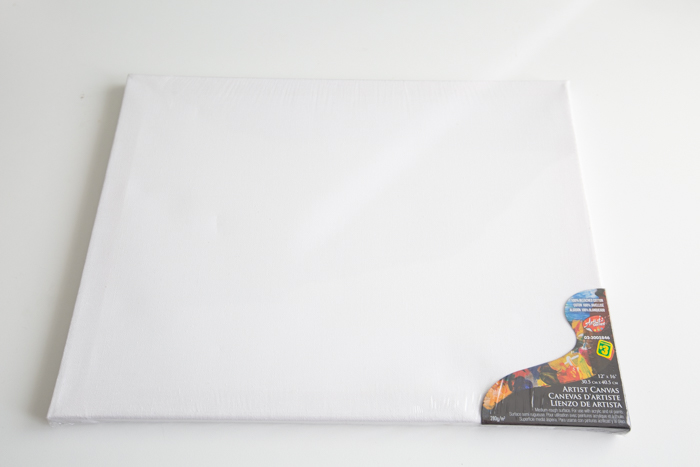 This project started when I decided to do some Spring Dollar Store projects. I gathered items from my local dollar store to create some stylish Spring decor.
I don't always know what I'm making yet, when I buy items, but I love seeing where my ideas take me! If you want to catch the other 4 dollar store Spring projects, make sure to subscribe to my YouTube channel to see the video on Saturday!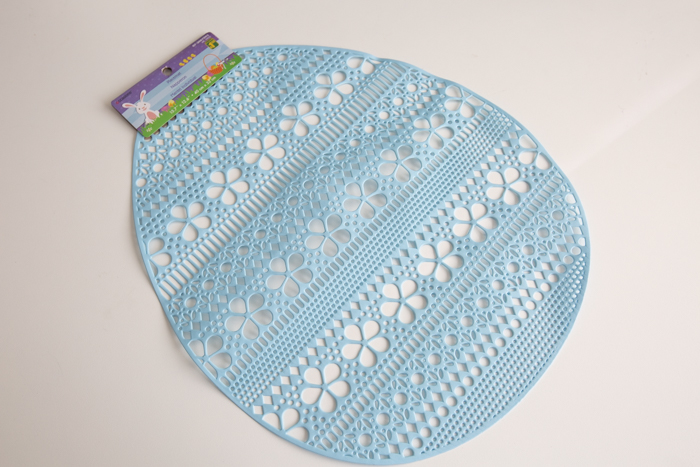 How to Make Modern Black and White Canvas Art
First, I'll tell you the 2-3 easy steps to make this modern black and white Easter artwork! See that Easter egg placemat? That's what inspired this entire piece! I bought that placemat, and bought a 16×20″ canvas (also from the dollar store), because that's all I needed!
The first step is totally optional, but I used a heat gun to flatten out the stencil as best I could first. I just used the heat gun very lightly over the stencil and ran my hand over the stencil when it was warm to help flatten it.
I knew that there would be paint getting under the stencil anyway, but I thought this might minimize some of it, and it worked great!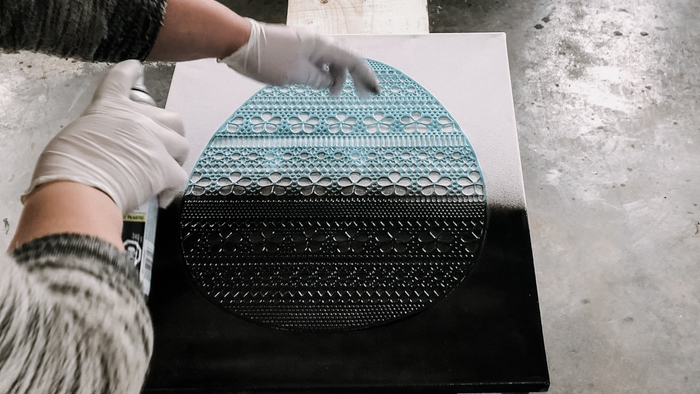 The second (and last!) step is simple to centre the stencil and spray paint the entire canvas. I did two coats of spray paint and got pretty good coverage.
How to Make Abstract Spring Artwork
This next DIY is as easy as DIY abstract art gets! I made this canvas art piece in less than 5 minutes, and I think it has a huge visual impact!
For this DIY I used a slightly smaller 12×16″ dollar store canvas, a dollar store paint brush, and some dollar store paints.
Before I started, I sort of imagined that I wanted a 2-3″ border around that outside that I wasn't going to paint within. I didn't mark it out, because it's not an exact science, but I eyeballed it as I went.
I started with my darkest colour (black) on the bottom and painted approx. 1/3 up the painting (excluding the 3″ border at the top and bottom).
The painting technique was not really a technique at all! I just moved left and right making horizontal lines across the canvas.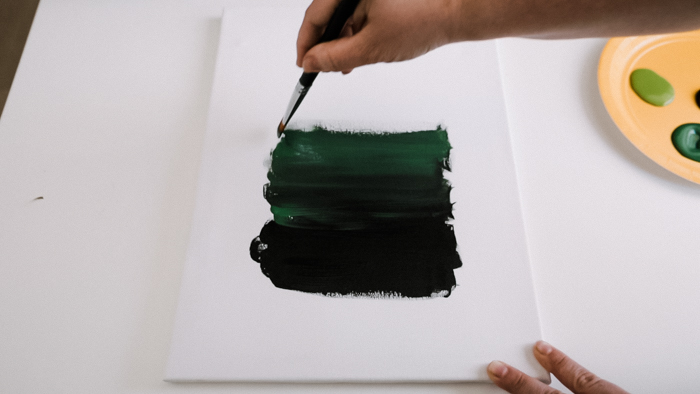 When the black was done, I moved to my dark green. The idea was to create an ombre effect as I went.
I added the dark green to the paint brush without washing it off, or cleaning it or anything, and started painting over the black section and gradually moving up.
By doing this, you will naturally blend the colours together. The first few strokes will seem pretty dark, but they will gradually lighten as you continue to add the lighter paint colour.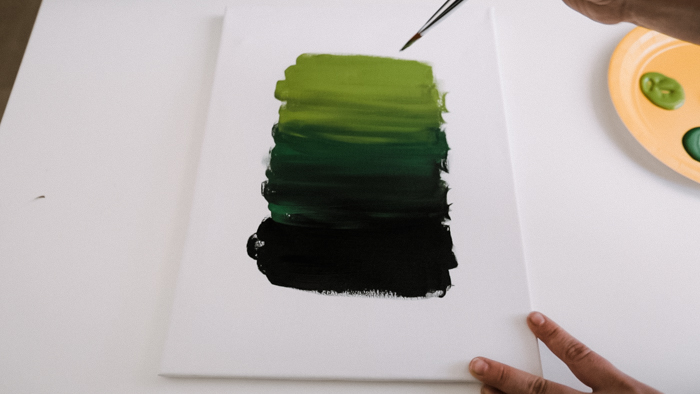 Finally, I added the light green colour and blended up to the top of my fake border. As you go, you may realize you need to add in more of another colour, which you can do at anytime!
After I blended my top colour, I felt like I was missing some of that beautiful middle green colour, so I went back and added some more before I finished.
The Finished Spring Artwork
I am in love with how these turned out! From the moment I came up with this idea, I knew that I would layer the pieces, and the black in both canvases draws them together beautifully!
I love how they look styled on our desk shelves. Such a subtle way to add some beautiful Spring decor to your home!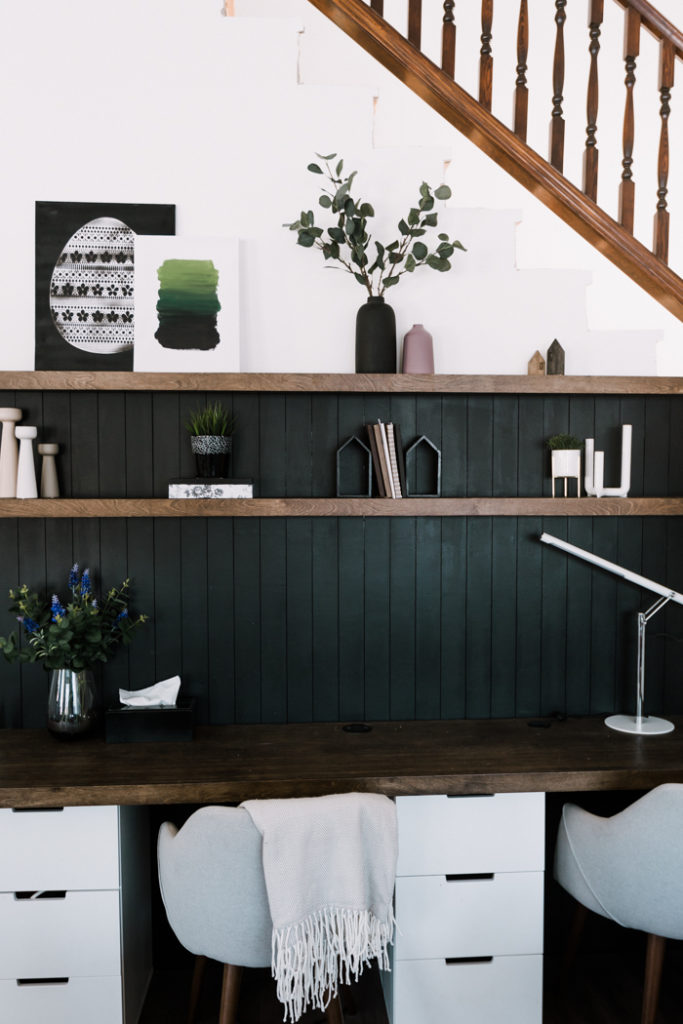 This week I'm joined by some of my talented blogging friends who are also sharing their Easter projects, decor ideas, and crafts with you. Be sure to see what they are sharing by clinking the links below the images.
Easter Mantel Decor with Free Printable Easter Art at The Happy Housie Simple Easter Brunch Table at Finding Silver Pennies Spring Flower Pot Cakes at Satori Design for Living Dollar Store Wooden Box Centerpiece at Craftberry Bush
Free Easter Activity Booklet for Kids at The DIY Mommy Wood Slice Easter Craft for Kids at She Gave it a Go Free Printable Easter Banner at Happy Happy Nester DIY Easter Egg Salt and Pepper at Life is a Party Kid Friendly Easter Table at The Tattered Pew
Painted Terra Cotta Pots Centerpiece at Tatertots and Jello DIY Easter Sign at Lemon Thistle DIY Easter Carrot Wreath at My Sweet Savannah 5 Ideas for Wooden Easter Eggs at Hallstrom Home
Black & White Easter Vignette and Printable at Taryn Whiteaker Designs Easter Bunny Peg Dolls at Cassie Bustamante DIY Spring Artwork at Love Create Celebrate DIY Authentic Easter Eggs at Zevy Joy Modern Classic Easter Table at Cherished Bliss
If you're looking for more Easter inspiration, you may love this simple Easter Egg DIY Idea!