I love this tray and was able to make it for FREE using wood from our scrap wood pile! Learn how to make your own modern wood tray and add a great piece of modern decor to your home.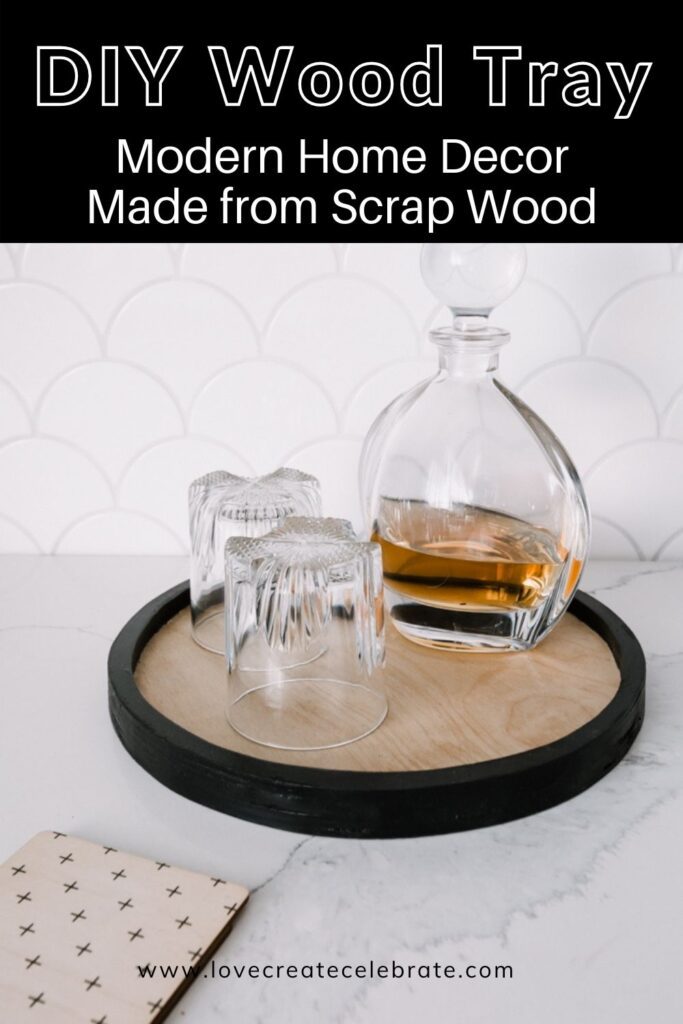 I love taking scrap wood leftover from previous projects and turning it into beautiful modern home decor. We had a piece of plywood left over from a project and I knew it would be the perfect piece to use to make a modern wood tray.
Trays are great for using when you have guests, they make a great place to display a modern vignette of home decor, or even as a centerpiece on your dining table or coffee table.
Trays like this retail for about $45, so I knew I could make my own version for a lot less money.
*This post may contain affiliate links. When you buy a product through one of our links, we get a commission at no cost to you! Thank you for supporting our blog so that we can continue to bring you posts like these. For more information, please see our disclosure page.*
How to Make a Modern Wood Tray
Supplies
Scrap plywood
Stain and Paint (I used Carbon by Behr)
Scroll saw or Jig saw
Sander
Clamps
Step-by-step Tutorial
The first thing I did was draw circles on the plywood. I only wanted my circles to be about an inch different in size because I'm going to putting them on top of each other to recreate that modern wood tray look (that would leave a 1/2″ border all the way around).
I used a few simple things I found around my craft supplies and shop to trace circles onto the plywood, including that wooden hoop, and the plastic bin in the background below. The circles I drew were 11.5″ for the outside circle, and 10.5″ for the inside circle.
So one circle was just an outside circle for the base, and the other one was the outside and inside circle drawn on to create a ring.
I decided to use our scroll saw to cut the circles because I thought that would give me the best shape, but you could use a jig saw if you don't have one.
First I drilled starter holes on the inner edge of the hoop circle so that I would be able to insert the saw blade from the scroll saw. Be sure that your saw blade is nice and sharp to get the best possible cut (ask me how I know this).
Also, if you don't have a lot of experience using a scroll saw or a jigsaw, don't get discouraged. You may just have to do a little extra sanding. Take your time and go slow to get the best result.
I cut the inside circle first and then moved to the outside circle. Since my inside edge was not perfectly circular, I used the oscillating sander we have before I glued everything up.
The outside edges weren't perfect either, but I tried and even out the edges and make it as smooth as possible before gluing.
Once I was done sanding, I glued and clamped everything together with wood glue and let it dry overnight.
The next day I moved over to our belt sander and sanded all the outside edges and made it as smooth as possible. You can use sandpaper or another type of sander, it may just take longer to get it nice and smooth.
Finishing Your Modern Wood Tray
I wanted the inside surface of the tray to have a nice natural wood look and have the wood grain shine through. I used a natural colored stain to stain the inside and then once the stain was dry I protected it with multiple coats of polycrylic.
To get the modern look I was going for, I decided to paint the rim and the outside of the tray black. I used frog tape to tape along the edges of the wood base.
To get around the circle, I just ripped small pieces of tape and stuck them down one at a time until I went all the way around the tray. After that, painting the tray rim black was super easy.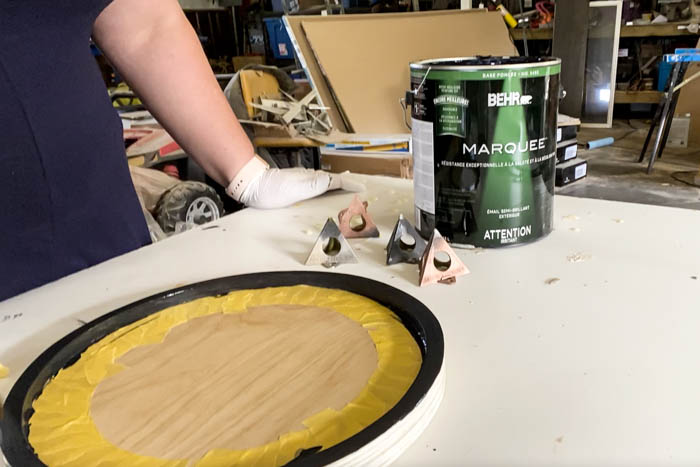 I used exterior paint just to make sure it was well protected from drinks or anything else that would be on the modern wood tray.
Here's how the modern wood tray looks. I'm so happy with how it turned out!
I'm not so happy with my scroll saw skills, they definitely need some work. The black paint really hides any imperfections.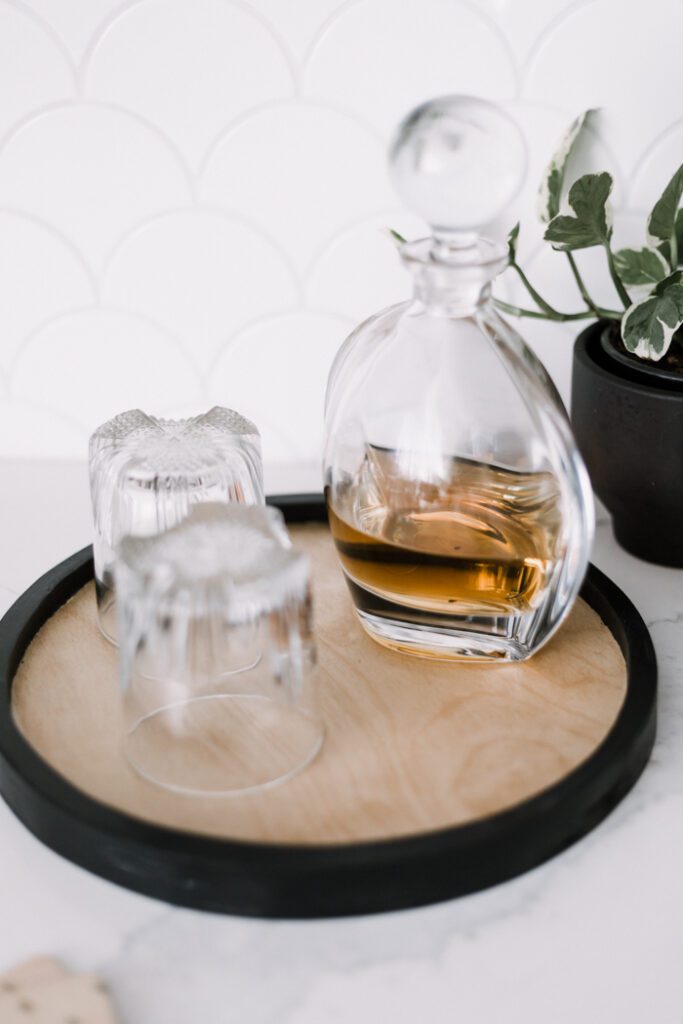 How to Make a Modern Wood Tray Video
Watch me make this modern wood tray and my circlet stands in the video below. These two projects are part of my Scraps Made Modern Series.
Looking for more Modern Scrap Wood Project Inspiration? I've gathered up a ton of my favourite scrap wood projects for you!