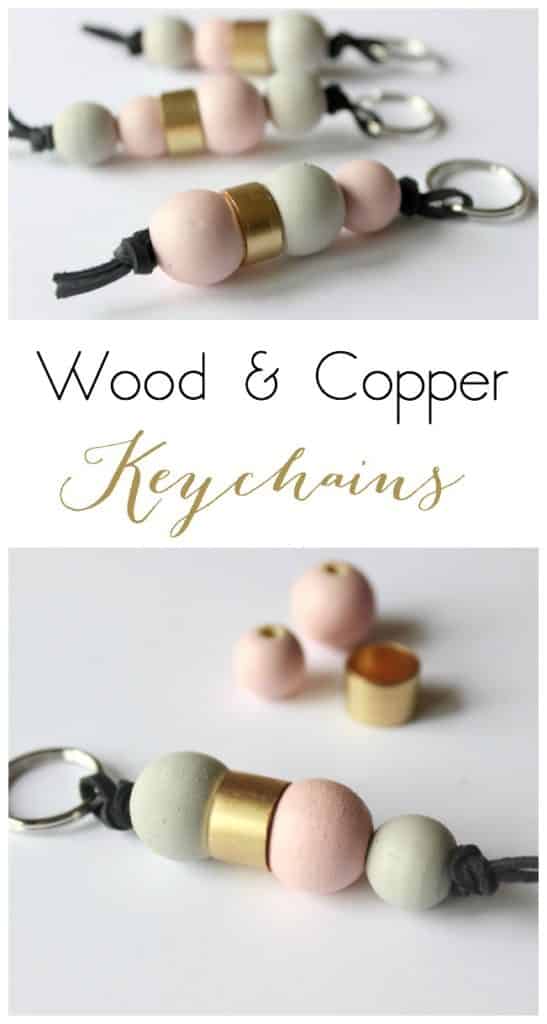 What do you think of my keychains!? Did you notice that they match my blog logo? A few months back I attended a blogging conference and I wanted to give out killer business cards. Cards that would be remembered amongst hundreds of other cards. Right now we are heading back into conference season so I knew it would be the perfect time to share this tutorial!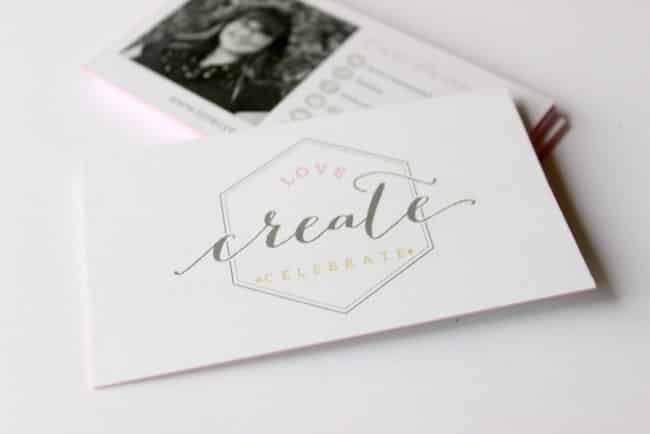 *This post was sponsored by Jukebox Print. As always, opinions are 100% my own. For more information, please read my disclosure policy.*
Once I had the idea to attach keychains to my business cards, I knew I needed to find sturdy cards. Thats when I found Jukebox Print! They make beautiful, unique business cards from all kinds of materials, including bamboo, cork, and wood! They emboss, cut out designs, and print in all colours. Any card from them would stand out in a crowd!
I ordered 24pt thick cards because I knew they would be sturdy enough. The thick cards already stand out from the usual, but I also added coloured edging and 100% recycled paper. No need to worry about starting up conversation with new brands, these cards already give us tons to chat about! I designed them in no time on their website and they arrived just as fast. I couldn't be happier with my cards from Jukebox Print!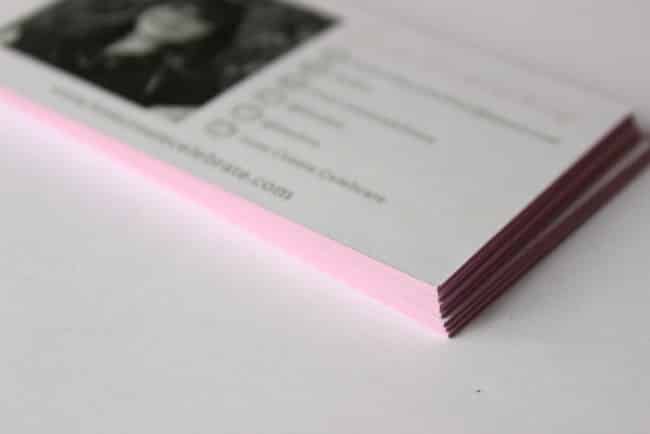 Since, I'm a DIY blogger, I figured "what better way to show off my DIY skills, then to send companies home with something!" You can make these keychains for any occasion though – bridal party gifts matching your wedding colours, grad gifts matching school colours, or just for fun!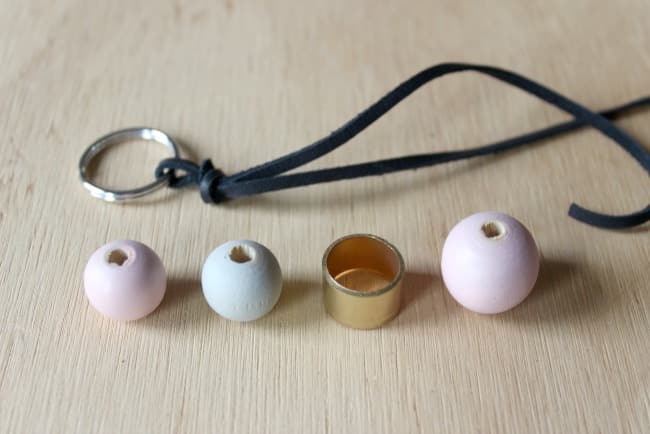 Materials:
1/2″ copper pipe
ratcheting tool
wooden beads
paint (bottle or spray)
split ring
leather cording
I made this quick DIY tutorial to show you how to make your own – including a quick tutorial on cutting the copper pipe!
For more great videos, don't forget to subscribe to my YouTube channel!
That's all there is to it. I mass produced them, so I hung my beads out on coat hangers and spray painted 50 at once, then I cut a ton of copper pipe and leather while I watched a movie. If you are only making 10 or less, you can easily finish them all in one evening.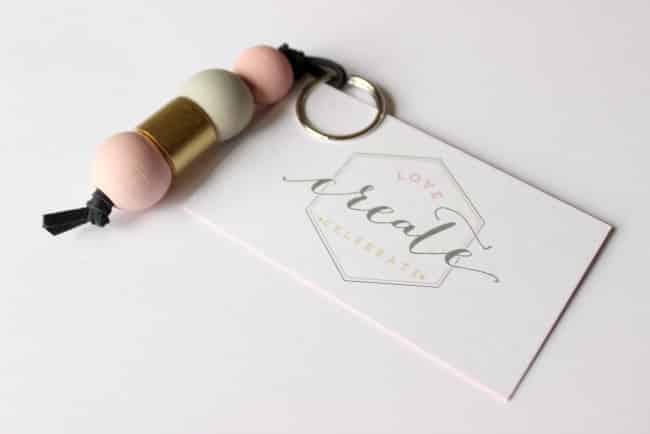 This is how I hooked them on my business cards. Everyone noticed the matching colours right away! The card was so thick that there wasn't even an indent when you took the keychain off. It was perfect!
I always had a conversation starter and something to intrigue brand reps right away. I built some great relationships at this conference, and although I won't go big every time, I'm glad I did my first time!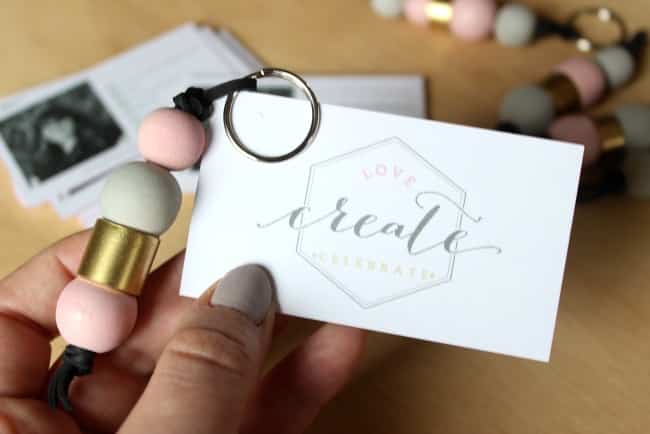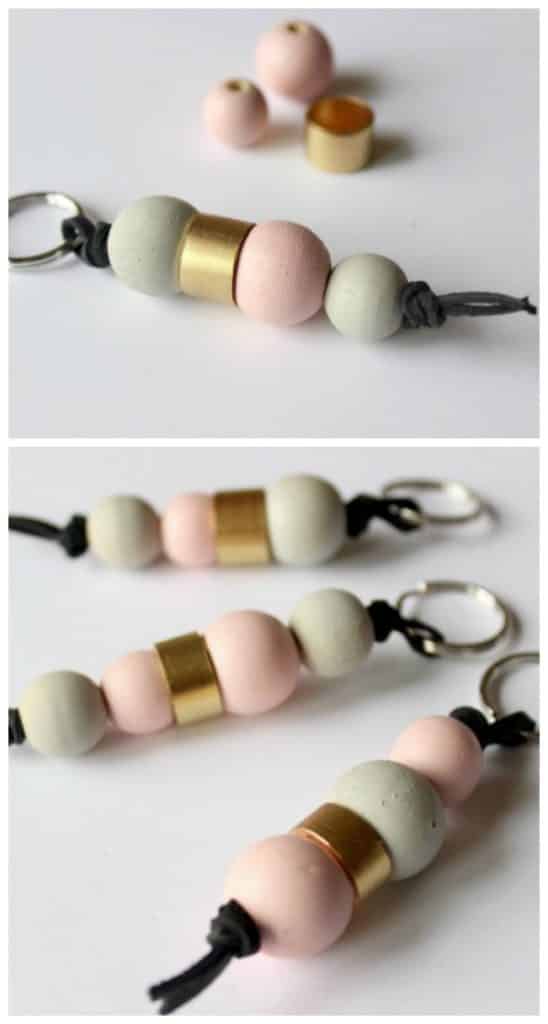 Have you ever done anything creative to help your business cards stand out??
If you want to try another copper cutting project, try making your own Copper Wreath!