How to make your own minimalist DIY Fall napkin rings. An easy project using dollar store supplies is the perfect addition to your tablescape.
I've never been so happy to have people over for thanksgiving dinner! After a year or two without gatherings, even hosting a small number of people brings so much joy! I wanted to celebrate with some thanksgiving table settings. I used some things I had on hand, and finished a few dollar store DIYs to help bring it all together, including these minimal DIY fall napkin rings.
This project is really easy to make, and can be easily transitioned to an Easter, Christmas, New Years, or insert-celebration-here tablescape!
*This post may contain affiliate links. When you buy a product through one of our links, we get a commission at no cost to you! Thank you for supporting our blog so that we can continue to bring you posts like these. For more information, please see our disclosure page.*
Why use Napkin Rings?
Why use napkin rings? For the most part, napkin rings were a functional addition back in the day. They were used back before we had paper napkins to designate which napkin belonged to which family member. It seems that they didn't get washed after every meal and no one wanted to use a cloth napkin that someone else had used.
In today's world, we wash fabric napkins after we use them, we don't always label or monogram the napkin rings. and we really only use them for special occasions. Napkin rings these days are meant to complement a table setting and are really more about design and aesthetics.
Fall Minimal Napkin Rings
Napkin rings are a beautiful way to add a little bit of texture and colour to your tablescape. Here are a couple of napkin rings I like in different textures that are minimal in design, but still make a beautiful statement because of the added texture.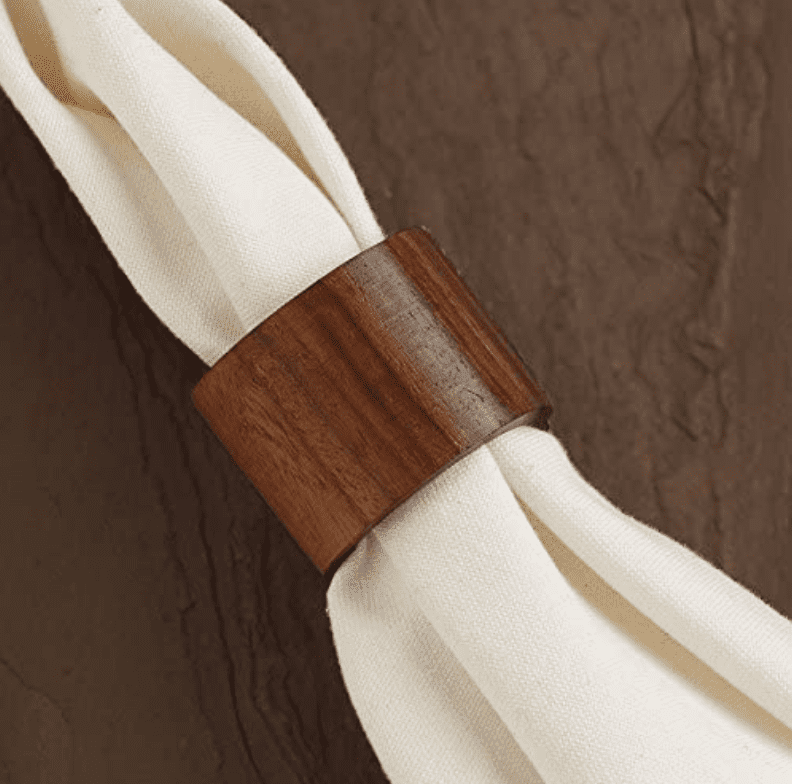 Wood Napkin Rings / Steel Black Napkin Rings / Leather Napkin Rings
While I love all of these designs, and they are all pretty affordable, my local dollar store had some small wooden leaves that I thought could also make a beautiful addition to any table.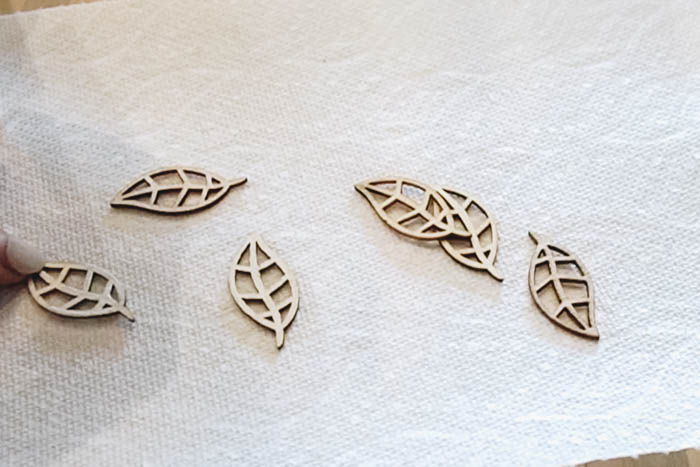 How to Make Minimalist Napkin Rings
Supplies
Wooden leaves from Dollarama (similar here)
Black string from Dollarama
White paint
Step-By-Step-Tutorial
I love these little wooden leaves, but I didn't want to introduce another colour to our table decor, so I decided to paint them the same colour white that I used for my plate chargers.
I was using black and white napkins on top of a black plate and painting the leaves white would also make them stand out against the pattern and colour of the napkin.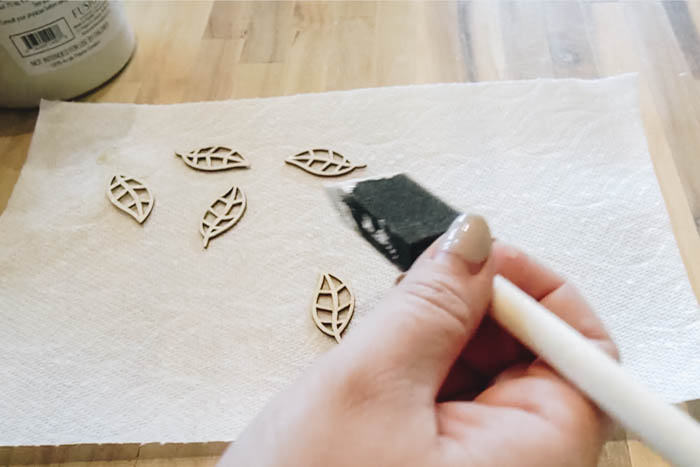 Then I just used some black string I got from the dollar store and threaded it through the leaves and wrapped it around the napkins.
Wired string is best for this because it holds it's shape, but it's still easy to unwrap and open your napkin without having to untie something.
It's so easy to do, but is a great visual impact on your tablescape! I love the look of these minimalist napkin rings!
The whole look of the place settings really came together nicely.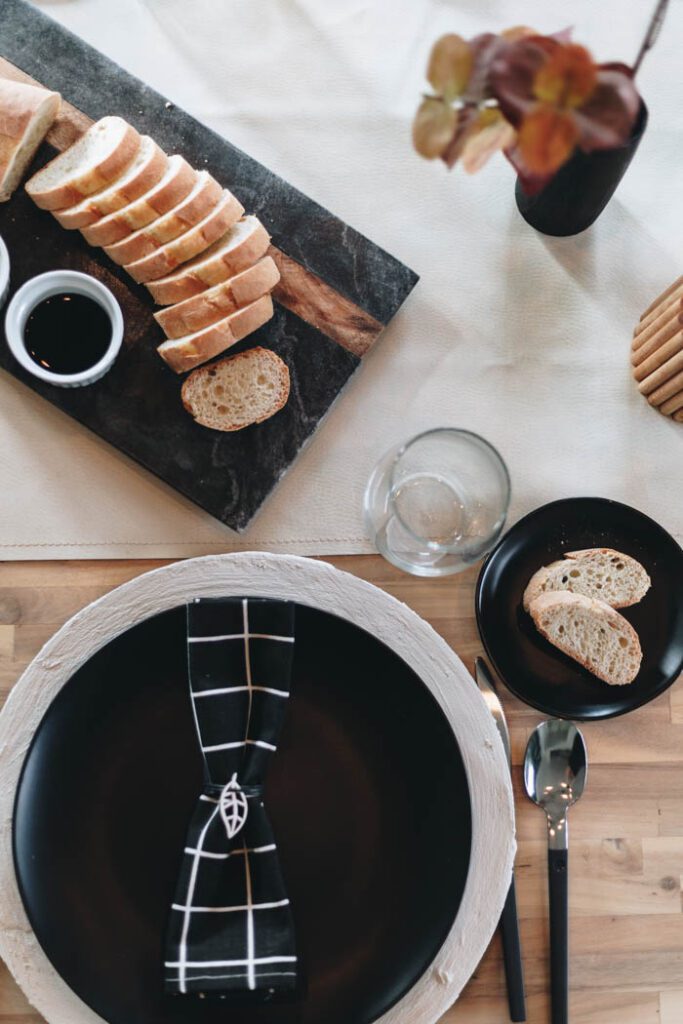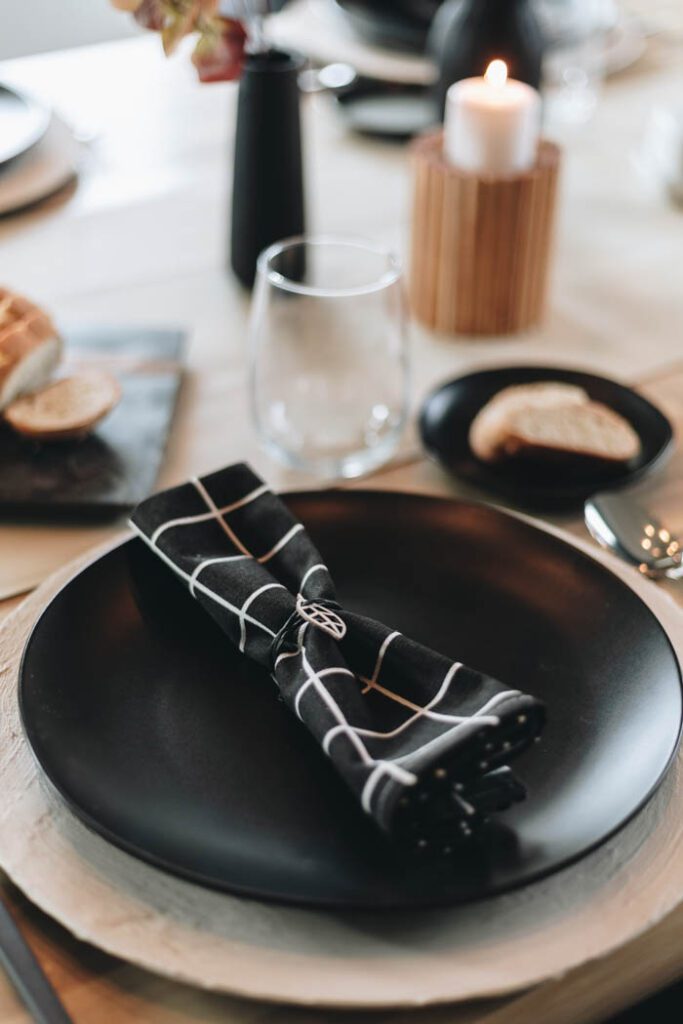 You can watch me make these Minimalist Napkin Rings along with 5 other DIYs I did for our Thanksgiving table using supplies from the Dollar Store in the video below!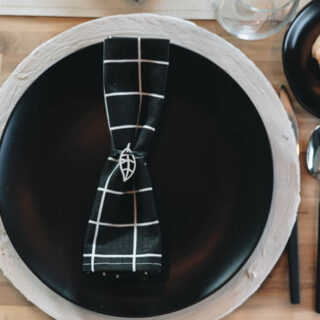 Fall Napkin Rings
How to make your own minimalist DIY Fall napkin rings. An easy project using dollar store supplies is the perfect addition to your tablescape.
Materials
Wooden Leaves
Black String
White Paint
Instructions
Lightly paint the tops and bottoms of your leaves.
Cut enough string to wrap through the napkin ring, and around the napkin twice. Wired string works best for this.
Pinch napkins in the middle, while wrapping and setting up your table.
Recommended Products
As an Amazon Associate and member of other affiliate programs, I earn from qualifying purchases.