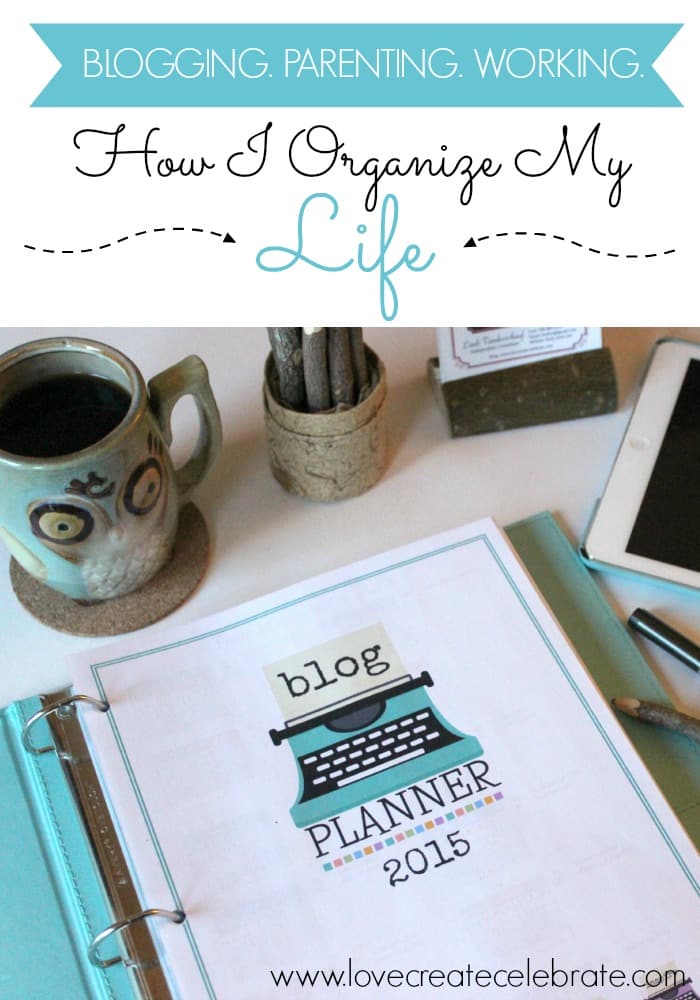 If you're a blogger, you might have gotten the question, "How do you find the time?" or "How do you do it all?". If you're a blogger and a mom, you've probably heard this too.
If you're a blogger, and a mom, and working… I can almost guarantee you've heard this!
Which got me thinking, how DO I organize my life and my time? Here are a few of the things I learned as I thought through this question.
1. Lists
I make lists. And lists. And more lists. Can list-making be an addiction?! I have been making lists for as long as I can remember. Every morning at work, I start a list to organize my work day. Then, I have a great blog planner that I can make lists in to organize my personal and blog life. I find something SO satisfying about crossing each item off of my list (#success!). The anticipation of completing something, motivates me to work on it :)
2. Planning WAY ahead
I have always planned WAY ahead. Just ask my friends and family! Having a planner, with room for lists, and planning pages, like the blog planner from My Joy-Filled Life, let's me work FAR in advance. I buy my Christmas presents in October, I decorate for Valentine's Day in January, and I plan my blog posts a month in advance (when possible!). That way, I never feel the pressure of needing to finish something the DAY before. This also helps me to be EFFICIENT with my time, for example, buying blog supplies for my upcoming 3 weeks of projects in the same shopping trip.
3. Writing smart posts
By "smart" I don't mean "intelligent". When planning and writing posts, you should choose wisely! My posts have to be one of three things: (1) DIY items that I will use or would need anyway. For example, I made some DIY baby blankets last week because I had babies in my life to gift them too. (2) They are about things that I am passionate about. For example, I may write a post about cloth diapering, solely because I LOVE cloth diapering! (3) It brings additional income into my home, either by driving traffic to my blog or by promoting a product I love. If it ticks ALL three of these boxes, then I've found the holy grail of blog posts!
4. Finding "me" time
This is SO important. Taking time to just relax, in whatever form that looks like for you (reading, prayer, running, yoga, tv, etc.) will rejuvenate you, which in turn will help you stay on track with your plans and schedules. More importantly, it will prevent you from burning out and becoming overwhelmed. If I'm honest, I don't do this every day, but when I do, I ALWAYS feel refreshed. Take time to enjoy life.
5. Prioritizing
This one is probably the MOST important. Identify your priorities and stick to them! My priorities are God, my family, and my friends. If my daughter is awake, I'm with her. If my husband is sick, my blog post might not go up tomorrow. Know your priorities and don't compromise them – organize around them. That's how you find work, home, and life balance :)
Now check out this great giveaway to help get your life organized!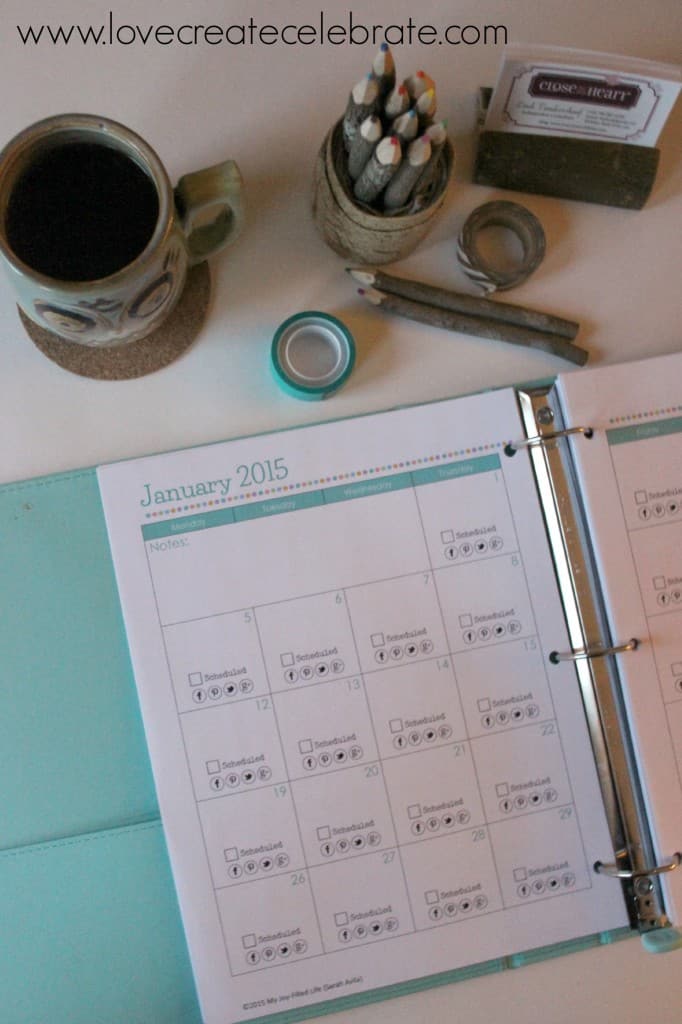 I mentioned before that I use the blog planner from My Joy-Filled Life to help organize my life and it has been an AMAZING addition to my routine!
What I LOVE about this planner, is that it comes to you in a PDF with a TON of different calendar and page options, so you can customize and chose the format that works best for you!
I always need a monthly calendar and a weekly calendar, and this planner provides both. That way I can plan ahead (*cough* organizing *cough*) easily by looking through the months, and I can have lots of space to write notes (and to-do lists!) for each day.
Another thing I love is having LOTS of space for future planning and ideas. With Sarah's Blog Planner, I can choose her brainstorming sheet and print it 10 times if I want to – one "idea" sheet for each holiday!
Check out Sarah's Blog Planner at My Joy-Filled Life to see a list of 20+ pages that you can download and customize!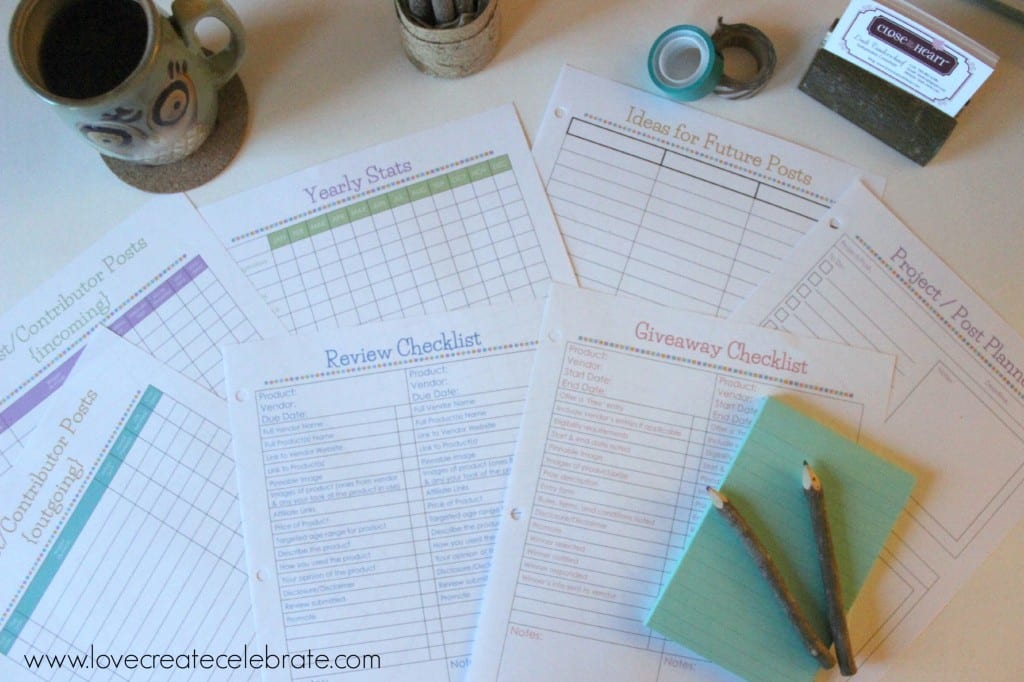 I've been enjoying my blog planner SO much, and I'm thrilled to give all of my friends and chance to win their own FREE copy!
Good luck!
{xoxo}
*This post was sponsored by My Joy-Filled Life. As always, opinions are 100% my own. For more information please read my disclosure policy.*