Make your own mini Christmas wreath ornament using Dollar Store supplies. They are easy to make and look great as decor for the holidays.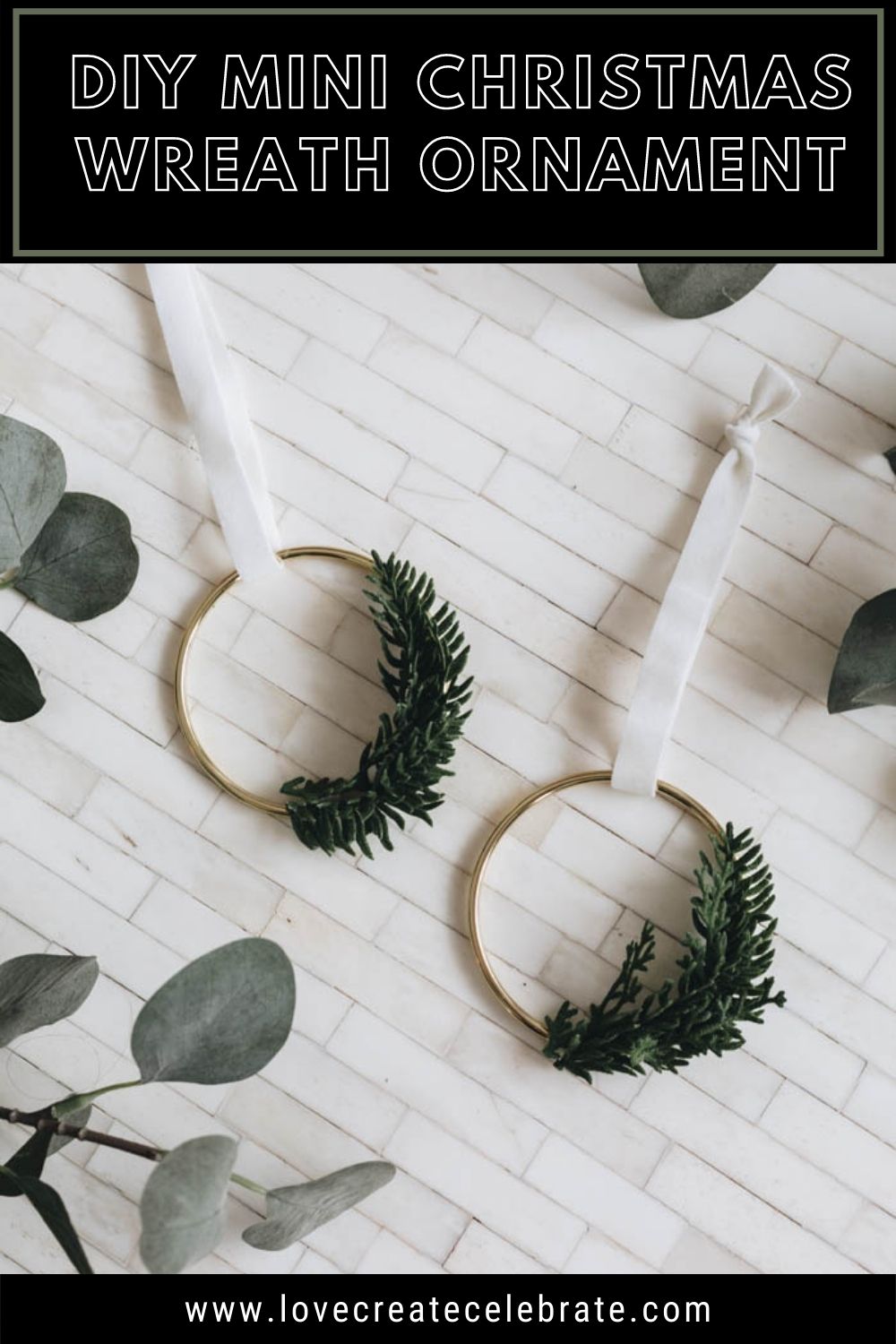 I love taking Dollar Store cheap-looking items and making them look like expensive home decor. Holiday Dollar Store DIYs are my favourite to do because I love this time of year and everyone is decorating, and everyone is overspending, lol. This DIY Christmas wreath ornament is easy to make and definitely budget-friendly!
Be sure to check out our Modern Scandinavian Christmas Decor home tour. You will love the nordic influences in this Christmas home tour!
*This post may contain affiliate links. When you buy a product through one of our links, we get a commission at no cost to you! Thank you for supporting our blog so that we can continue to bring you posts like these. For more information, please see our disclosure page.*
How to Make a Christmas Wreath Ornament
Supplies needed
Brass rings (these are similar)
Faux greenery pieces
Ribbon in the color of your choice
Step-by-step Tutorial
I picked up these brass rings at the Dollar Store. As soon as I saw them I knew they would be perfect for minimal wreath ornaments. They look amazing aside from one little spot where the brass comes together, so I knew that I would probably cover that part up.
I pulled out some faux greenery from my stash to make these rings into wreaths. These are faux greenery pieces that I already had on hand. If you don't have any, you could also just buy a wreath from the Dollar Store and cut off the pine branches.
You will need to cut them into single pieces, using wire cutters. You need pieces small enough to wrap your Christmas wreath ornament without overwhelming it.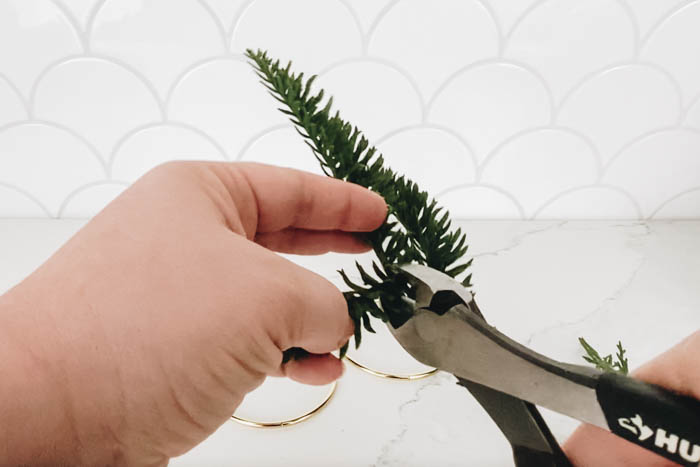 Next use craft glue to put them on the brass ring. Simply hold them in place for a couple of seconds until the glue dries.
The craft glue sets up pretty quick, so curve the greenery piece around the ring. I decided to give mine a modern look and put the greenery pieces on the side to make it asymmetrical.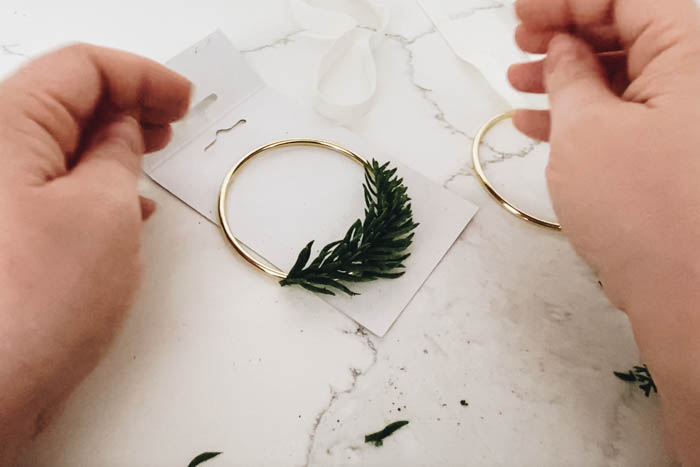 The final step is to take one of the velvet ribbons left over from my Modern DIY Candy Cane Ornament and tie it in a knot above the wreath so I'd be able to hang it. You can use any ribbon you want to, in any colour. I matched our holiday decor for this year.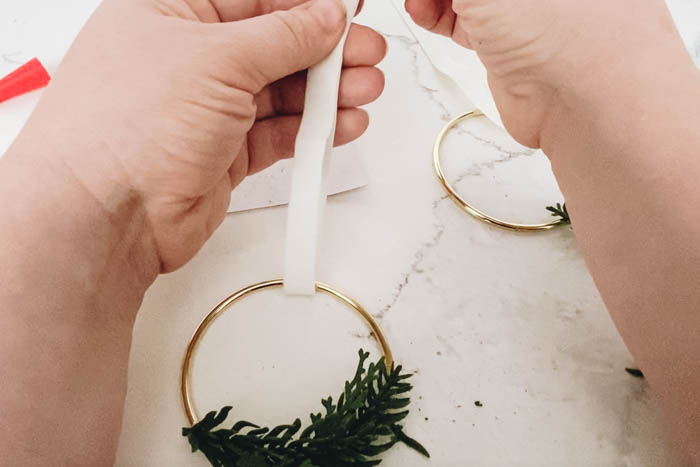 These little Christmas wreath ornaments were so easy and they look so good. They're minimal and simple. I love how they look by themselves.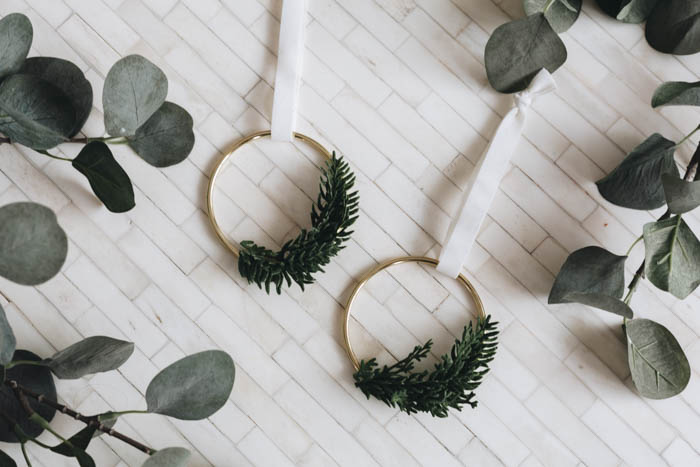 The Christmas wreath ornament was a little lost in my pine tree, but I did hang one on top of these printables and I loved how it looked at the top of the artwork. I can also imagine then decorating mirrors, or cabinets, or place settings. Or as gift toppers, like I did with these other mini wreaths.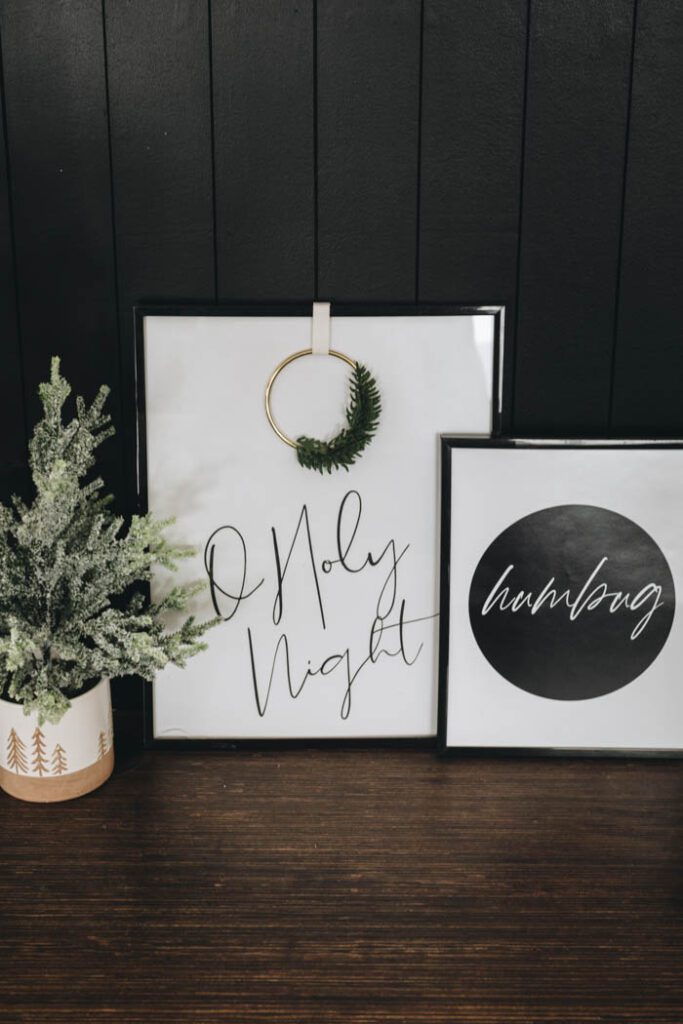 Be sure to check out the video below to see me make these Christmas wreath ornaments along with five other Dollar Store Christmas decorations!
If you're looking for another fun, mini Christmas wreath, these evergreen ones are so easy to make too!