Make easy handmade snow globes using Dollar store supplies. This easy DIY project adds festive holiday decor to your home this season.
Is there a more iconic winter decor item than the snow globe? I found some snow globes at the Dollar Store and knew right away I had to make some cute, handmade snow globes.
If you've been around a while, you know how much I love turning dollar store items into beautiful home decor. Creating something that looks expensive on a budget, is always the goal with these Dollar Store DIY projects.
This holiday DIY involves these snow globes that I've seen at both Dollarama and Dollar Tree. They're super affordable and I actually bought a whole bunch so I can do something fun with my kids later.
*This post may contain affiliate links. When you buy a product through one of our links, we get a commission at no cost to you! Thank you for supporting our blog so that we can continue to bring you posts like these. For more information, please see our disclosure page.*
Easy Handmade Snow Globes
My idea was to create a little wintery village by adding some trees and little houses inside these DIY snow globes. These little houses were also from the dollar store, but if you can't find these houses, you could buy these wooden houses, or cut some basic houses out of scrap wood, it just would be harder to get the intricate details of these. I love how these little houses look and I think they will be adorable inside these snow globes.
The trees I'm using for this project were ones I already had on hand, but I know that the Dollar Tree has some that they sell as well.
Supplies Needed
Step-by-step Instructions
I used the craft glue to glue two different sizes of trees down in the background of my snow globe.
Then I glued one of the houses in front of them.
Next, I added some fake snow to the globe, I already had some in my craft stash. You could also use cotton balls or something else to look like snow since these aren't real snow globes.
The first time I added the snow, I added way too much and it completely drowned my little village. I removed a bunch then tried again and it looked much better. You really only need a couple of tablespoons of snow to make the DIY snow globes look perfect. I made one snow globe for each of the houses I wanted to use.
Here is how the little handmade snow globes turned out. I think this little village is just adorable!
My kids love these! And BONUS, they aren't breakable, so my kids can pick them up and move them around. I love how they look on the shelf and I will definitely be using them when I decorate the whole house.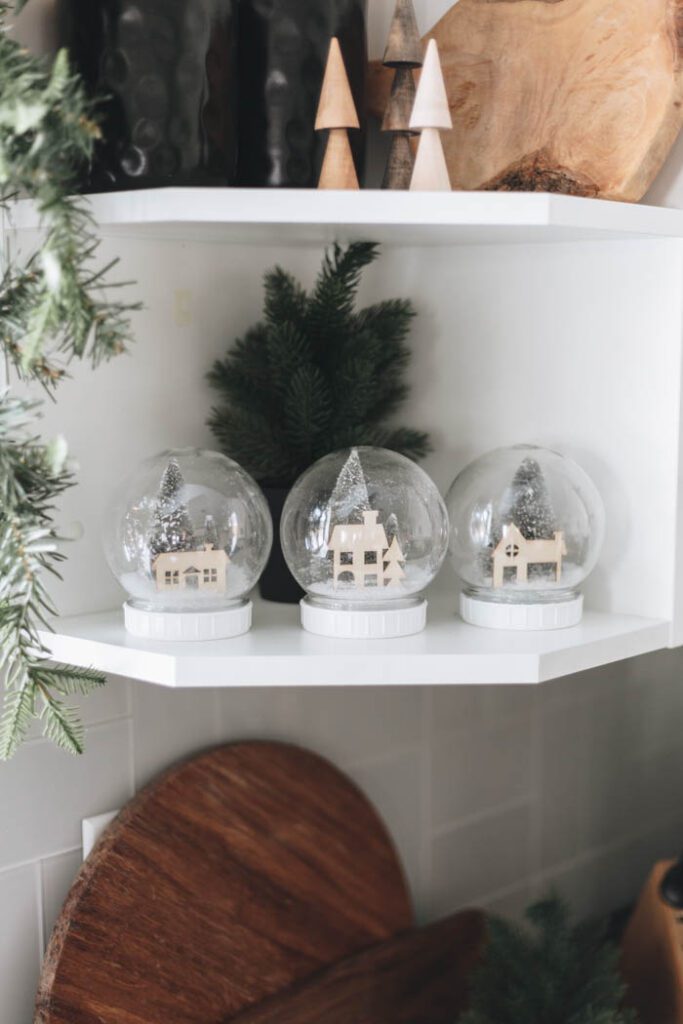 When I do Dollar Store crafts, I usually do a bunch at a time. I did 5 other ones with this one. Candy Cane Ornaments, Brass Wreath Ornaments, a Snowflake Garland, House Ornaments, and a Modern Advent Calendar. You can watch me make these adorable DIY snow globes and all of the other Scandinavian inspired Christmas decorations in the video below!
Looking for more Christmas decorating ideas? Check out our full Holiday Home Tour!